SmartyPants makes gummy vitamins for adults. I was sent bottles to try out. All opinions are my own. I will admit I miss the chewable vitamins from my childhood. I can remember so looking forward to my daily dose of deliciousness and always wanting more. Well, now there are gummy vitamins made just for adults. The aptly named, SmartyPants, has created a complete multi-vitamin for adults in a tasty gummy form.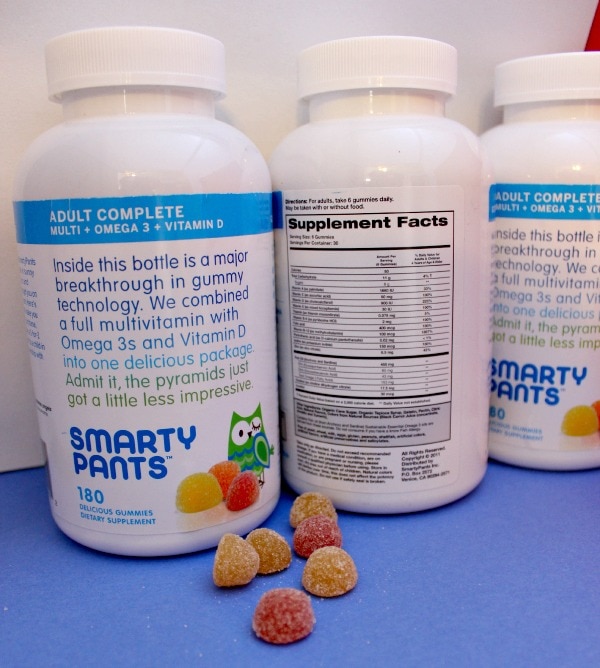 SmartyPants Gummy Vitamins for Adults
SmartyPants has a full line of gummy vitamins for both kids and adults. We received the Adult Complete. They combined a full multivitamin with Omega 3s and Vitamin D into a deliciously gummy package.
Gummy Great Features:
Excellent source of Omega 3s DHA & EPA, Vitamin C, D3, E, B6, B12 and folic acid.
No high fructose corn syrup, artificial colors, flavors or preservatives.
Made in a GMP-certified facility in California.
Adults are instructed to take 6 gummies daily. That's awesome because they are too yummy to eat just one! Made with organic and eco-friendly ingredients and only 50 calories per serving, it's a tasty way to get your daily nutrients.
SmartyPants has a partnership with Vitamin Angels which means they are a company that gives back. Purchasing from them helps vitamin-deficient children around the world.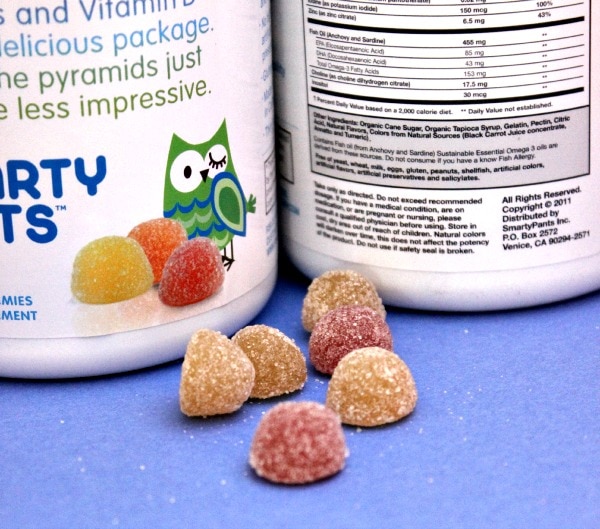 Mike and I both think the SmartyPants gummy vitamins taste great. Believe it or not, this is the only way that I can assure that my husband will take a multivitamin. And, I definitely look forward to my daily dose. It's like eating candy without the guilt.
Find SmartyPants at your local CVS or check their store locator for other retailers. You can purchase online through the SmartyPants website or on amazon.com.
Make sure to check out each one of their varieties and stay tuned for more. I am extra excited about the Weight Management Complete and plan to try that next.
Do you take daily vitamins? Do you think you would like adult gummy vitamins?
Rainbow Crumbs for You
Weekly newsletter with our latest posts and shenanigans.