My aging skin is doing some weird things lately. I've never been so sensitive to the sun, and I swear I wake up to new lines and spots every day from all the damage I did in the tanning bed. An enormous part of my skin care routine is more about what I'm putting in my body than on. We are what we eat after all. I'm thrilled to introduce you to a new product that I'm really loving, Glow by Nature Made®. This post was sponsored by Nature Made® as part of an Influencer Activation for Influence Central and all opinions expressed in my post are my own.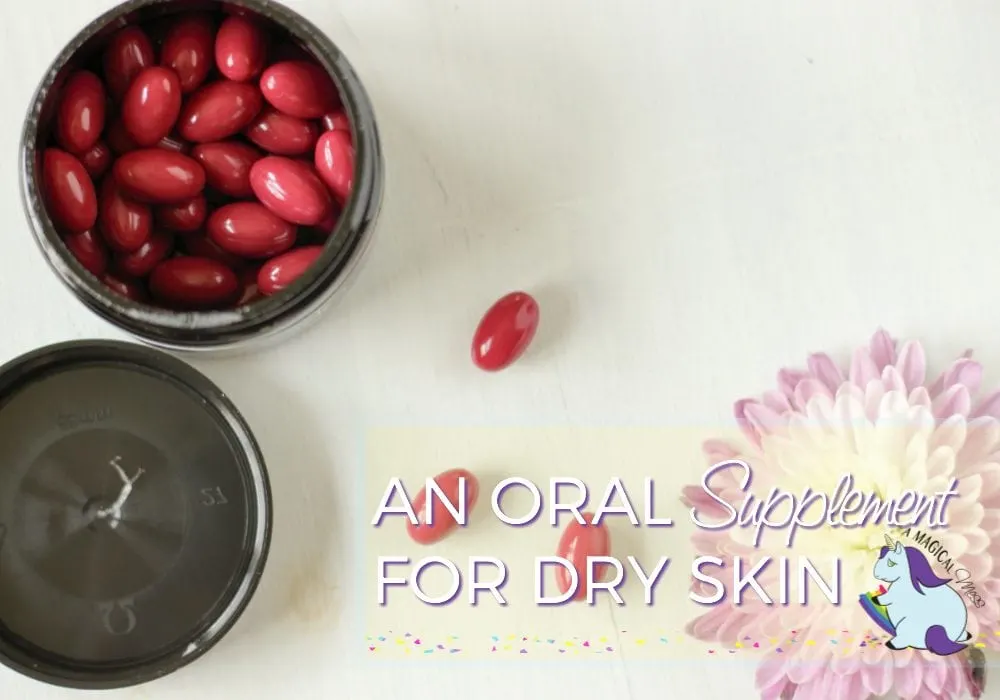 My Skincare Routine
I'm going to talk mostly about my face because that's what we are usually focused on anyway, but this is really about the skin all over our bodies. Right now my skincare routine is fairly simple. I wash my face in the morning and at night with a gentle cleanser. If I'm planning on wearing makeup, I start with a primer and then use a tinted moisturizer. If I'm headed to bed, I slather on one of the millions of moisturizing samples I get as a blogger. I realize this isn't ideal, but I haven't found a product I'm willing to invest in just yet.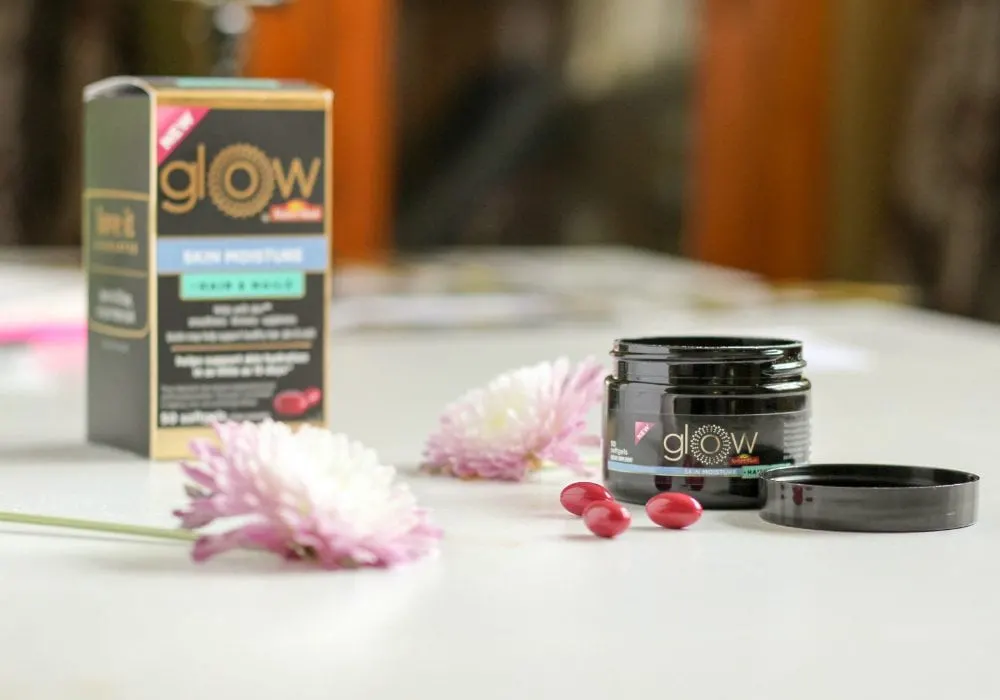 More importantly, I'm super focused on drinking more water every day. I notice a huge difference the day after I don't drink enough–as if I am a raisin. I swear every line and wrinkle are deeper, and my eyes appear more sunken in–like a withering zombie. Hydration is so darn important!
I'm also trying to eat less processed foods. When I eat clean, the difference in my skin is amazing. Again, it just proves that what we put into our bodies shows on the outside.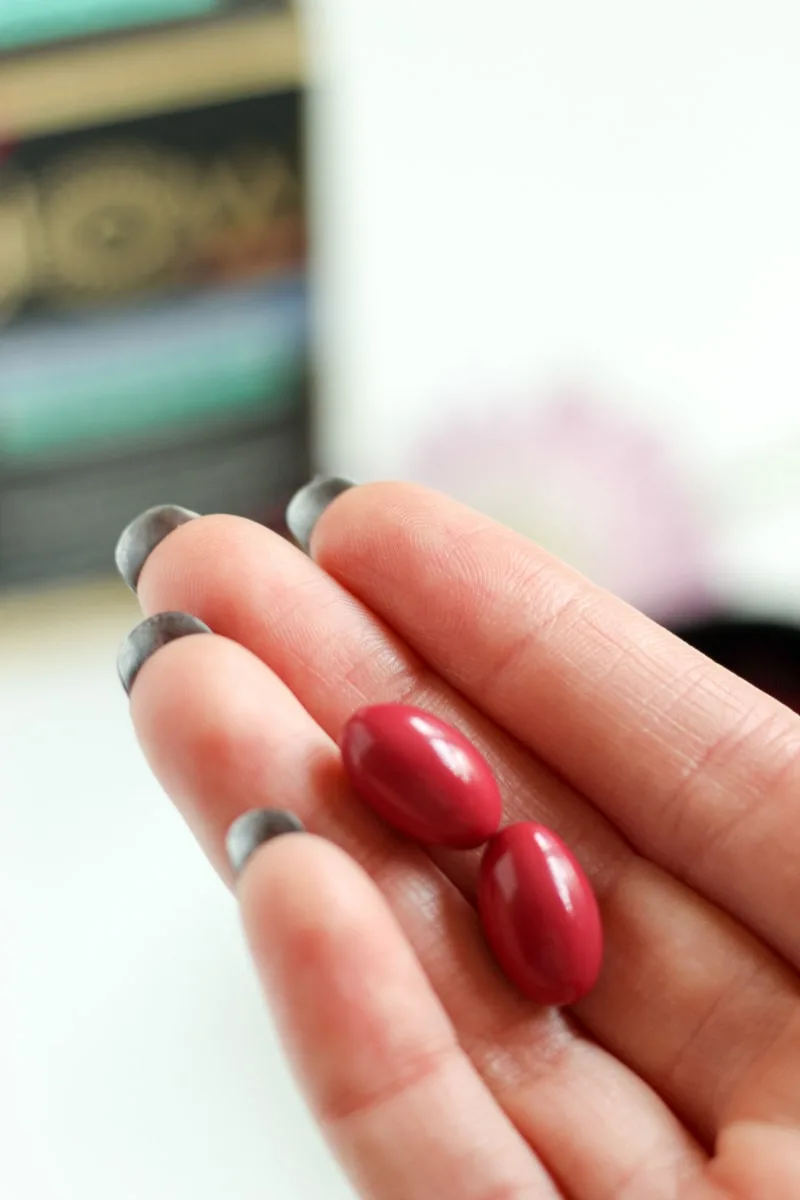 A Supplement for Dry Skin
That said, I'm thrilled to report that I am in love with this supplement for dry skin. Glow by Nature Made® is a product for the skin.† You take two capsules daily with food. Glow by Nature Made® Skin Moisture + Hair and Nails‡ provides 70mg of Ceramosides® that help replenish the natural ceramides in your skin.†
This supplement also contains copper, and vitamin E. Copper helps support collagen synthesis, and vitamin E is an essential nutrient for many cells.†
The best part about all of this: Love Glow by Nature Made® in 30 days, or you get your money back! Glow by Nature Made® Skin Moisture can be found in the vitamin/supplement aisle of Target, as well as online. I was able to find them super easily. You can also find these other products:
Glow by Nature Made® – Skin Moisture + Sleep:

Melatonin helps support sleep†

Glow by Nature Made® – Skin Moisture + Hair and Nails:

Biotin may help support healthy hair, skin, and nails‡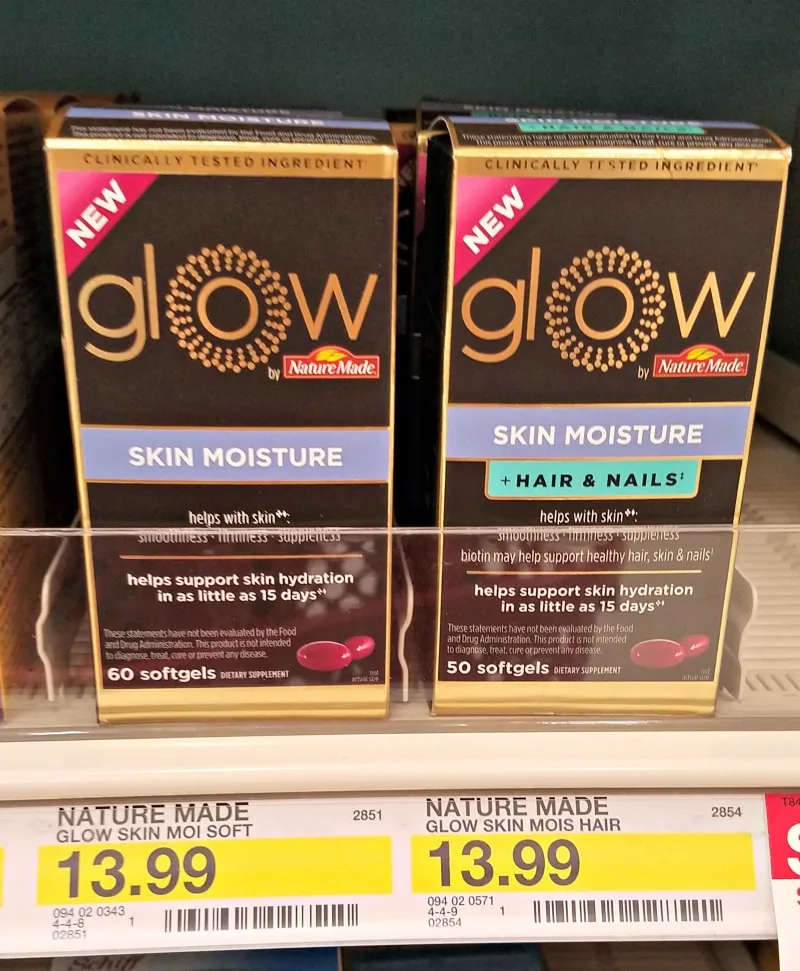 Receive 10% off Target.com (online only) with promo code: GLOW
Coupon offer available from 4/23 – 5/27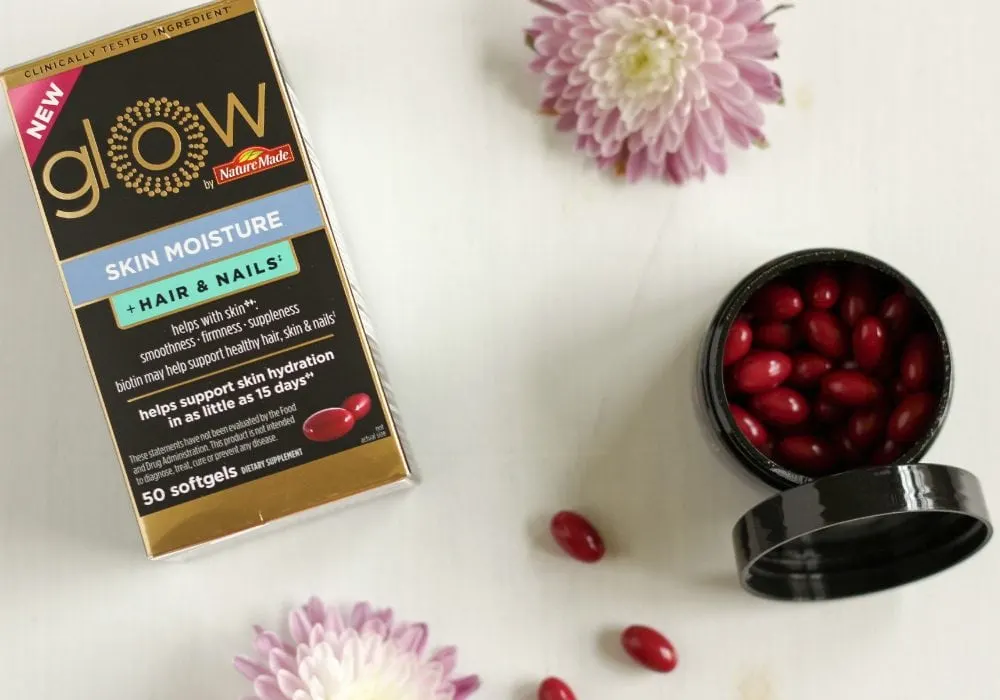 *For adults with dry skin. ¥ 70 mg of Ceramosides® ‡Biotin may help support healthy hair, skin, and nails in those that are biotin deficient.†
†These statements have not been evaluated by Food and Drug Administration. These products are not intended to treat, cure, diagnose, or prevent any disease.
Have you ever considered taking a supplement for dry skin?