The reviewer has been compensated in the form of a Best Buy Gift Card and/or received the product/service at a reduced price or for free. All opinions are my own.
I recently had the opportunity to review the new Dyson vacuum, the V6 Absolute. It's a cordless, compact vacuum, and it's surprisingly powerful for such a small machine. I've wanted a new Dyson vacuum forever, so I was really excited to get my hands on this puppy.

The Dyson V6 Absolute Cleans from Floor to Ceiling
Speaking of puppies, I have three. Well, they're not puppies, but you know what I mean. They all shed all over the place and leave behind all sorts of microscopic dander. Add their shedding to spring allergens and we've got ourselves not feeling amazing.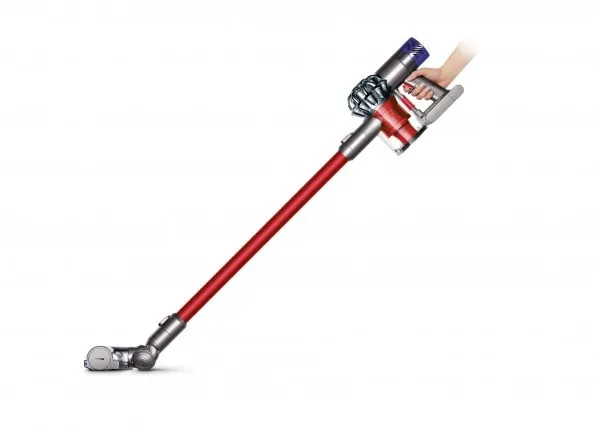 As soon as I fired up my new Dyson vacuum, I knew it was going to be a wonderful thing. Although the Dyson V6 Absolute is a compact cordless model, it's pretty powerful. It captures and removes up to 99.97% of particles as small as 0.3 microns to provide a cleaner living environment.
What impressed me about this Dyson vacuum is that it's light enough to vacuum up to the ceiling. That's what I came home to today, my husband vacuuming the ceiling. The plush soft roller allows you to swoop up the walls with no worry. It removes the dust, cobwebs, and other small particles while lightly buffing the wall.
What Makes the Dyson V6 Absolute So Great
There's a reason this Dyson vacuum can handle most anything even if it is a cordless. The V6 was designed taking into account the limitations of a standard cordless vacuum and solving those problems.
Dyson Fluffy: This is a soft roller cleaner head made to suck up large dirt and fine dust at the same time on hard floors, so it doesn't scratch.
75% More Brush Power: This addresses my biggest gripe with most compact cordless machines – a wimpy brush. This Dyson vacuum has a second cleaner head with a direct-drive motor which creates 75% more brush bar power. I need that in my house, because the pet dander is deep in the carpet.
Easy to Push: The Dyson V6 has a large, soft roller and a redesigned neck to make going from carpet to tile or hardwood easy.
Dyson Digital Motor V6: This gives the V6 Absolute the most powerful suction of any cordless vacuum.
2 Tier Radial Cyclone Technology: The proprietary cyclone technology of this Dyson vacuum separates even the most microscopic dirt particles out of the air.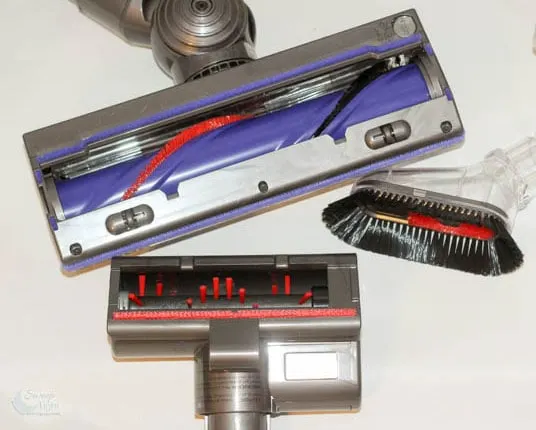 You can get your hands on one, too, because the Dyson V6 Absolute is now available at Best Buy. If you want a sweet Dyson vacuum that's easy to use and maneuver, consider the V6 Absolute.