Chip lovers listen up! My friends and I are always searching for new ways to snack healthy, but let's face it, when you get together for girls night or the kids want a treat, so called "healthy snacks" can be a bit boring. I love it when I actually find awesome ways to make our favorite munchies not only healthy but tasty too! Product received for review and post contains affiliate links.
TopChips Chip Maker
Mastrad has come up with a really easy way to make snacks fast and fat-free with their TopChips maker. The TopChips trays are made of silicone, microwavable, stackable, and dishwasher safe. The kit also comes with it's own mandoline slicer for uniform slices.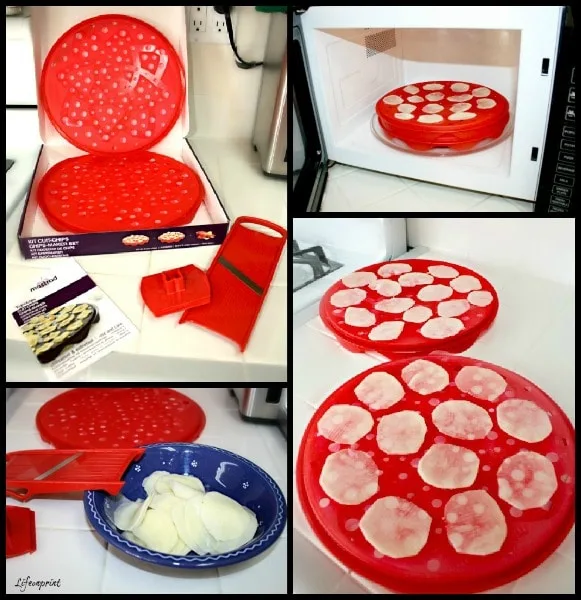 I was pretty excited to test the TopChips maker, but I was also skeptical. Would it work, would they taste good, how hard would it be? So…. after reading the directions and washing the trays, I got to slicing up some potatoes. Following the directions, I laid the slices on the trays, stacked them and put them in the microwave to cook for 3 minutes. It took some experimenting to get the chips just right. (Because all microwaves have different power levels, you may need a couple test runs to get them how you like them.) I also found that blotting the wetness off of the potato slices before laying them on the trays produces a much crisper chip with a more evenly crisp batch. I also found that for me, seasoning the potatoes after they were cooked worked better than seasoning before.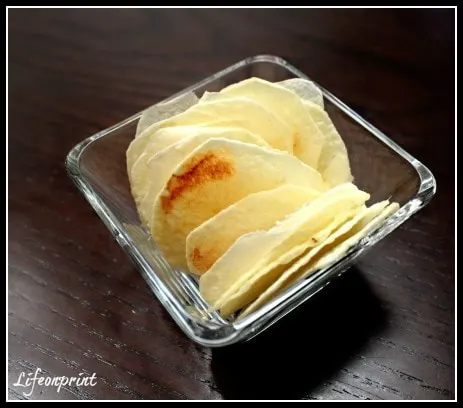 So after a couple practice runs, and sampling from every batch, I found that 3.5 minutes made the perfect batch of potato chips. I have to tell you that I was pleasantly surprised at how easy this was to use and just how great fat free potato chips made at home taste! Even the boy became an expert chip maker with this kit! I also made some apple chips that were super yummy. You can use a variety of different fruits and veggies to make chips with the TopChips maker. Next on my list is sweet potato chips and mango chips!
If you are looking for a fun and easy way to make some really yummy and healthy snacks at home, I totally recommend TopChips by Mastrad.
I give this item 5 stars for ease of use and care, for being dishwasher safe, for affordability, and for a really great idea in healthy home made snacking.