Who doesn't want to be ready for the zombie apocalypse?! I know I am not taking any chances. Which is why I am beyond thrilled to have had the chance to review the hand powered Ultraviolet SteriPEN Sidewinder. I received this item for free in exchange for my honest feedback. All thoughts and opinions are my own.
Ultraviolet Water Purification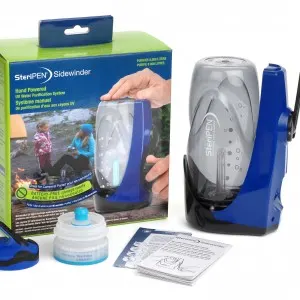 The whole concept of ultraviolet water purification fascinates me. But the fact that I can now do it from anywhere without batteries is even cooler. This is perfect for camping, natural disasters, and of course, the apocalypse–with or without zombies. The SteriPEN Sidewinder purifies up to 8,000 liters of water! In just 90 seconds, the Sidewinder purifies 1 liter. It takes a bit of effort but it is totally worth it. You simply fill the bottle, attach it to the Sidewinder and wind the handle until the indicator lights flash green. The auto-timer lets you know when you have completed the 90 seconds.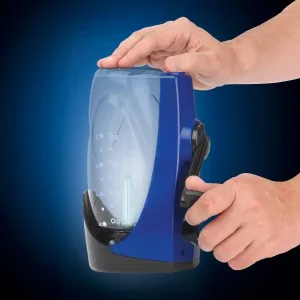 Did you know that 80% of all diseases contracted while traveling are from contaminated water? Or that 900 million people lack adequate access to clean drinking water? If you really think about that, I mean REALLY think about it, it's terrifying. I'm really not a paranoid spaz, I just simply like being prepared. But, here I am sitting in the comfort of my home with clean tap water. I cannot imagine life without that.

Thankfully SteriPEN has a variety of ultraviolet systems. From now on, when I travel, I am going to bring this along or better yet, I am definitely going to be grabbing one of the travel SteriPEN purifiers. In fact, this is going to be the gift of the season! What a perfect stocking stuffer!
Just think of all the benefits!
Decreased plastic bottles in landfills
Clean drinking water anytime, anywhere
Less sickness when camping or traveling
NO WORRIES
Everyone in the world should have their own SteriPEN!