Once you have an easy monkey bread recipe, you can play around with the ingredients to create scrumptious variations. Everyone loves the classic monkey bread, but with simple additions the flavor possibilities are endless. I think this white chocolate raspberry monkey bread would look beautiful on an Easter brunch table. This post contains affiliate links to help support this blog.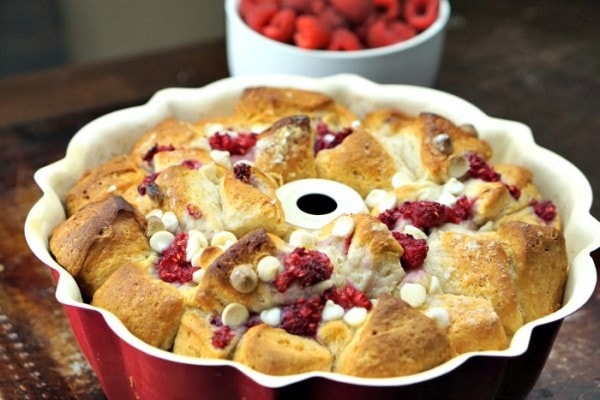 Monkey bread is quite nostalgic for me. It reminds me of grade school and special occasions at my house growing up. My Grandparents raised me, so most of the family gatherings were hosted at my home. I had the pleasure of sampling all goodies before the rest of the family arrived. 😉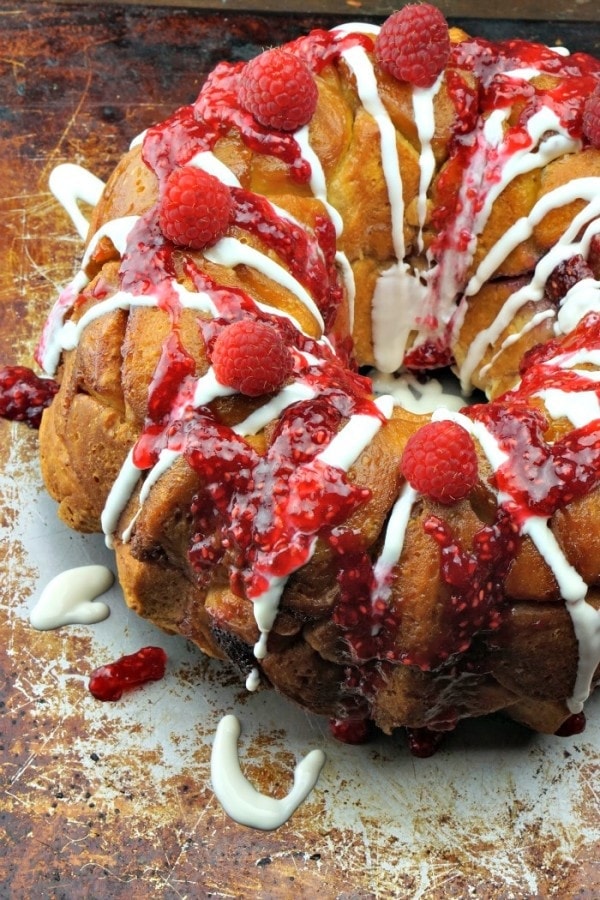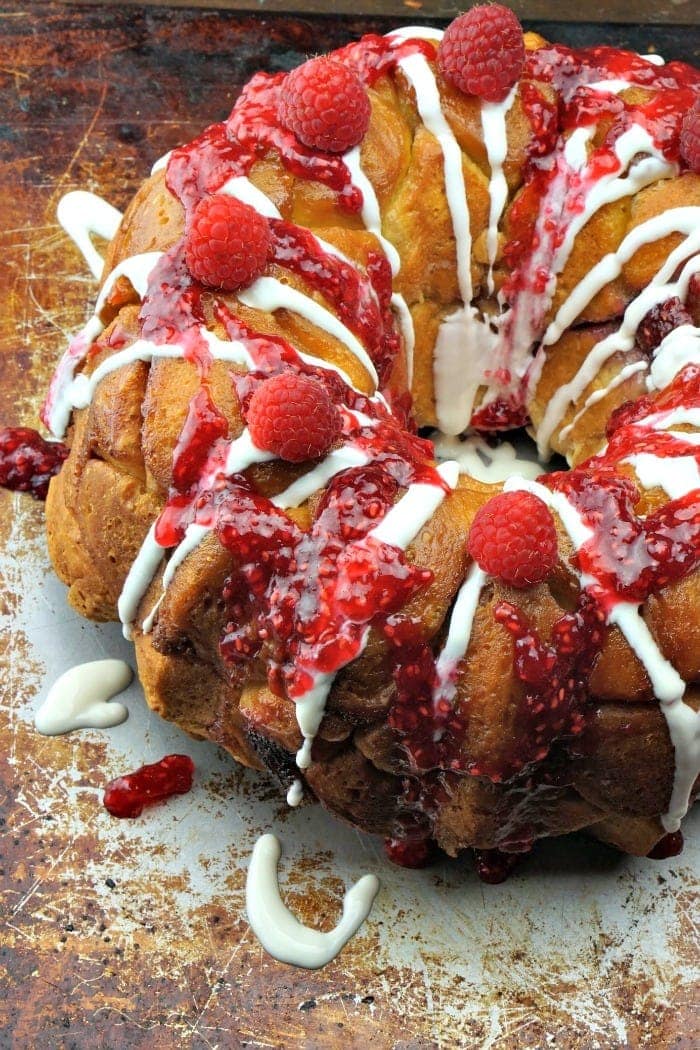 If you are looking for an easy, but impressive baked treat to serve, well anytime, I recommend giving this monkey bread recipe a try.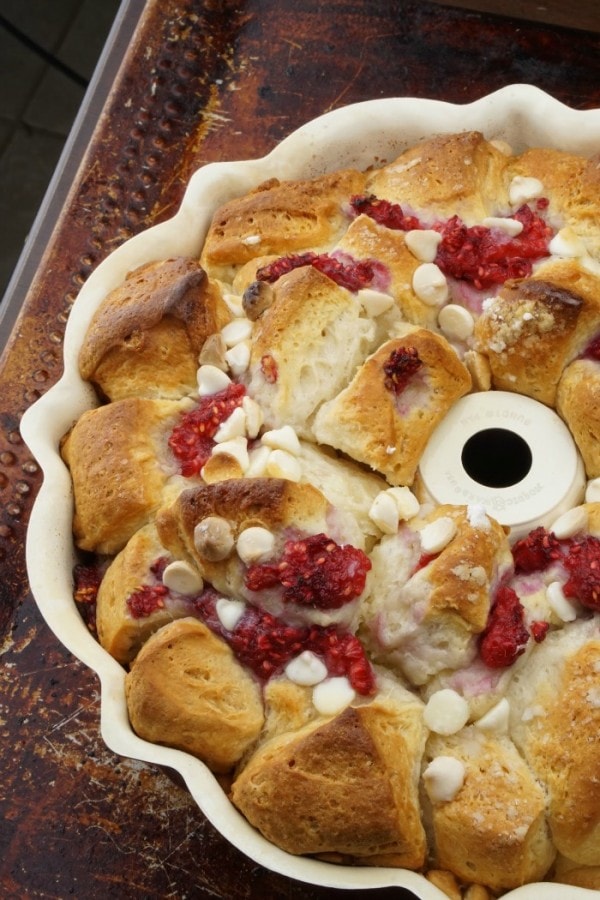 White Chocolate Raspberry Easy Monkey Bread Recipe
Ingredients:
2 cans biscuits (8 count, Grands)
½ cup sugar
½ cup butter, melted
1 cup of raspberries
1 cup white chocolate chips
optional: powdered sugar for dusting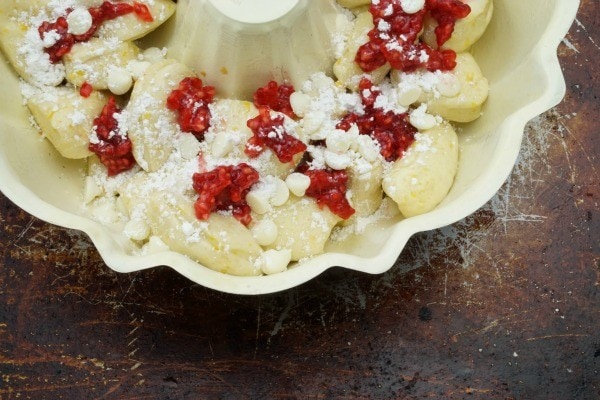 For raspberry jam:
1 cup raspberries, mashed
1 cup sugar
Boil the raspberries and sugar together until they start to thicken. Allow to cool and thicken some more before removing from heat. Set aside until it's time to drizzle on top of monkey bread.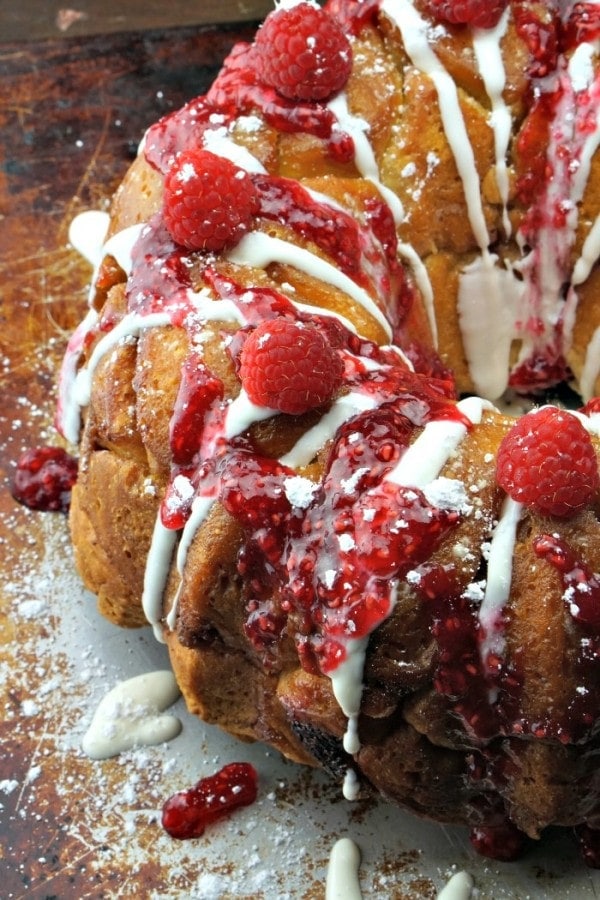 For drizzle:
Melt white chocolate chips and coconut butter together.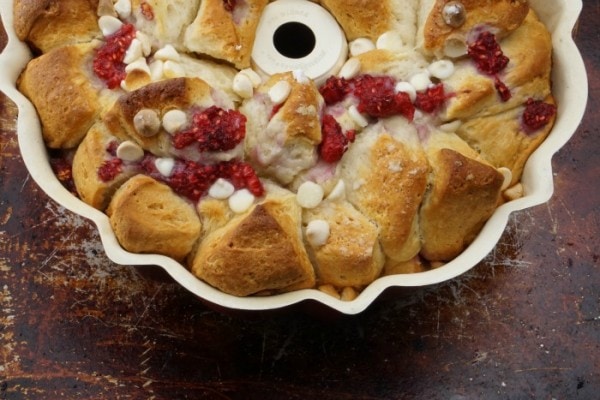 Directions:
Preheat oven to 350 degrees and spray bundt pan with cooking spray, coat with flour.
Cut biscuits into quarters.
Melt butter in a bowl. Dip each biscuit piece (from 1 can of biscuits) into the butter, then place into the bundt pan.
Top the biscuits with ½ of the raspberries, and ½ of the white chocolate chips.
Repeat for the rest of the biscuits, white chocolate chips, and raspberries – leaving some for topping at the end.
Bake for about 35 minutes. Edges will be dark brown, and center will be lighter.
Let cool for 5-10 minutes.
Place a large plate over the bundt pan and flip over.
Top with raspberry jam, white chocolate drizzle, powdered sugar, and extra berries.
Serve warm. Yum!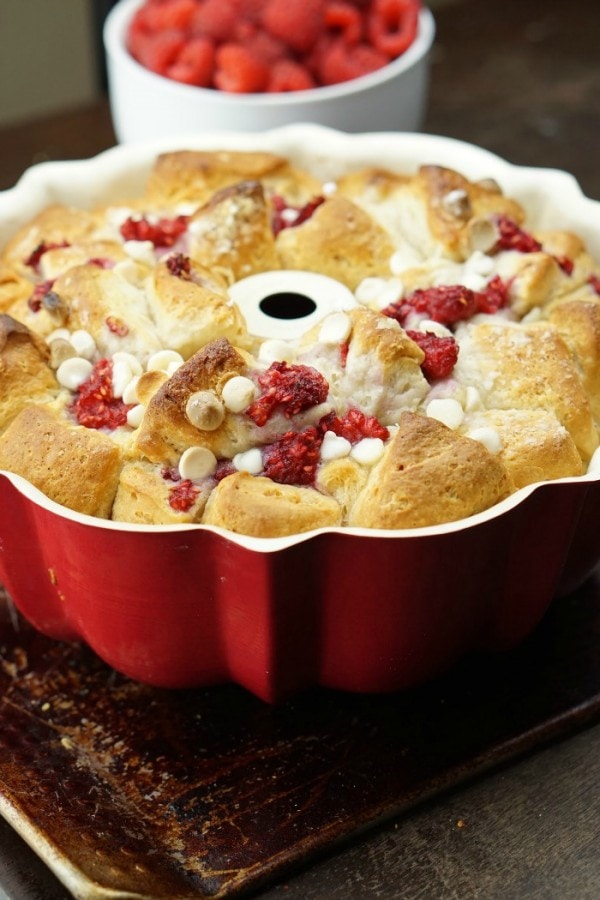 Have you ever added ingredients to tweak an easy monkey bread recipe?
Rainbow Crumbs for You
Weekly newsletter with our latest posts and shenanigans.