So, you're going to want to eat this mint chocolate sugar scrub recipe, but try to control yourself. It's for your skin.
This chocolate peppermint sugar scrub recipe smells like a Thin Mint. Enjoy it in a nice relaxing bath, perhaps when you are craving chocolate. I can't promise you that it will satisfy your sweet tooth, but worth a try, right?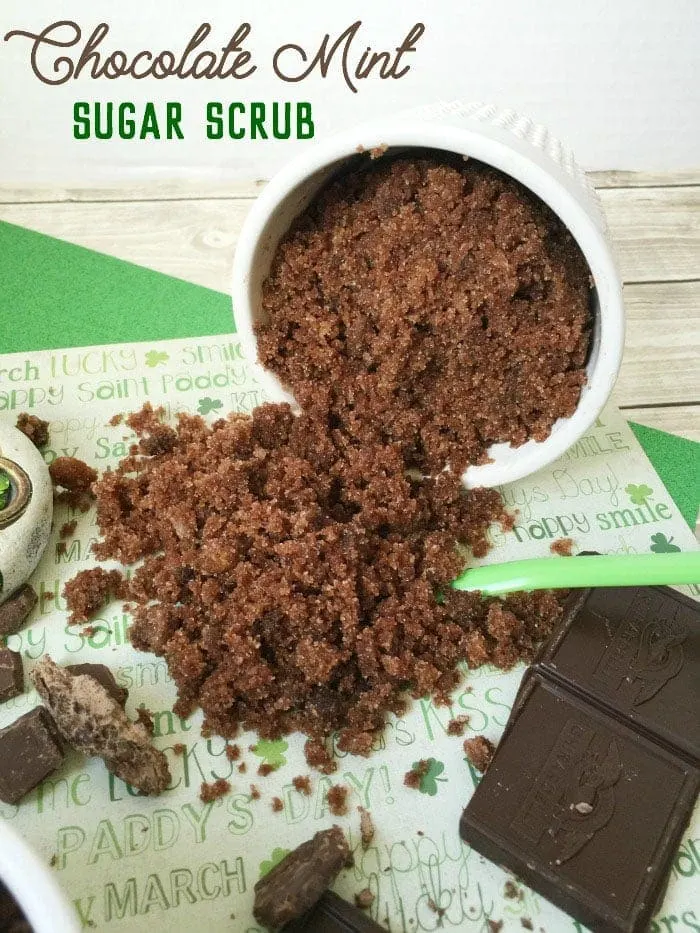 Homemade Chocolate Sugar Scrub
Winter is in full force here in the Chicago area, and my skin is feeling it. I like to use a sugar scrub at least once a week to try to keep the scaly skin to a minimum.
It's so easy to make your own scrubs, play around with ingredients, and choose them to target different skin issues.
I don't know a lot about aromatherapy yet, but I do know that I find peppermint soothing. I like to use peppermint oil in a bath if I am overly stressed or feel a headache coming on.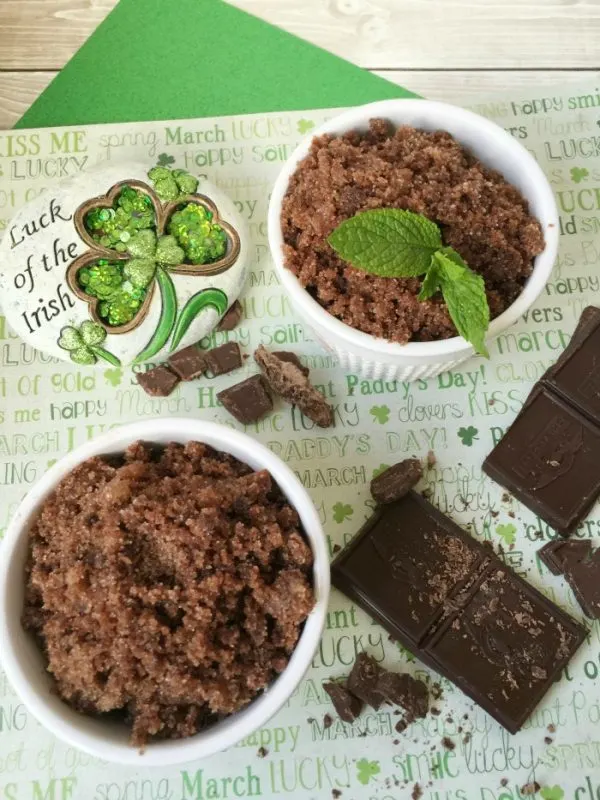 If you know someone who loves Thin Mints, surprise them with a "lucky" jar of sugar scrub for St. Patrick's Day!
I mean, really, who doesn't want to bathe in their favorite dessert? 😉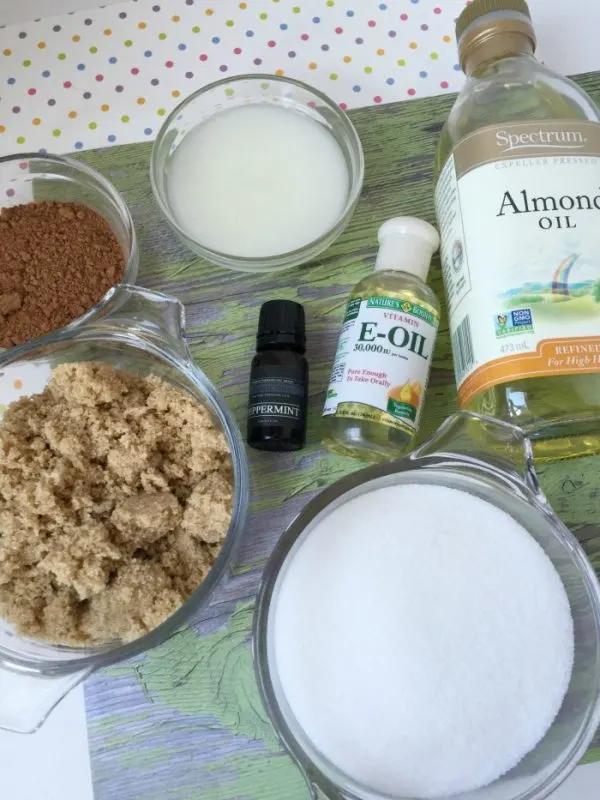 DIY Mint Chocolate Sugar Scrub Ingredients
Here's what you need to make this bath and body scrub. The measurements are in the how-to card below.
Granulated sugar
Brown sugar
Coconut oil
Almond oil
Cocoa powder
Peppermint essential oil: You can also use peppermint extract.
Vitamin E oil: Optional, but great for your skin.
Jars with lids and labels.
Chocolate Sugar Scrub Directions
Add both the sugars and the cocoa powder to a mixing bowl.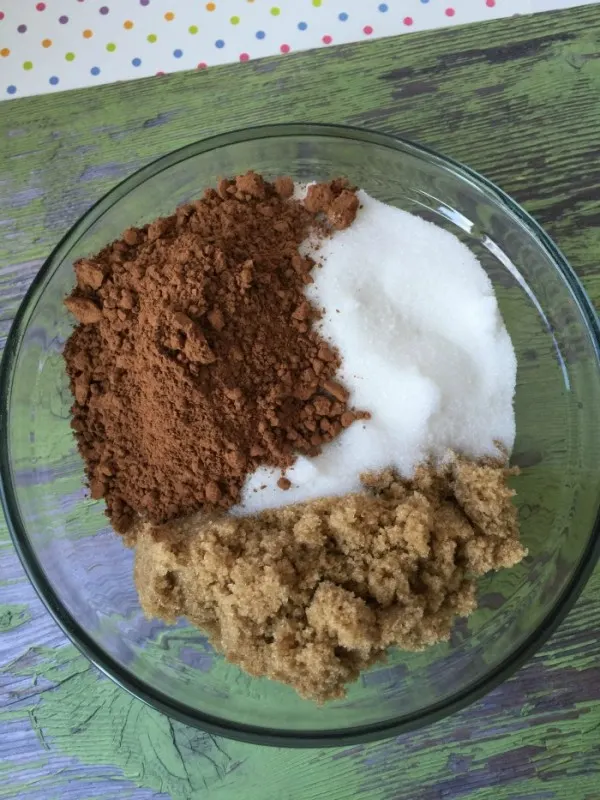 Melt down your coconut oil so it's easy to mix. Add the coconut oil and almond oil to the sugar mixture and mix until well combined.
Add the peppermint essential oil and Vitamin E oil if you choose to use it and mix well.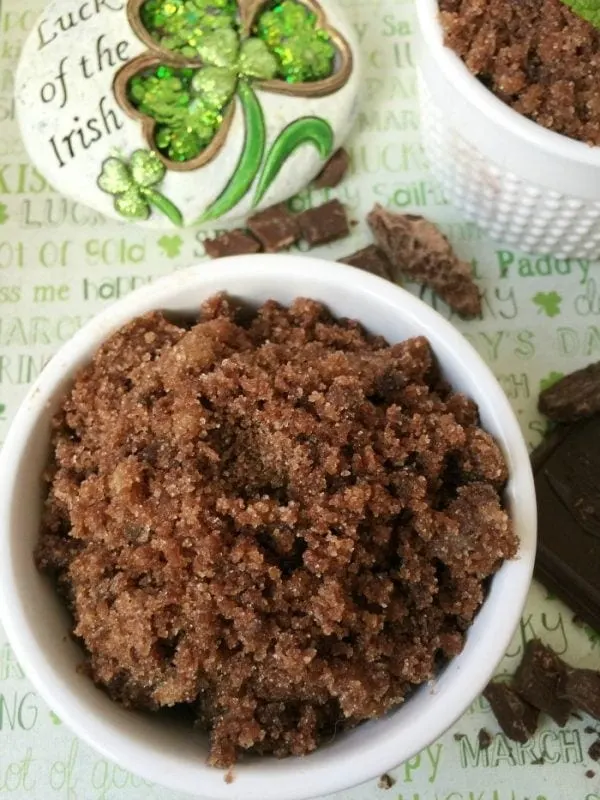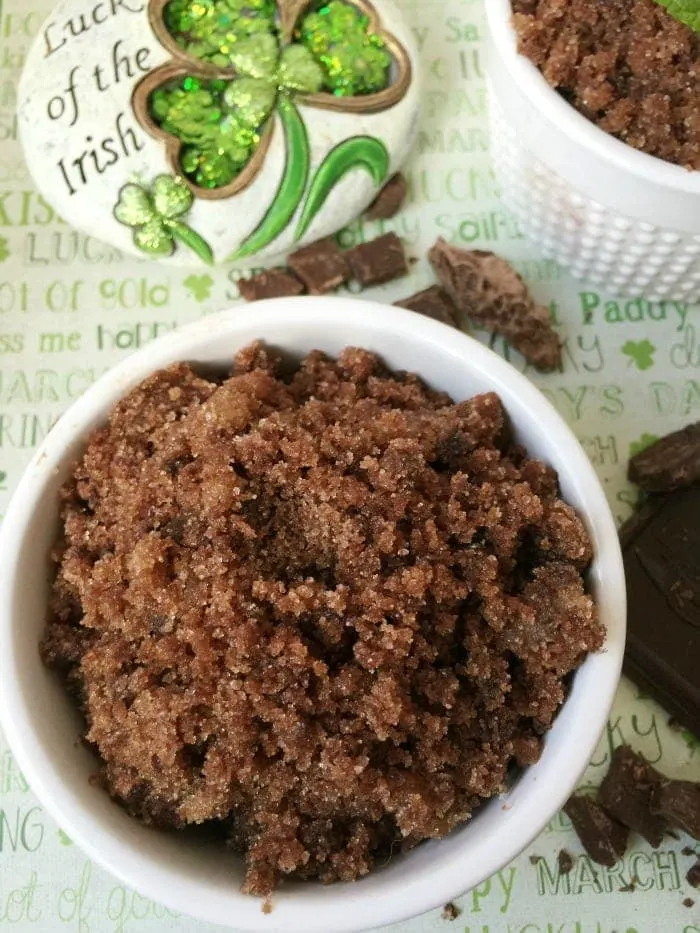 Transfer the chocolate sugar scrub to an airtight container. Use smaller jars if you are making it for gifts.
Be sure to label your jar so no one thinks it's food!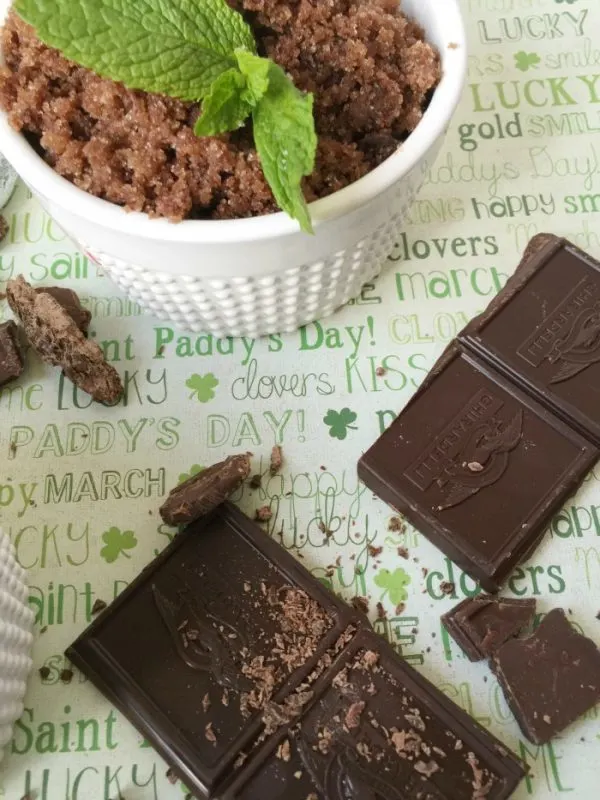 To use, pour some scrub on a wet washcloth, a bath pouf, or your hands and gently rub on your body in the bath or shower.
Rinse yourself with warm water and pat down with a towel.
Store the scrub for up to six months in an airtight container.
Yield: 2 cups
Homemade DIY Mint Chocolate Sugar Scrub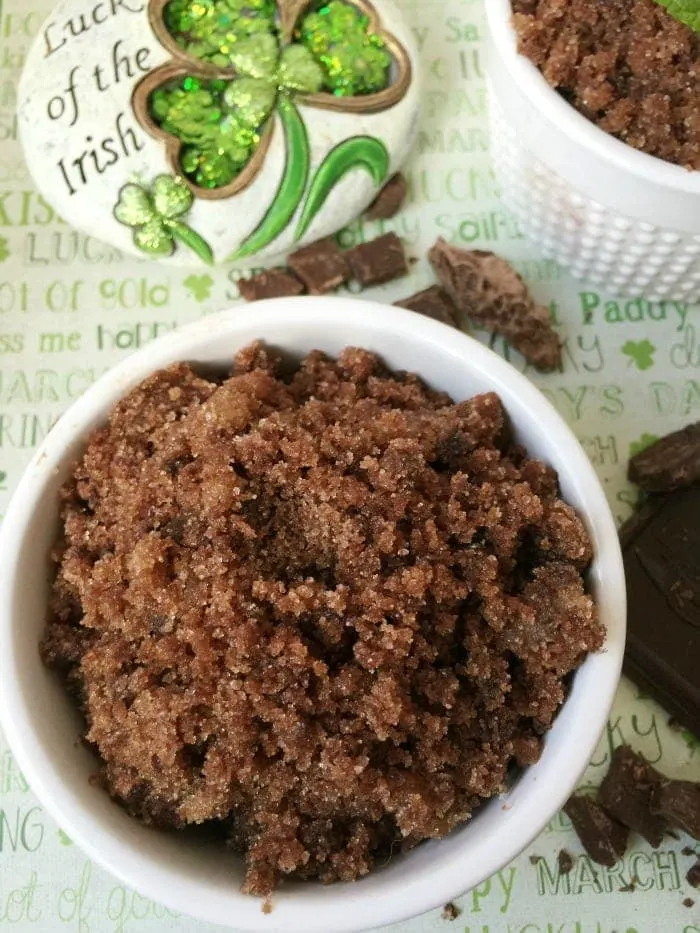 Make your own body scrub. Mint chocolate sugar scrub makes a sweet gift for someone or make some for your home.
Materials
1 cup granulated sugar
1 cup brown sugar
1/4 cup coconut oil
1/4 cup almond oil
3 T cocoa powder
4 drops peppermint essential oil, or 1 teaspoon peppermint extract
Optional: 1 teaspoon Vitamin E oil
Tools
Bowl
Jar with lid and label
Instructions
In a large bowl, add the granulated sugar, brown sugar, and cocoa powder.
Melt your coconut oil if needed and mix in the coconut oil and almond oil. Stir well to combine.
Add the peppermint essential oil and Vitamin E oil (optional.) Mix well.
Transfer to an airtight container and label it so no one mistakes it for food.
Recommended Products
As an Amazon Associate and member of other affiliate programs, I earn from qualifying purchases.
DIY Bath and Body Items
Pin this image to your self-care board to save and share!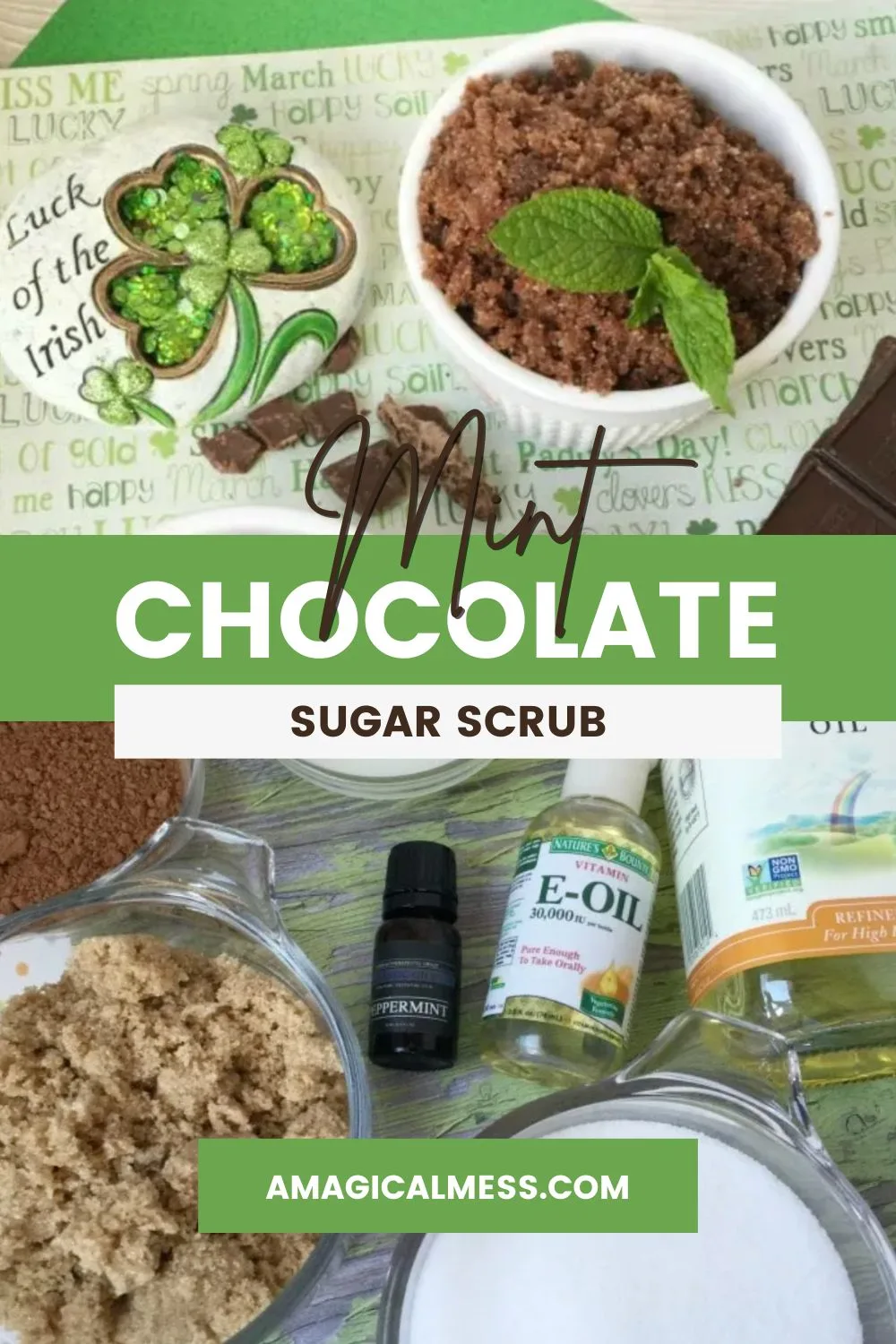 It's so easy to make your own sugar scrub. Treat yourself to this mint chocolate sugar scrub recipe and let me know how you like it.