With the holiday season approaching, I'm always on the lookout for ways to keep the house clean with multiple dogs. As much as last-minute-panic-cleaning fuels me, it's not ideal! I'd rather stay on top of the chores, and be ready for any company that decides to visit during the next few months.
Neato Robotics sponsored this post, and I am an affiliate for the company. If you make a purchase after clicking the links in this post, I will receive a commission at no extra cost to you. All opinions are 100% my own.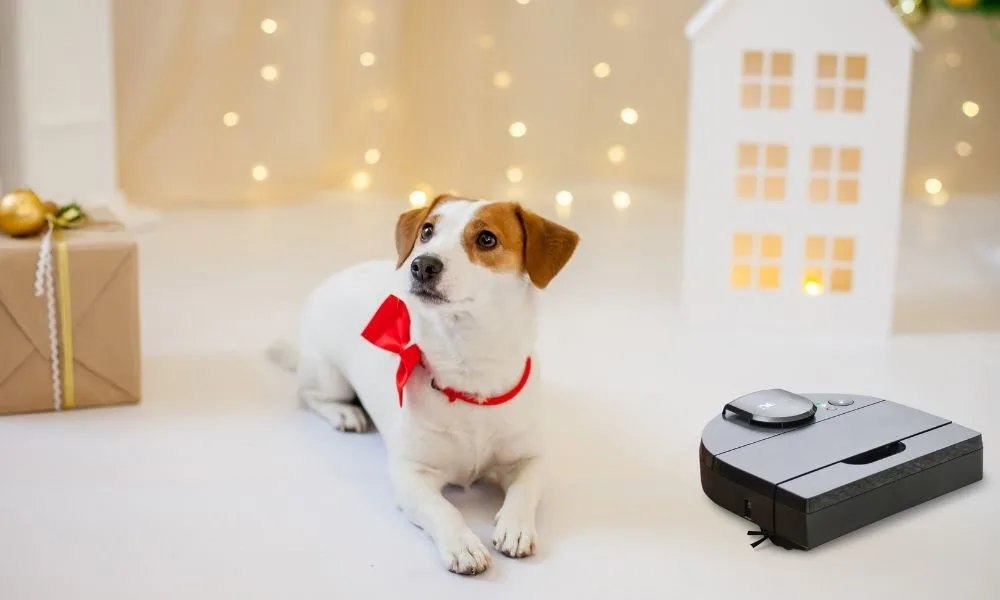 Ways to Keep Your House Clean with Multiple Dogs
Here are some small ways to stay on top of cleaning before the holidays. Add these tasks to your daily or weekly cleaning lists, so you aren't so overwhelmed the day before guests come over.
Use Washable Rugs
All the rugs in our home are now washable. With three dogs, I quickly found that vacuuming a rug is simply not enough. I need to be able to toss them into the washing machine at least once a week.
The rugs that I purchase are also quite affordable. If an accident occurs that isn't washable, I'm okay with throwing any of our rugs out. I'm always on the lookout for inexpensive and attractive rugs and mats at places like Home Depot and Menards.
Wash and Clean Pet Beds
Similar to the rug situation, I like to have dog beds that are machine washable. A wipe down is simply not enough when it comes to removing pet odors.
Use Throw Pillows With Covers
For decorative pillows, use ones with covers. If you have couch potato pooches, throw pillows can absorb odors quickly. Washing the cover is a lot easier than trying to wash the whole pillow.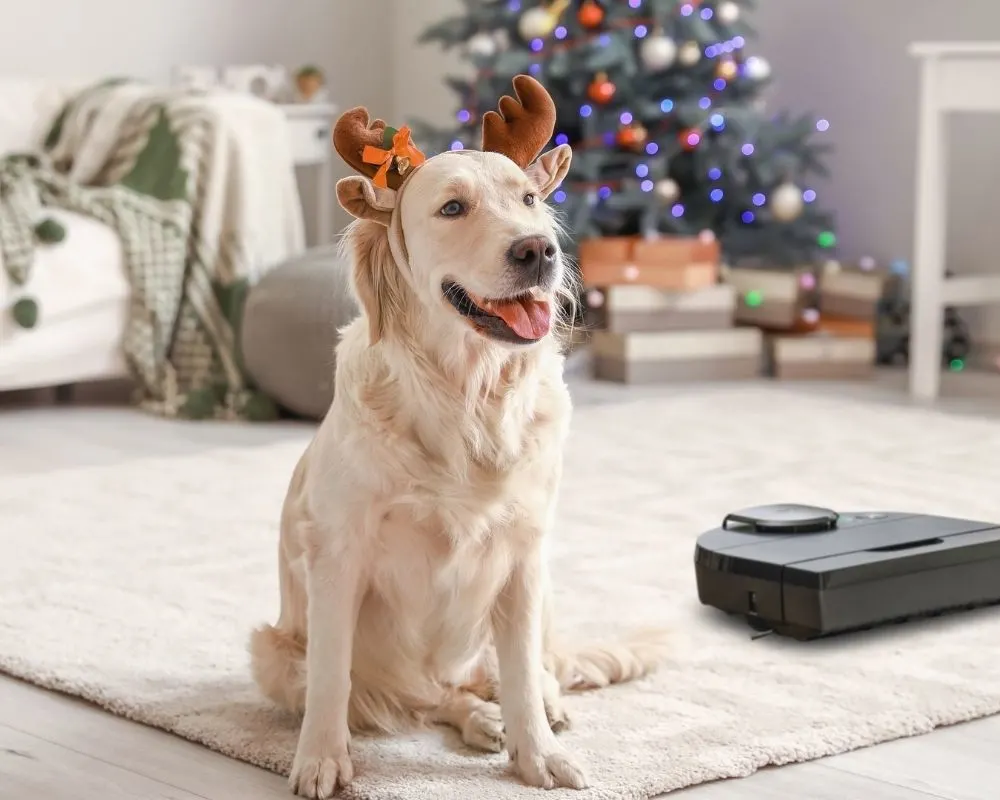 Wipe your Paws, Please
Try to get into the habit of wiping pet paws upon reentry. I know this is easier said than done, but see if you can create the habit. Setup a little station with pet-friendly wipes by your door. This habit can also help with pet allergies should you notice your dog licks their paws often.
Invest in a good vacuum
If you have more than one dog, I'm going to take an educated guess that you've been through more than one vacuum. It's not easy to find a good vacuum that can handle a lot of dog fur! In fact, I never thought a robot vacuum would be possible for us to use having three dogs, but I am happy to report that the Neato is here for us.
Ideally, someone in my house would vacuum or sweep multiple times per day. Due to dog fur, dander, and other things I like to ignore that the dogs drag in on their feet, there's always something to clean on our floors. Thanks to technology, robots can do this for us!
The ultimate gift around the holidays is time. Technology can give us back time with products like the Neato Robot Vacuum. Neato now offers even more of a selection to fit the needs of your home.
Neato D9 Intelligent Robot Vacuum
The Neato D9 Robot Vacuum is an excellent choice for medium-sized homes. Here are some features to enjoy in this ultimate cleaning machine:
Covers up to 1,600 sq. ft.
Use for 200 mins before recharging
Gives itself a quick recharge to finish the job
Picks up 40% more dust
Machine is 50% quieter
Captures up to 99.5% of allergens
Use with an app for super simple setup and control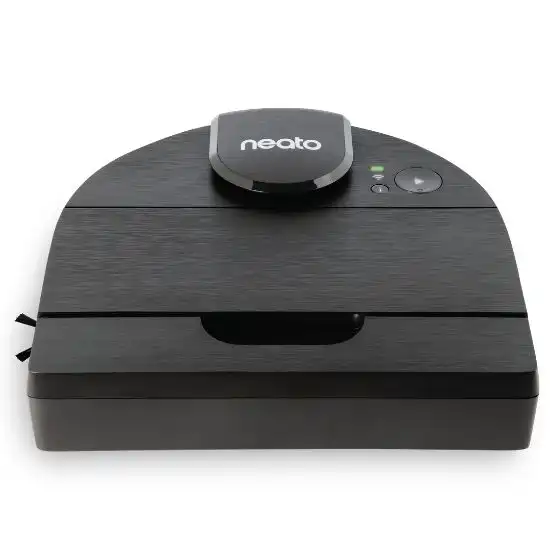 We earn a commission if you make a purchase, at no additional cost to you.
If you previously thought the size of your home or a unique floor plan meant a robot vacuum wasn't for you, definitely check out the new Neato models to see if there's a fit.
Neato D10 Intelligent Robot Vacuum
The Neato D10 Robot Vacuum is the ultimate cleaning machine ideal for larger homes. Enjoy these features in this model:
Covers up to 2,700 sq. ft.
Use for 300 mins before recharging
Gives itself a quick recharge so it can finish the job
Picks up 60% more dust
Runs 50% quieter
Captures 99.97% of allergens
Has a mode to pickup more dog fur (!!!)
Use an app for easy setup and control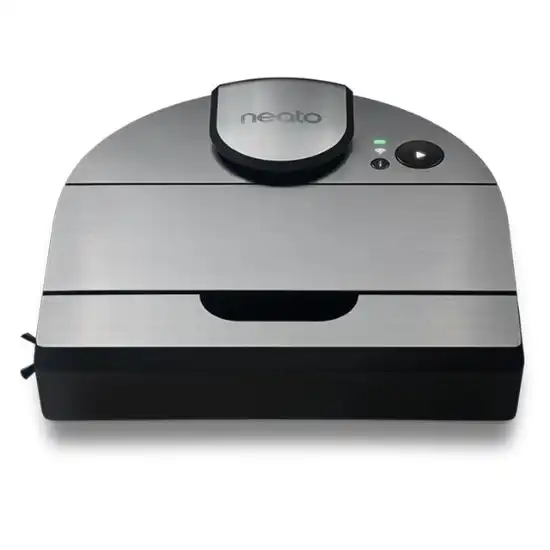 We earn a commission if you make a purchase, at no additional cost to you.
Allowing a smart vacuum to run frequently will save so much time when it comes to holiday prep. Cut down on the dog fur, dander, and other funk that causes dog odors, so people can pop by throughout the holiday season without the panic!
We absolutely love our dogs and will always have more than one. For that reason, I am constantly looking for more ways to keep up with cleaning, so our house doesn't smell. Let me know if you have any tips or tricks to keep your house holiday-ready!