My son wears his contact lenses usually just for sports activities. But as he gets older, he's starting to wear them more frequently and he's guilty of several common contact lens mistakes.
Back in day, when I regularly wore contacts, I was horrible about following the rules and can't stress how dangerous that was enough.
I'm happy to share a helpful infographic in this post to help adults, parents and teens make better choices about their eyes.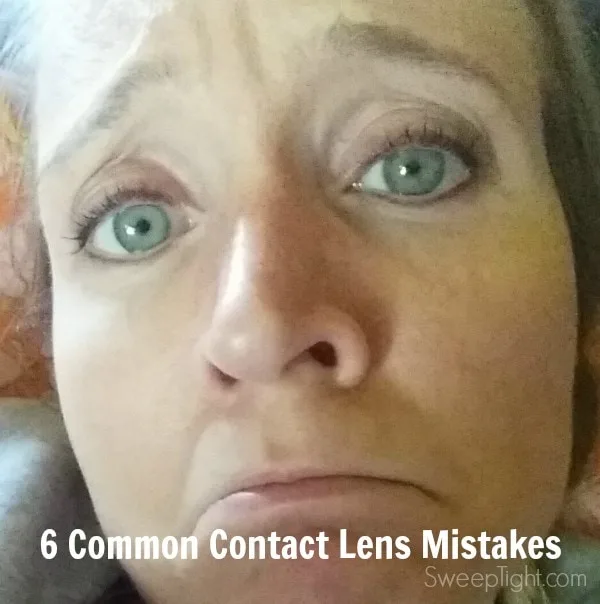 Common Contact Lens Mistakes
Today, nearly 41 million adults in the U.S. (more than one in ten people) and 125 million people worldwide wear contact lenses.
Wearing disposable lenses longer than the suggested duration
Cleaning the contact lens with rewetting drops
Using tap water to clean contacts
Not washing and drying hands before putting in contacts
Storing lenses in an improper container
Illegally buying costume contacts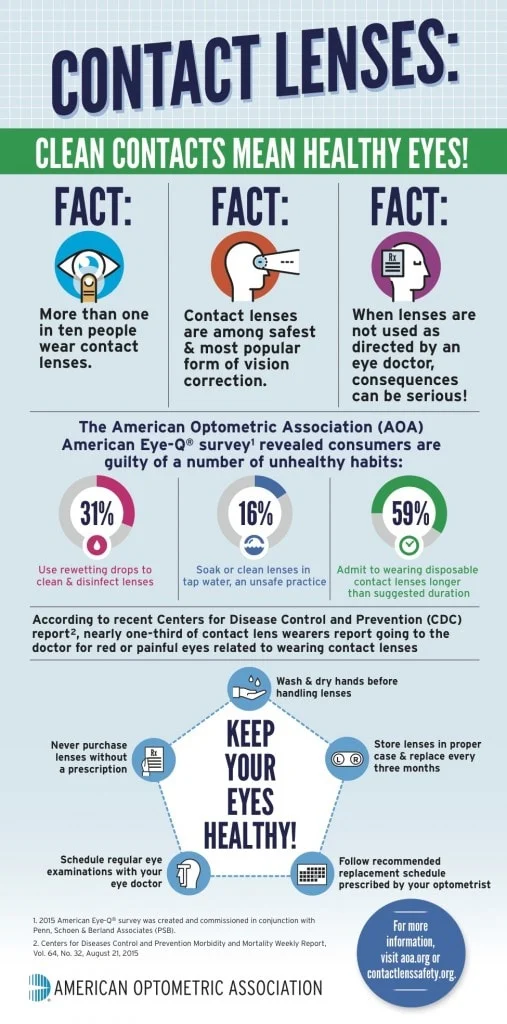 Not using your lenses as directed by an eye doctor can result in dangerous consequences and can even damage the eyes, potentially causing long-term problems with vision and eye health.
According to the American Optometric Associations's 2015 Eye-Q® Survey, more than half (59 percent) of Americans wear disposable contact lenses longer than the suggested duration. This bad habit can cause permanent eye damage from bacterial infections and oxygen deprivation.
Cleaning and rinsing lenses with the proper solutions is important to remove mucus, secretions, films or deposits that can build up during wearing and lead to bacterial growth if not removed properly. Imagine sticking a petri dish in your eye!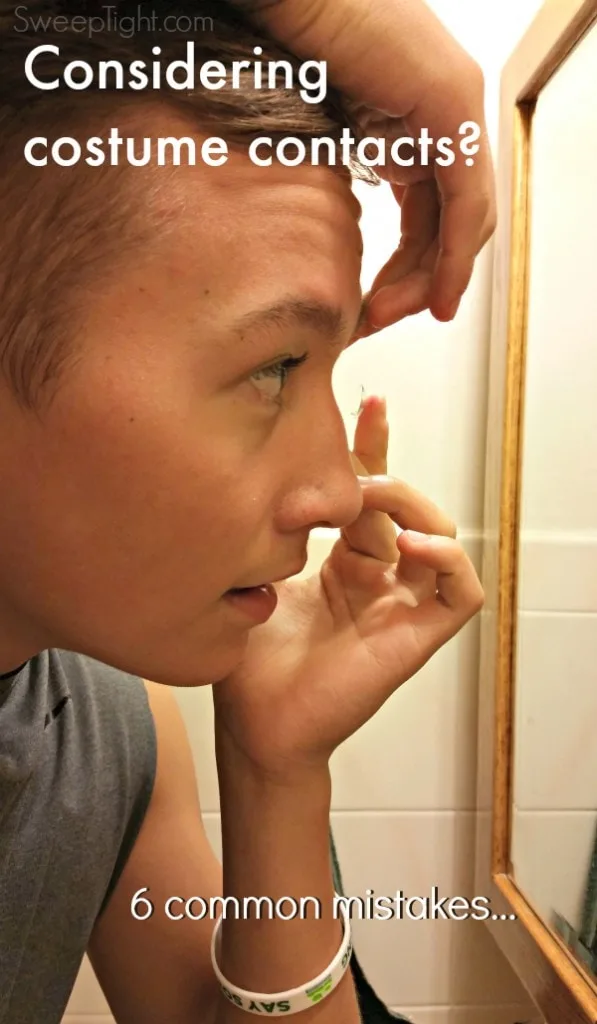 Costume Contacts
Optometrists are increasingly concerned about the illegal sale and use of decorative or non-corrective costume contacts. These are still classified as medical devices and pose the same potential safety and health risks as corrective contact lenses.
These lenses are not merely a fashion accessory. Wearers who do not follow the guidelines for use and wear or purchase them illegally (not from a doctor) can experience symptoms such as blurred or fuzzy vision; red or irritated eyes; pain in and around the eyes or, a more serious condition where the cornea becomes inflamed, also known as keratitis. These problems can lead to significant damage to the eye's ability to function, and even irreversible sight loss.
No cheap costume contacts are worth that risk! If you're really determined to achieve a dramatic look, just do it right. Visit an optometrist and follow their guidelines.
I was selected for this opportunity as a member of Clever Girls and the content and opinions expressed here are all my own.