Eye health is extremely important, especially if you have allergies or a family history of ocular issues. Since I have both, I jumped at the chance to review these eye cleansing products from Optics Lab. My recent trip to the ER for the whites of my eyes bulging out also had me extra enthusiastic to learn about these products!
Eye Allergy Relief with Optics Lab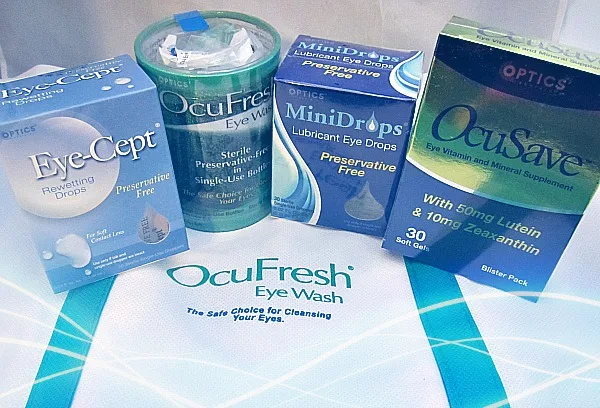 I am allergic to many things, including my dogs. It's a cruel joke that these two creatures that I love like children actually cause me to have all kinds of allergy issues. I also have seasonal allergies. Combine these two elements and I get the itchiest eyes on the planet.
Last Fall I ended up going to the emergency room. Long story short, my eyes were itching like crazy. Even though I knew better, I was rubbing them vigorously. I just couldn't handle the itching! All of a sudden I felt pressure when I blinked. I looked in the mirror and saw red, raised goo… at least, that's what it looked like. I swiped my finger across the area and realized it was not goo, it was a bubble of fluid buildup under the whites of my eye. WTF! I freaked out. These "bubbles" were in both of my eyes. When I blinked it felt like they might pop.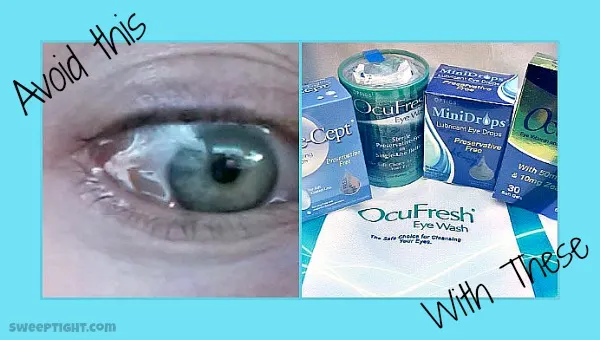 I am not a person that runs to the ER for anything, but I consider my eyeballs to be pretty dang important, so I went. The doctor at the ER said it was Chemosis due to severe irritation. He said he'd seen it way worse than my case and prescribed me some anti-histamine eye drops. If you search and look at the Google images, it definitely does get a lot worse – gross!


What I learned from this was to work on prevention. I don't ever want to let my eyes get that irritated again. I certainly won't be getting rid of my dogs, so it's just important to bathe them frequently, change our sheets (they sleep with us) and clean more often.
Optics Lab Products
There are also many products to help maintain eye health. I got to try the following from Optics Lab:
OcuSave Eye Vitamin and Mineral Supplement – Contains essential antioxidants and other ingredients that may help to prevent macular degeneration, reduce the risk of cataracts, support ocular nutrition, and help with vision overall.
Eye-Cept Rewetting Drops – For soft contact lens. Single use droppers to rehydrate lens whenever they feel dry.
OcuFresh Eye Wash – Single-use bottles and a sterile cup to cleanse eyes. Removes pollen, loose foreign material, or chlorinated water from eyes. This is the most exciting product to me. I always tell Mike that I wish I could take my eyeball out and wash it. Well, now I can (while leaving it in the socket). This product will be used frequently by me, especially when the pollen starts flying around again!
MiniDrops Lubricant Eye Drops – Single-use droppers convenient to carry and use. Helps relieve burning, itching and irritation. Moisturizes and soothes dry eyes.
Obviously, if you are having eye problems, visit your doctor first! My optometrist recommended me to use products like this to prevent my allergy irritation. All of these products can be found at most drugstores, and online at amazon.com and drugstore.com.