Cupcakes in a cone are an extra special treat. The creative presentation of cone cakes will make anyone smile. We have a strawberry lemonade cupcakes in a cone recipe for you that's perfect for Mother's day, bridal showers, Easter, or just anytime.
The colors are bright and fit right in with any spring or summer theme.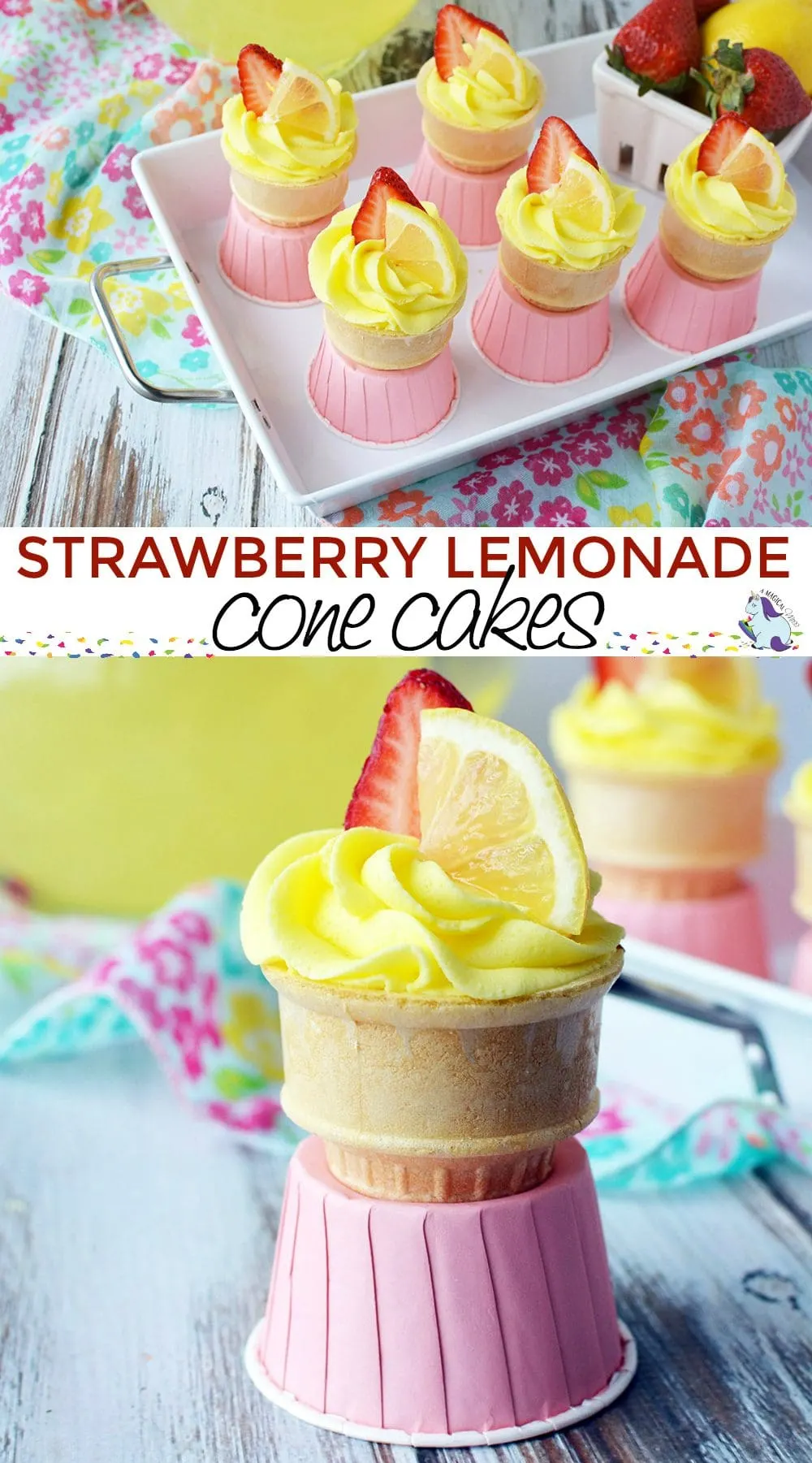 What is a cone cake?
A cone cake is a cupcake baked into an ice cream cone. During baking and decorating it's often challenging to get all of the cones to remain upright. The chances are good that you'll end up with an unfortunate magical mess.
Enter Yippee Cone Cakes bases. The bases assure your cakes will behave themselves throughout the process. The bases keep the cones standing during baking, decorating, and serving. They may even catch drips to save some mess. Plus, they are pretty and add extra color to your masterpiece.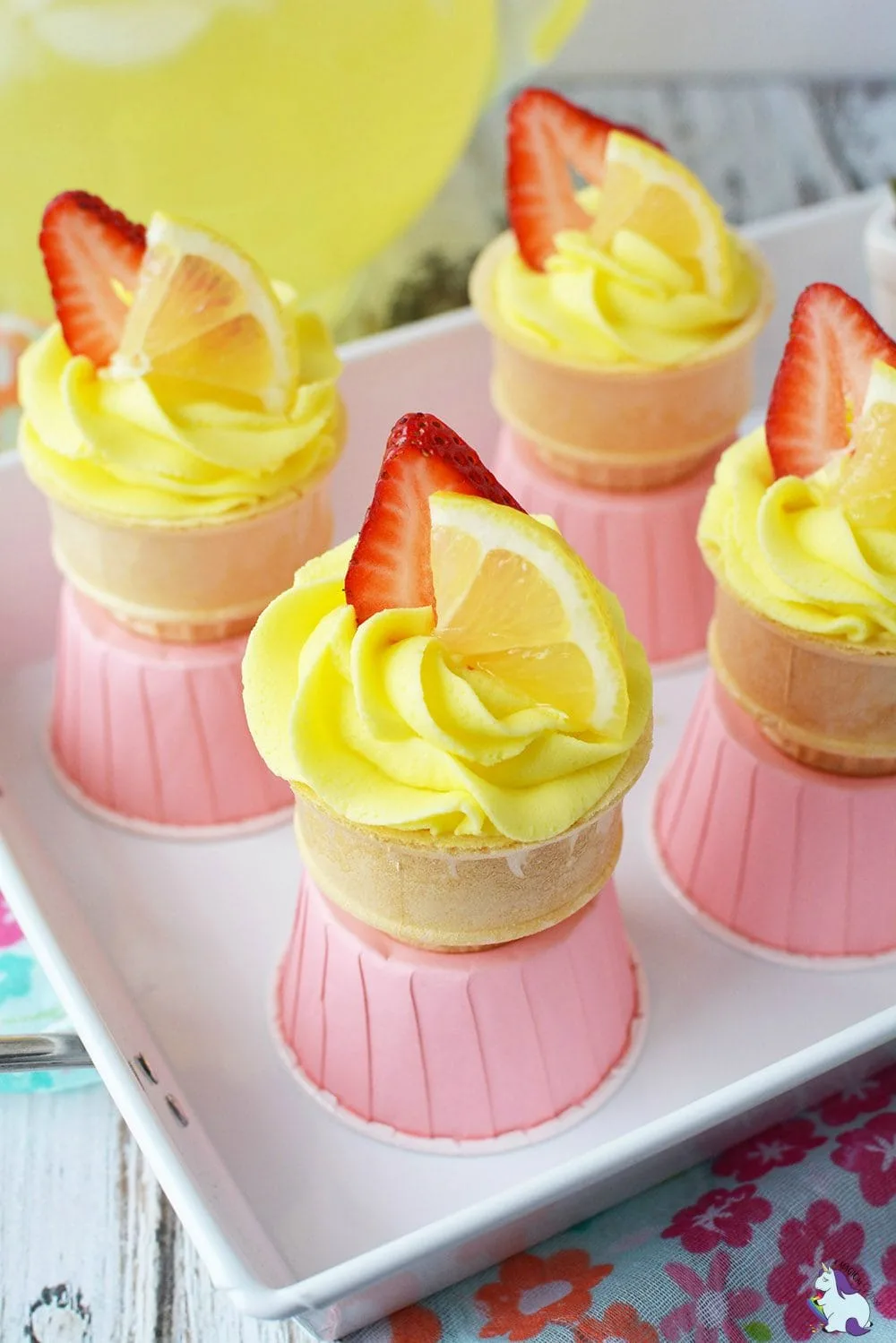 Kari worked with Yippee on her Chocolate Covered Strawberry Valentine Cone Cakes and was so happy with them that she was eager to do one for our blog, as well!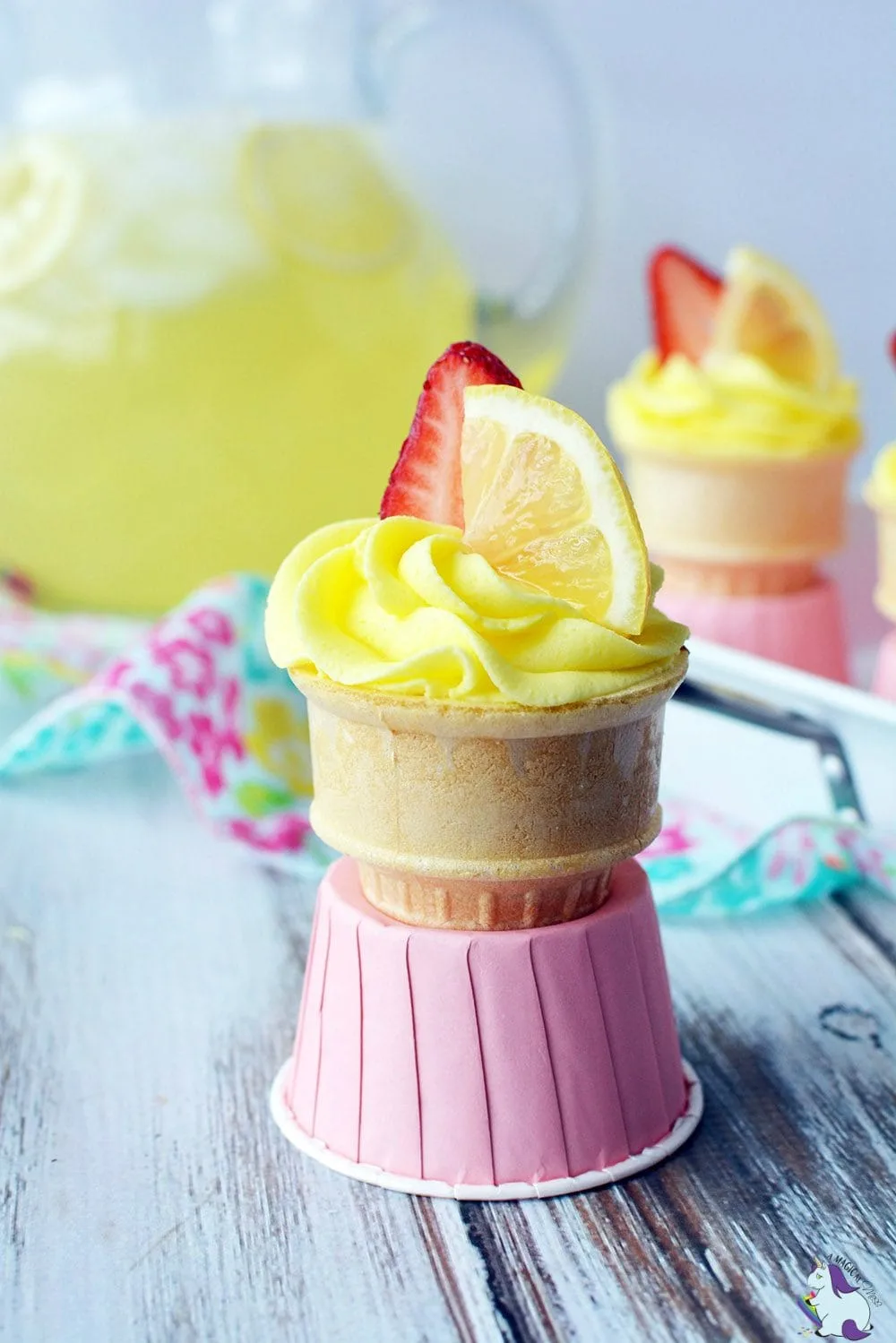 Cupcakes in a cone are easier to eat with less mess at parties. Since the container is edible, just take off the base and chow down. For kids, it's easier to hold the cone than try to remove a traditional cupcake wrapper. Maybe even prevent an extra bath time? No promises here, but cone cakes are definitely more fun to eat.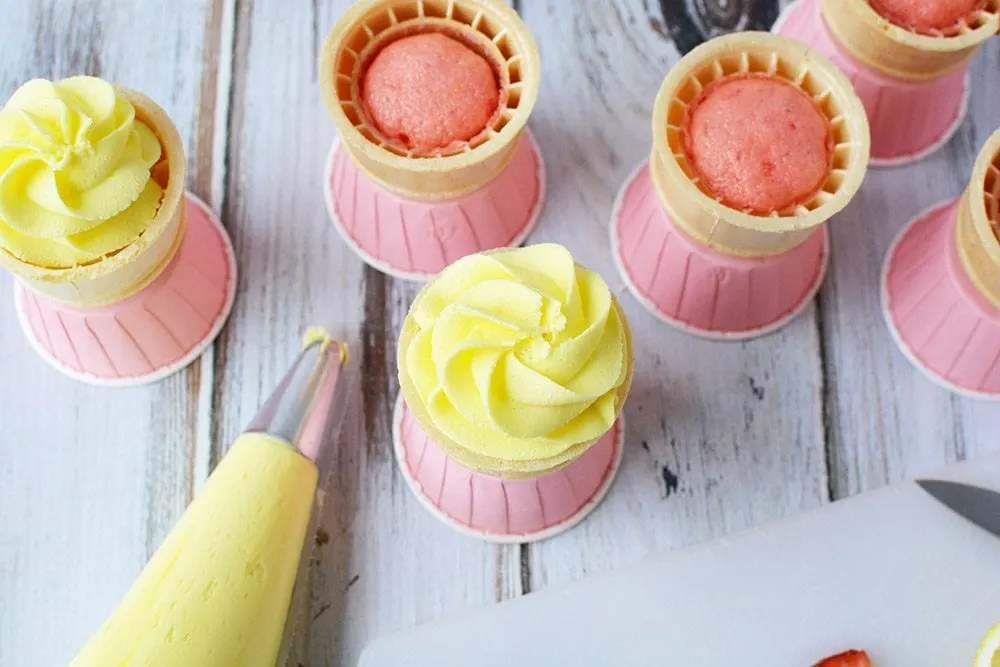 Yield: 24 Cone cakes
Strawberry Lemonade Cupcakes in a Cone Recipe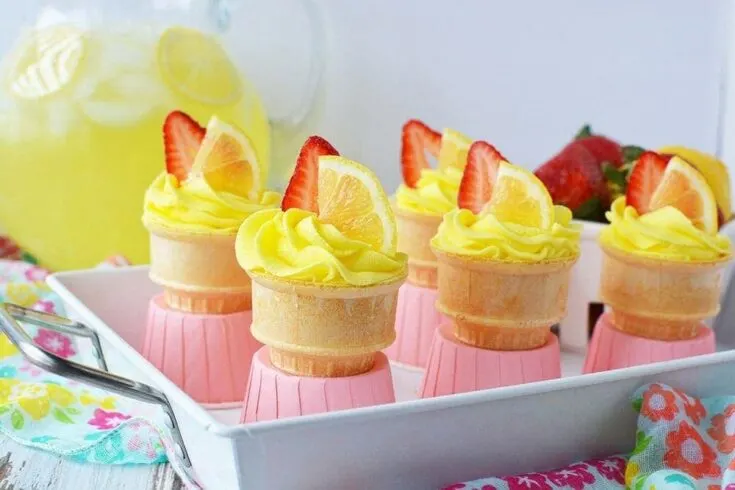 Cupcakes in a cone are super fun to eat. Here is a recipe for strawberry lemonade cupcakes.
Ingredients
1 box strawberry cake mix and ingredients to make cake, water, oil and eggs
24 ice cream cones
3 cups powdered sugar
1/3 cup butter, softened
3 tablespoon lemon juice
yellow food coloring, optional
6-8 fresh strawberries, washed, tops removed and sliced
1 lemon, cut into 6 slices and quartered
Instructions
Preheat oven to 325 and place Yippee Cone Cake Bases on a light-colored baking pan.
Place 1 ice cream cone into each base making sure to press the cone gently but firmly onto the base. Set aside.
Prepare cake mix according to package directions. Spoon batter into prepared cones up to the fill line on the cones.
Bake for 18-20 minutes or until toothpick inserted in the center comes out clean. Let set to cool completely before frosting.
Beat butter for 30 seconds in a mixing bowl. Add sugar and lemon juice and beat for 2 minutes. Add food coloring if desired.
Continue to beat until you have a frosting consistency you can work with. If you need to add additional liquid, add 1 teaspoon of lemon juice and beat well after each addition.
Place a large star tip onto a piping bag and place frosting into the bag. Pipe the frosting onto the cupcakes. Top each cupcake with a sliced strawberry and lemon slice.
Nutrition Information:
Yield:
24
Serving Size:
1 cone cake
Amount Per Serving:
Calories:

395
Total Fat:

18g
Saturated Fat:

10g
Trans Fat:

0g
Unsaturated Fat:

6g
Cholesterol:

70mg
Sodium:

165mg
Carbohydrates:

55g
Fiber:

1g
Sugar:

44g
Protein:

6g
Nutrition facts are an estimate only.
Great cupcakes for spring:
==> Lemon Cherry Filled Cupcakes Recipe
==> Green Tea Matcha Cupcake Recipe
==> Emoji Cupcakes Recipe
What flavor cone cakes would you make first?