No matter how old my kids get, we never seem to get enough of Disney XD shows. There is something so soothing, yet exciting, about having them on in the background. While on a press junket in LA, we were able to screen two episodes of MECH-X4 and interview the executive producers and cast!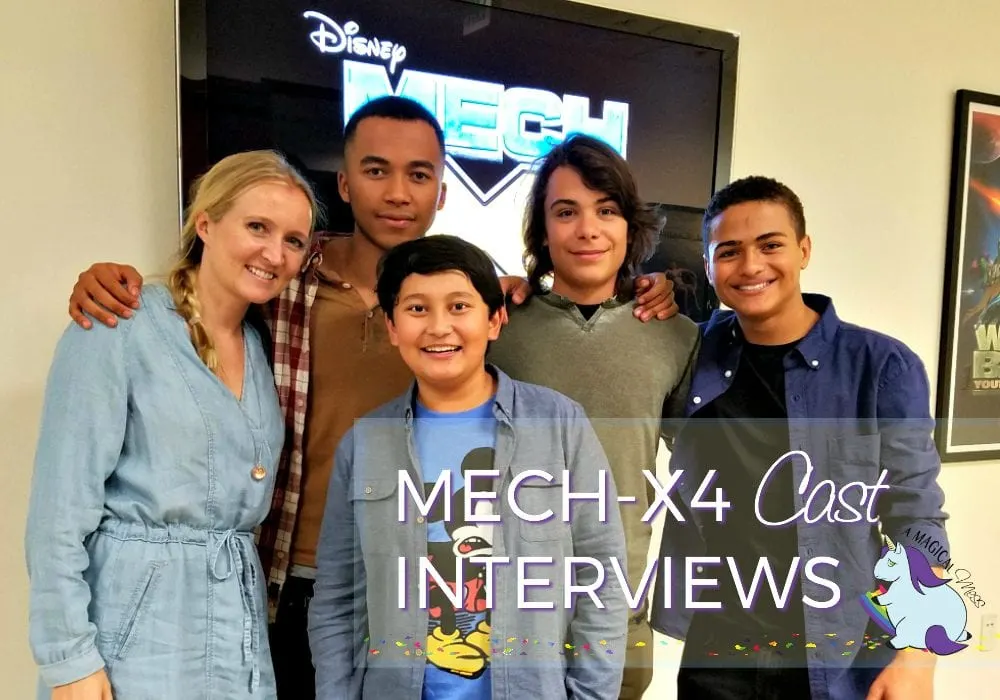 New Addition to Disney XD Shows – MECH-X4
MECH-X4 is like a mosh-up of ET, Goonies, Transformers, Godzilla, and some comic books. The show is about giant robots, and fighting bad guys, but more than anything it's about friendship.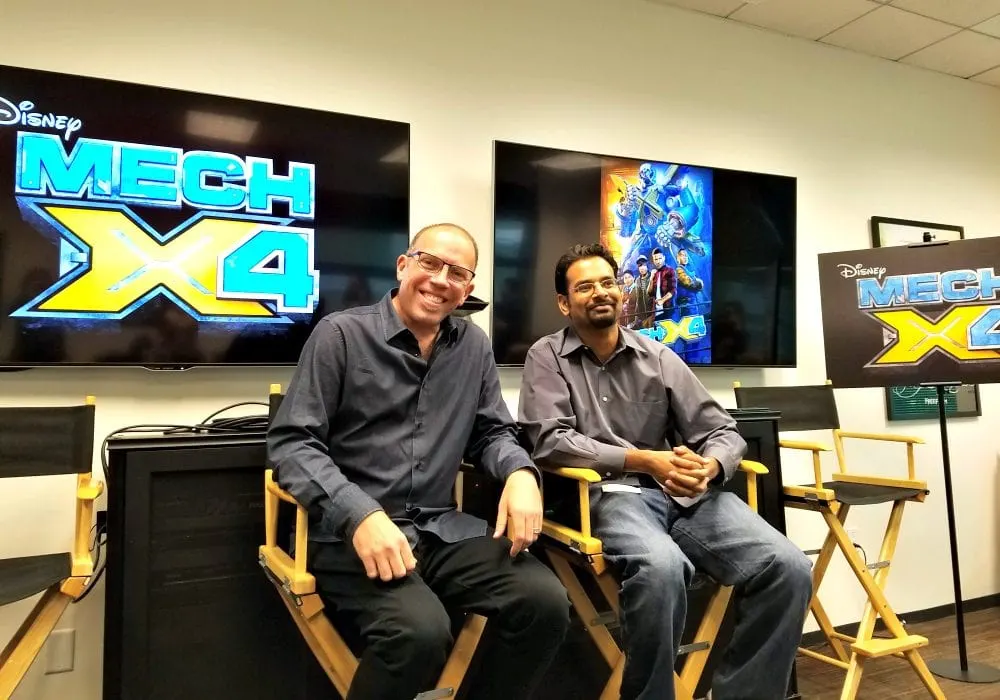 We talked with executive producers, Anupam Nigam and Steve Marmel and their excitement and passion for what they're doing was so contagious. You can really see and feel that they're put themselves into this show and the results are great. Kids are going to LOVE it!
Questions with the guys
Anyone who fell in love with the cast of Stranger Things, (didn't everyone?!) will feel the same about these four young gentlemen. They are so darn adorable and charismatic.
We asked each of them if/how they are like their characters.
Pearce Joza: "I like to say I'm like my character and not like my character. Spyder's very crazy and he likes to do a lot of daredevil stuff-type-things. And I lived in Colorado for a long time so I like to go out back and play in the pond and climb trees or whatever. I also love school. I'm taking college level courses and Spyder's not very good at school."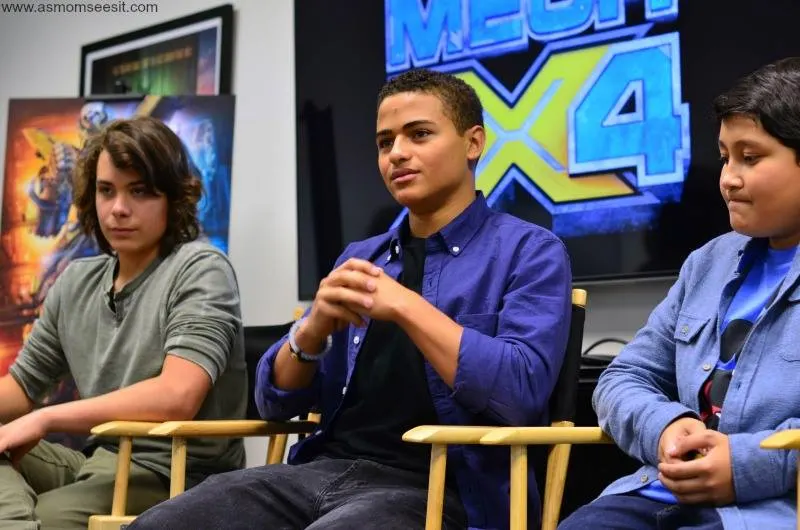 Nathaniel Potvin: "I'm kinda like my character because Ryan is always rising to the occasion. So whenever he has to fight a monster or even stand up to his brother, I'm kinda like that in some ways. Also, I have two older brothers so I know exactly what Ryan goes through on a daily basis. And, Ryan loves to skateboard. I love to skateboard. So there's some similarities between us there."
Kamran Lucas: "Harris and I are pretty similar in like book smart terms. But not so much. More of like we both dress really nice and we're both ladies men." [lots of LOL]
Raymond Cham: "Oh, how do you follow that? I'm kinda like my character in a way. When it comes to family I'm very protective… I care for my family and I'll do anything to protect them and make sure they're okay. I've also dabbled in sports a bit. When I was around eight or nine, I used to play basketball. But, other than that, I'm not too similar."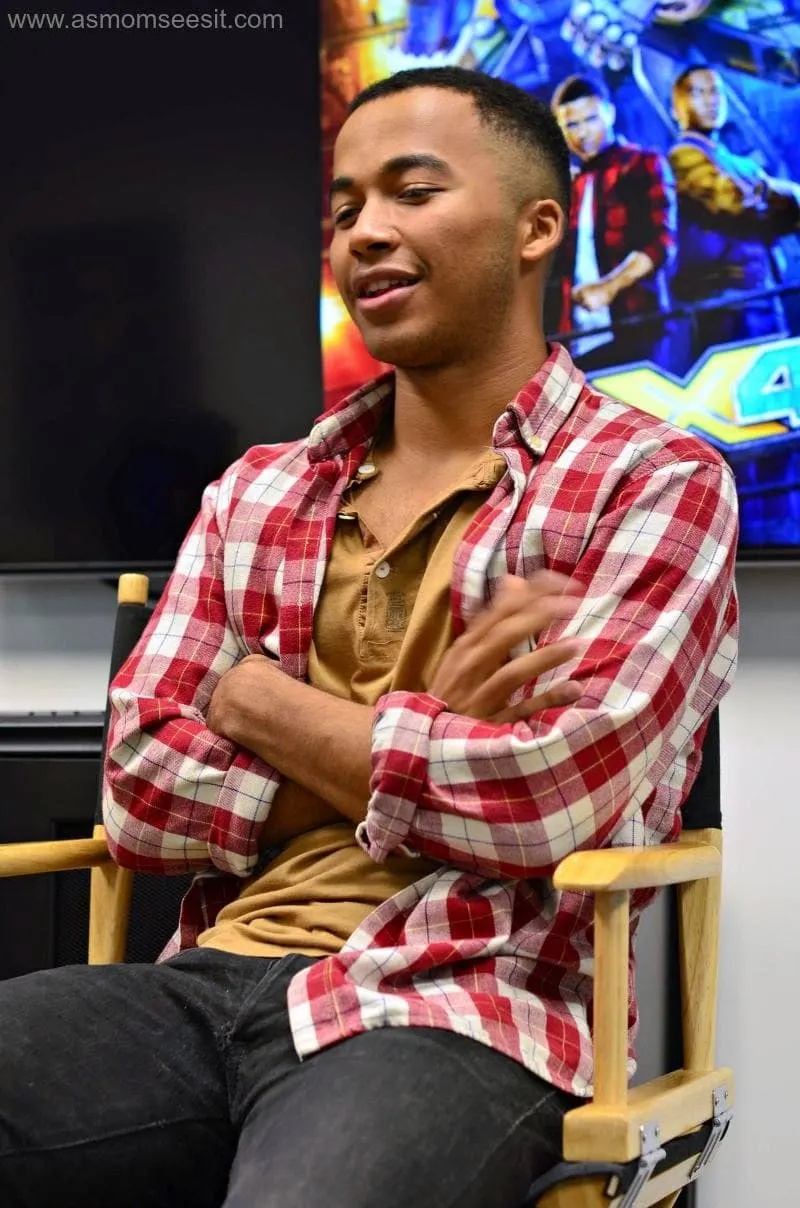 If you could have any super power…
Raymond Cham: "Shape shifting! It's the craziest. Boom, I wanna fly–I'm a bird. I end up in the water–I'm a whale. I could be anything. I think about it all the time. Maybe too much… Everyone's like I wanna fly. WHAT? That's it?! That's all you wanna do? I could do that. I could do anything."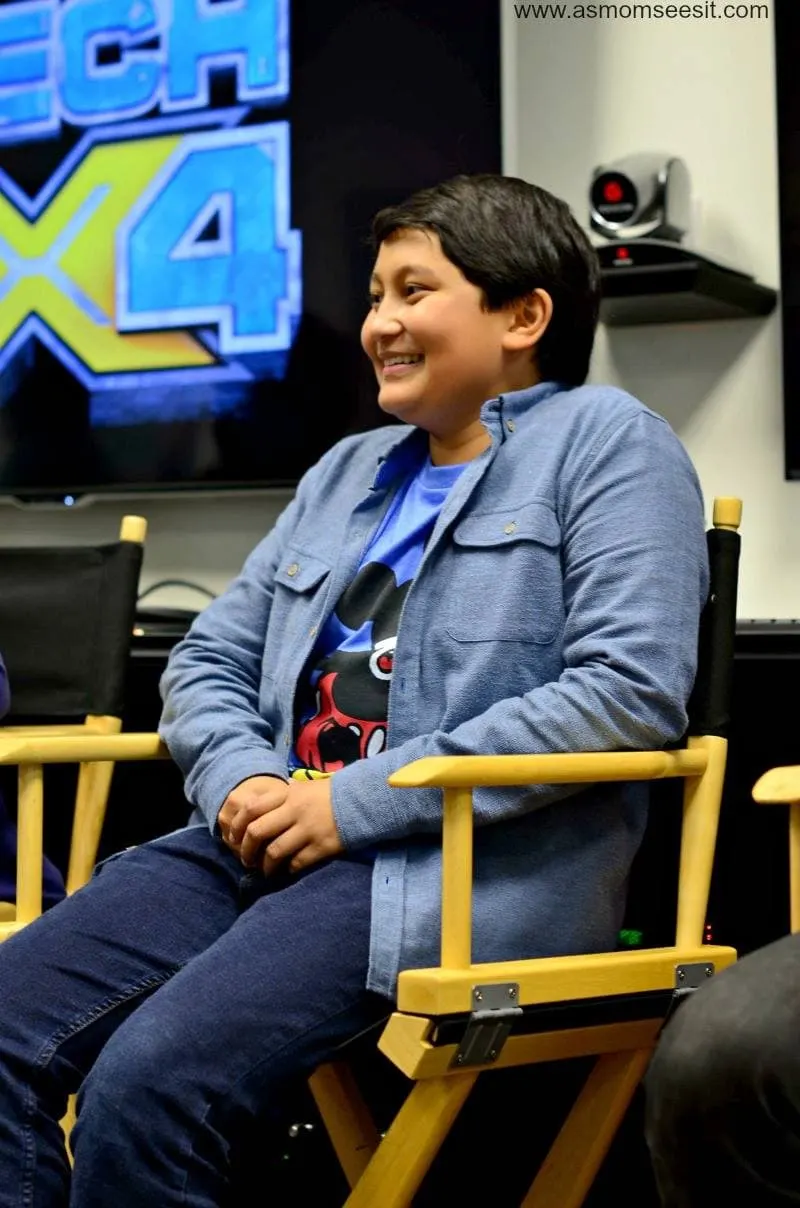 Kamran Lucas: "I kinda wanna have the ability to stop and turn back time… I want to change something when I was younger. I was at Legoland and this girl pushed me. I was really mad because she did it for no reason and I just want to go back and say, 'Hey, I'm on Disney Channel now.' [laughter] I'm not like that in real life. Just to that one person…"
Nathaniel Potvin: "If I had a super power it would probably be teleportation because who wants to pay for airline tickets? No one. No one does. Also, it would just be really convenient. If I got locked out of my house I could just teleport inside my house."
Pearce Joza: "Telekinetic powers. It's pretty much controlling anything you think with your mind."
What is your favorite thing to do off set? On your days off?
Pearce Joza: "Snowboard… I was on the Junior Olympics team in Colorado."
Nathan Potvin: "My favorite thing to do off set is go rock climbing."
Kamran Lucas: "I like to sleep. So late. I like to be in my bed and just not do anything. Yeah, sleep is great. Everyone should have a lot of sleep. I got a solid twelve hours one day… Yes. Sleep is awesome."
Raymond Cham: "I wanna say something crazy like skydiving or something like that, but really I just sit home and watch movies. That's all I really do. I mean sometimes we'll go go-carting, which I really love doing. But yeah… I love watching movies just to study [the acting]."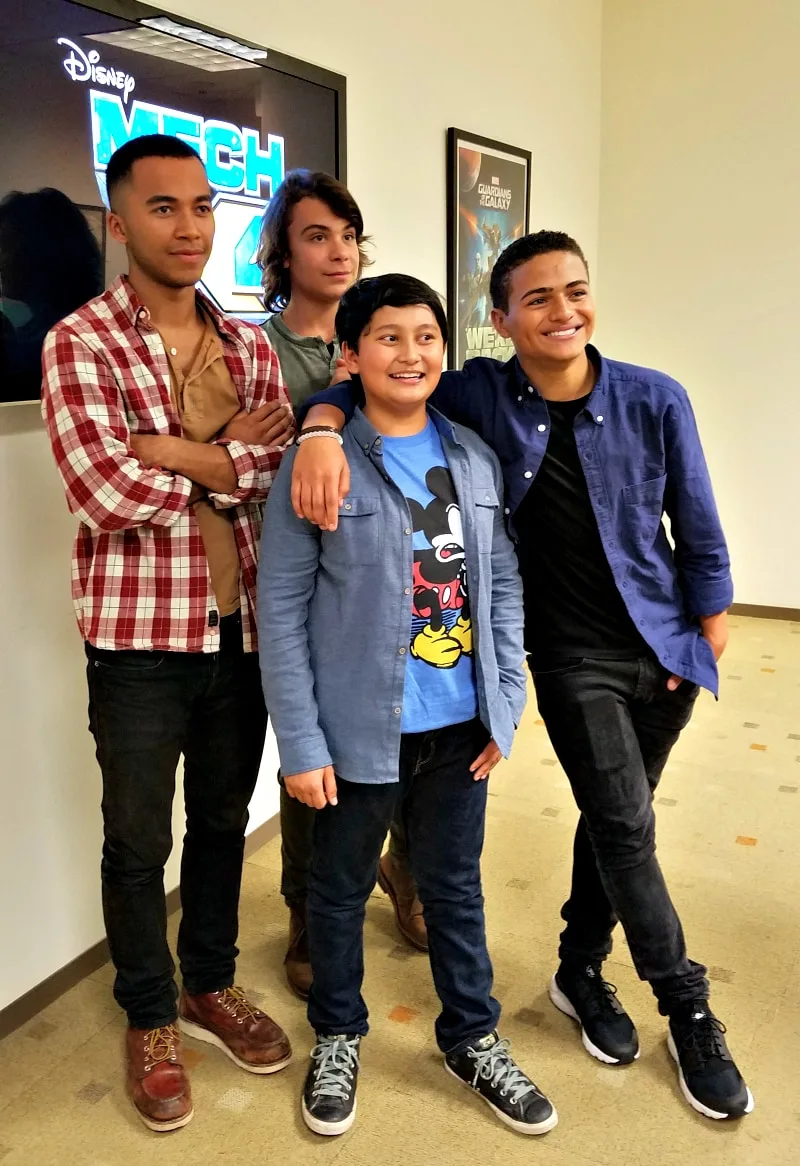 What movies? Anything specific?
Nathaniel Potvin: "Interstellar. Interstellar is one of my favorite movies. I love sci-fi. I love dramas. I love all genres. Sci-fi is really awesome…"
Kamran Lucas: "One of my favorite movies was Big Fat Liar, which was with Frankie Muniz and Amanda Bynes. I just thought it was a really good movie because it was about a kid who left everything to prove something to his parents and go on this whole journey of self-discovery… figuring out his place in the world. It was just a cool adventure. Watching it all I guess kind of inspired me too, to be an actor."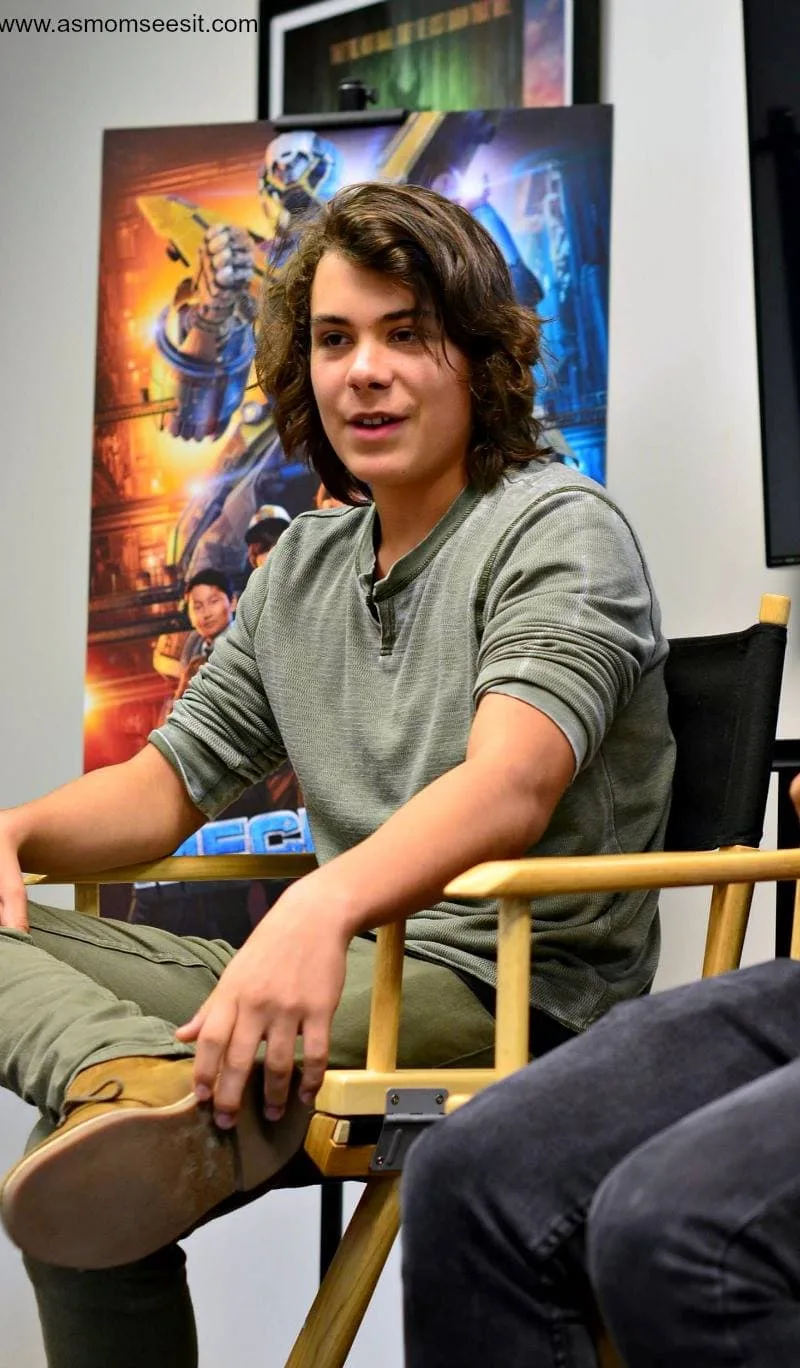 Pearce Joza: "Eternal Sunshine of the Spotless Mind. It's, of course, with Jim Carrey, but it's just amazing how it is comedy and drama at the same time, which is what I'm really into. I love comedy, of course, but I also wanna do drama some day."
Nathaniel Potvin: "My favorite movie is Good Will Hunting. I just think it's inspirational that these two guys got together and they wrote a movie together, and then they created something. And how they got this story and they went through a person's trouble of being really smart and how he has to struggle with that. And my favorite line is, 'I gotta go see about a girl.'"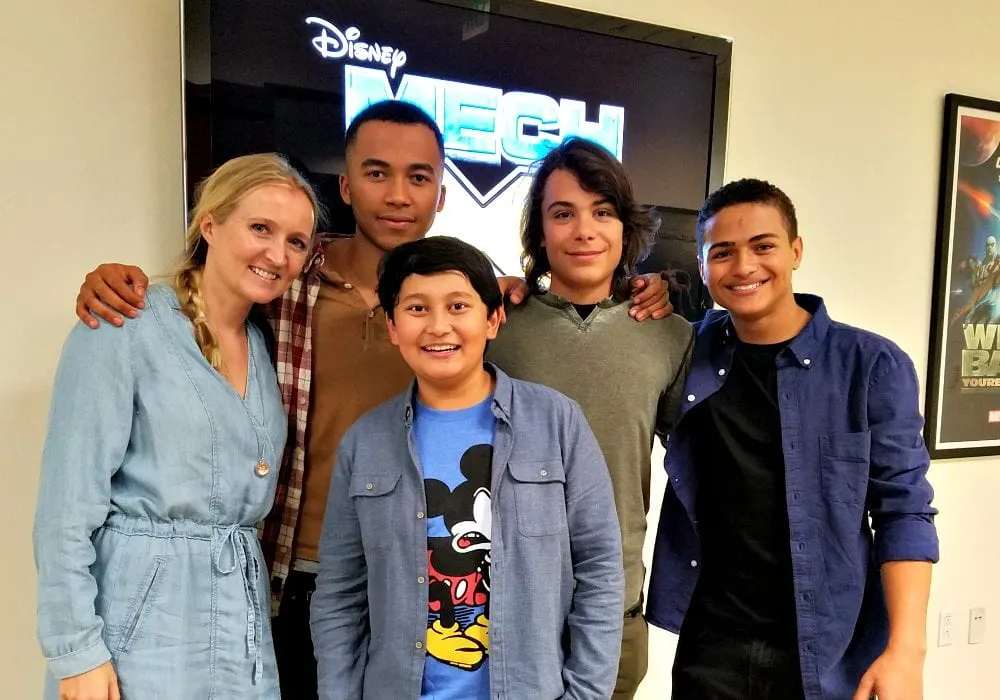 Okay, can these kids be any more charming?! I can't wait to see more of them in MECH-X4.
MECH X-4 will be presented in an expanded premiere weekend with four back-to-back episodes on Disney Channel, the Disney Channel App, and Disney Channel VOD starting Friday, November 11 8:30pm ET through Sunday, November 13th!