I am constantly on the lookout for new tech gadgets to improve my blogging business. Technology is always evolving, and it's hard to keep up with. It's also very pricey to stay on top of the latest tech trends. eBay Daily Deals is a refreshing resource. Many thanks to eBay for sponsoring today's story and encouraging me look for amazing deals.
You know, I realized that whenever I go to eBay I automatically type in what I am looking for and go straight to it. I seem to have overlooked a valuable spot that is the eBay Daily Deals. Every day eBay features items from trusted sellers that are offering deep discounts and free shipping. This double savings punch can score you between 20% and 90% off. The only catch is that there are limited quantities, and once they are gone, they are gone. They update the featured deals and replace the ones that run out with new deals, so it's good to check back frequently. But, if you see something you really want, grab it, cause they tend to sell out rather quickly.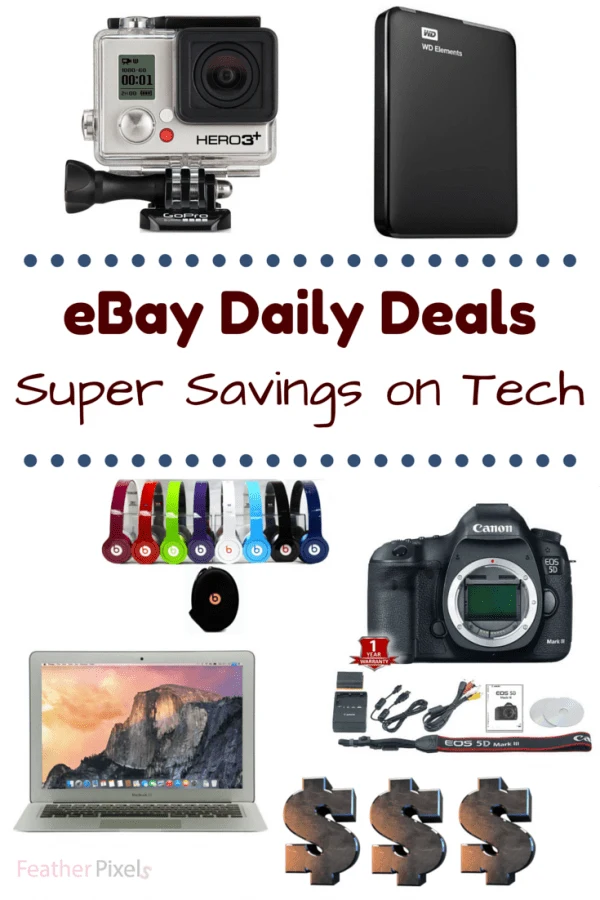 eBay Daily Deals – 5 Tech Gadgets on my Wishlist
Thanks to this new discovery, I now have 5 new items on my wishlist.
GoPro Hero3+ – If the weather ever decides to act like summer, we have many boating adventures we would like to record. A GoPro is ideal for what I have in mind. I want to create blog posts of us boating in Lake Michigan, and other cool spots that we find on the water.
Canon EOS 5D III Digital SLR DSLR Camera – Photography is huge when it comes to blogging. I am always looking for new ways to up my photography game. Buying my first DSLR was the best thing I could have ever done for my blog. I'd love to upgrade sometime soon.
Beats Solo HD By Dr. Dre Beats Solo HD On-Ear Genuine Headphones – What does this have to do with blogging? Productivity. I want to block out noises that distract me while trying to work. I have heard that these headphones should do the trick.
Apple MacBook Air 13.3″ Core i5 4GB 128GB Flash Storage – Because, hell yeah. Who doesn't want a new laptop? Blogging outside by the pool? Yes, please.
WD Elements 2TB Portable External Hard Drive – I need this desperately. With all of the images that I have downloaded on my computer, it's starting to run out of space. If I transfer some pics to an external hard drive, I don't have to delete them. It's more room for digital hoarders like myself.
Keeping an eye on the eBay Daily Deals is fun. They have it well organized into many other categories. It's not just tech gadgets. I will be checking back frequently to see what kind of deals I can score.
What will you put on your wishlist after visiting eBay Daily Deals?