Our house was burglarized two days before Christmas. Yep, what an absolute shock and violation. Home invasion is one of those things that you might not think will happen to you. It's still surreal to even admit that it happened to us.
I will save the whole story for another blog post, but for now I want to focus on how to feel safe again. Of course I would like to flee the neighborhood, the state, and move to an underground bunker located on a remote island, but for now I have to be more practical.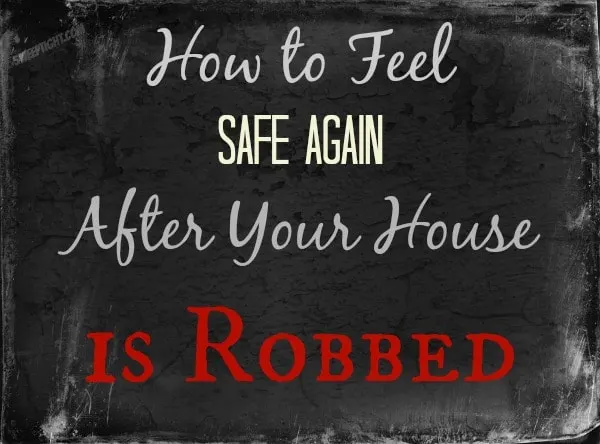 How to Feel Safer After your House is Robbed
Replace doors that have windows. We now have most of our doors with only small windows or none at all.
Notify your neighbors. This can let them know to be more vigilant in their own homes and also keep an eye out for everyone around them.
Install interactive devices in your home. Technology is evolving rapidly in this area. What was once a futuristic dream, is now a reality and actually more affordable than you may think. During my research on this I found a really impressive system offered by a builder. The Interactive Home™ by Taylor Morrison allows you to control your lights, home audio, and see who's at your front door all from your mobile device.
Install glass block windows in your lower level. They have attractive ones that have vents to still allow air in during nice weather. Glass block windows can be much harder to break or knock out for easy entry for a home invader.
Report suspicious activity. There have been reports around this area of people knocking on doors. If you answer, they ask some random question. If you don't, they proceed to the back of your house and break in. If anyone iffy stops by, just let the cops know. You don't have to call 911, just give the local police a heads up.
Get an alarm system. Obviously, this is a great idea. I would suggest doing so before a robbery occurs. It's also not all that expensive, and can lower your home insurance rates.
Get motion lights. This can help you feel safer at night. Most likely a burglar would turn away if a bright light shines on their path.
Reach out for help. Honestly, I wouldn't be surprised if some people experience some form of PTSD from this. Don't be afraid to seek counseling or talk to someone to help you feel safe again.
This is a work in progress for us. Never have I felt a feeling like this. Knowing that someone was in our house rooting through all of our drawers and personal things is the most unsettling feeling. I am trying to focus on the fact that it could've been a lot worse and that no one was hurt — "what doesn't kill ya makes ya stronger" and all that jazz, but it will definitely take time.
Have you ever been robbed? How did you make yourself feel safe again?