Garage storage can be a challenge, but SafeRacks helps you create more space. We were sent a SafeRacks unit for review purposes. All opinions are our own.
When you lack garage storage because of space issues, your best bet is to get things off of the ground and utilize your overhead areas. SafeRacks allows you to do that safely and easily.
Extra Garage Storage with SafeRacks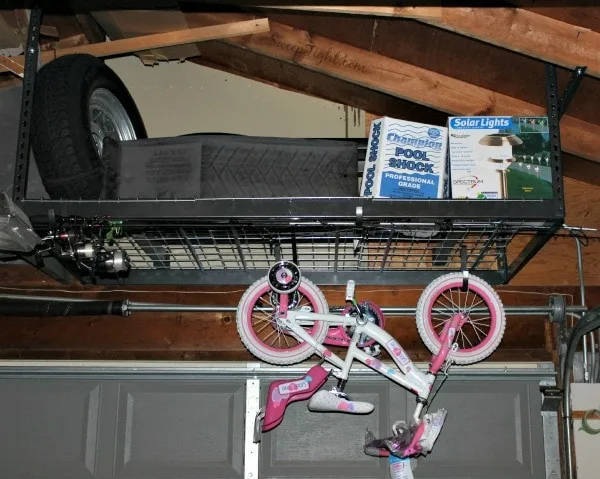 In this new year, one of our promises is to get more organized. That's quite a popular resolution, but can be an overwhelming one to tackle, as well. I am the "hoarder" of the family, and just want to keep everything.
Mike is more realistic and likes everything to have its own place. Since he's in charge of the garage for the most part, he's got the garage storage down to a science. It's like playing Tetris fitting it all in, but we manage to do so.
One thing he hadn't been taking full advantage of was overhead space…
Choosing the best SafeRacks unit was a little tricky for us. I left that part up to Mike, and he was only nervous because of the strange setup that we have in our garage.
Let's just say, it's built in a slightly "unique" way. We ended up getting the 6′ x 3′ unit, and it worked out well. There are many sizes to choose from and they can work with each other if you get more than one.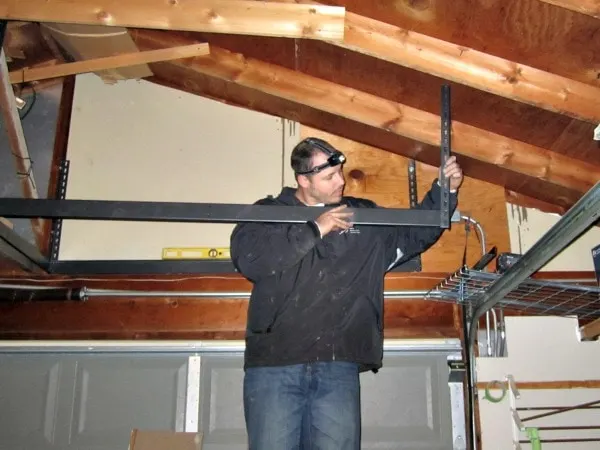 The unit arrived quickly and came with everything we needed to get started right away. Of course, I then had to wait for Mike to have the time and patience to install it. This wasn't something I was going to take on myself, mostly because the garage is "his space."
After choosing the best location for us, installation wasn't difficult at all. It was relatively easy for him to make the necessary modifications for it to fit in the space that he chose. I would say total installation time was under an hour. There is also an option to have them install it for you.
The benefits of overhead storage are vast. Freeing up extra space can save money, increase your safety, and possibly help avoid arguments in your marriage. 😉
SafeRacks can hold up to 600 pounds, making them even more versatile with the storage possibilities.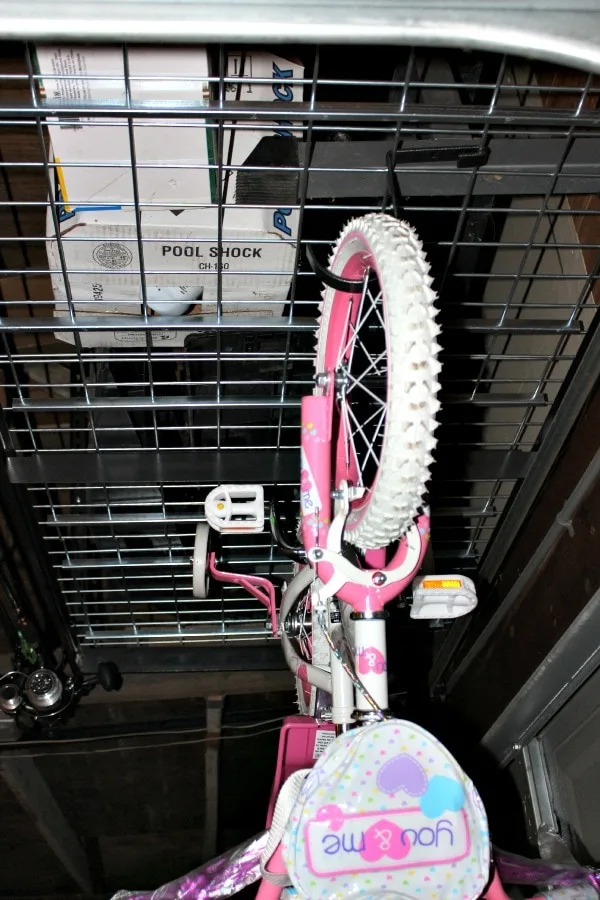 We haven't completely decided on what to put on our SafeRacks yet. We chose some items just for the purpose of the picture. Notice how easy it is to hang bikes and fishing poles on the rack.
Even heavy things, like pool treatments and tires can now be kept up off of the ground. We are both definitely huge fans and appreciate the added garage storage space.
Make this the year that you take back your garage with SafeRacks! Their helpful and friendly staff is waiting to help answer your questions and help you choose the best product for your needs.
Could you benefit from additional overhead garage storage? How would you use SafeRacks?