As we finish up some last minute projects before a big trip we are taking – one of the rooms in our home needed some attention. It was not the floor, not the walls, and not the furniture…it was the ceiling. HomeRight helps DIYers take on DIY projects quickly and easily with tons of innovative products. I was happy to receive for review the PaintStick Mini – it helped us a ton as we repainted the ceiling!
Painting a Ceiling – PaintStick Mini
The ceiling in the bedroom that we designated as the nursery had stuff stuck to the ceiling. Do you remember those glow-in-the-dark stars that kids had on their ceilings in and around the 90's? I had them! Anyway – they were stuck on this ceiling with those double sided foam circles that don't ever come off very nicely. Someone had tried to take some off and ripped into the drywall and it was a mess, and some were just still sticky. After some sanding, filling holes, sanding again, etc. we needed to even it all out with a coat or two of paint.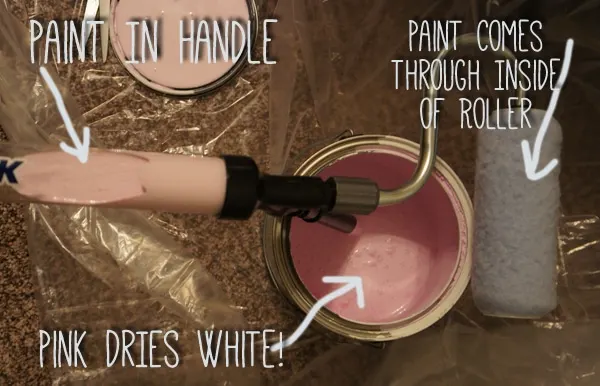 The PaintStick Mini made the painting process so much easier. With the PaintStick Mini, you are able to draw up paint into the roller stick so you don't have to go up and down to refill your roller. Ideally, you should be able to fill up and do quite a bit of painting before filling again. I was worried at first that the paint would get drippy, and it did a little bit if you pushed too much paint out of the roller head, but drips can happen with a typical roller as well. As long as you keep moving, you are able to cover with a smooth even coat quite easily. They also sell a full size PaintStick, that would provide more coverage. Another thing I was worried about was clean up. It also turned out to be pretty easy; I just took everything apart in the bathtub and rinsed it all out per the instructions. It only took a couple minutes before it looked (practically) brand new again!
Find It Here Find It Here Find It Here
If you have a painting project coming up, I would recommend you take a look at the products available through HomeRight. They have a variety of paint rollers, sprayers, and products that make painting faster.