I try and try to teach my kids how to organize their room, but with limited space and, well, me as their teacher, we are pretty much doomed. This post is brought to you by Extra Space Storage. All thoughts and opinions are my own.
Organize… What?!
Hoarding runs in my family, BIG TIME. I'm talking, I have it on both sides of my bloodlines. That being said, I have a huge problem knowing how to organize anything. We also live in a small-ish home so space is limited. The kids share a room and it is a total disaster.
The only way I know how to start the organizing process is to take EVERYTHING out, and then put it away again properly, assessing each item as you go. Some things are ready to go into storage, be thrown out or given away. So we usually make three piles with the aforementioned destinies.
The garbage pile is always the smallest because I seriously have a hard time throwing anything away. We usually donate a ton, but are still left with too much to put away.
Poor cat sought refuge in an odd spot.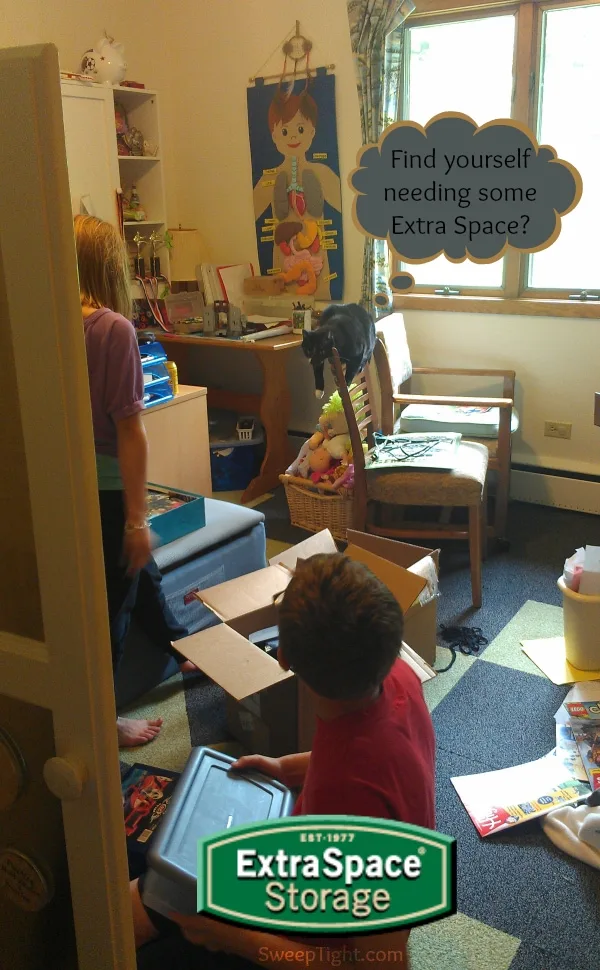 Some things simply cannot be parted with. So, I pack things nicely away in the attic. However, we have a tiny attic and it's already pretty full with items like luggage, holiday decorations and seasonal clothes. Oh, and I should mention that my attic is a huge pain to get to.
The access is over stairs so we have this ladder with uneven legs to balance on. The opening is a small square so many boxes just won't fit. WE NEED SOME EXTRA SPACE!
Extra Space Storage
Extra Space Storage has conveniently located facilities and offers a variety of different sized units for rent. A 5X5 unit would be like adding an additional walk-in closet! I could put all the holiday items in there and keep the smaller kids' items in the attic.
We could all use that extra breathing room. Plus, then the kids could actually learn a little about how to organize effectively and fight that hideous hoarder gene!
Check out the cool size guide and videos Extra Space Storage has to offer on their site. It makes it really easy to get a mental plan in order when you see what they have to offer and how it will fit into your budget. The prices are super reasonable!