We do not enjoy Chicago nearly as much as we should since we live just half an hour from the city. So when Jodi found a Groupon to rent two ElliptiGos for 4 hours to go wherever we want in the city, I was all about it.
Fitness Experts – Chicago
I have to start by saying that these guys are AWESOME! After purchasing two Groupons (one for Jodi and her son, and one for my son and me) we had trouble scheduling our fun-filled day online.
I called and they were incredibly helpful. They usually only have two ElliptiGos on site at a time so that meant the four of us weren't going to be able to go at the same time.
I was totally bummed for like a second, because moments later they arranged to have four bikes ready for us—and it was a holiday!
Jodi and I didn't tell the boys what we were up to and they were so surprised when we arrived and saw the bikes for the first time. Being typical eleven-year-old boys they were sort of punky and timid at first.
Dusty, Fitness Expert, gave a quick (seriously under two minutes) run down of how to work the ElliptiGo and the boys were off—and grinning ear to ear. They had the hang of it instantly.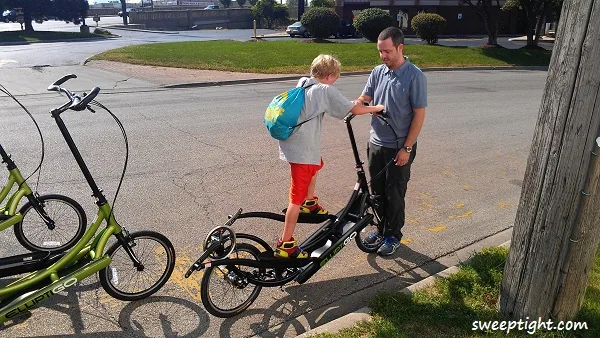 Jodi and I were a bit nervous at first too, but it really is easy. I absolutely love this machine! As a runner with terrible knees, this is the perfect low impact solution I need.
I thought it was going to be "too easy" and not give me the workout I wanted… I'm an idiot. It was a great fat burning workout!
I find that running gives me a great cardiovascular workout but my heart rate is usually too high for burning fat. With this, I was in the fat burn zone the entire time!
Why the ElliptiGo is fantastic:
Low impact
Allows for great endurance—your heart rate is nice and steady in the fat burn zone but not so high that you're exhausted after a short period of time.
Burns FAT
Great for families (the boys are 11 and had no problem with it)
Folds down for storage
Available in 3-Speed, 8-Speed and 11-Speed models
Just plain fun
Chicago Via ElliptiGo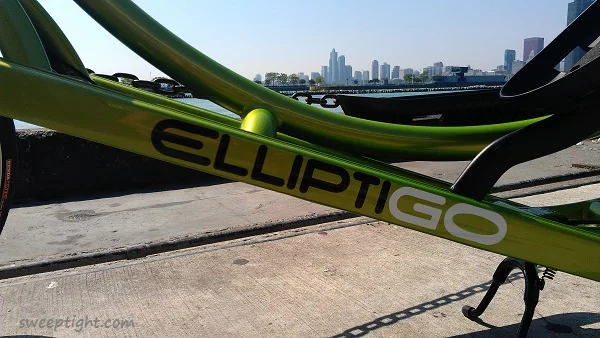 The best part about this whole day was the pure freedom we had. We weren't bound by any tour guides or rushed by a short time limit.
We were able to go all over the city and explore all kinds of great sites. We went all up and down Navy Pier, the lakefront and made it all the way to the Planetarium.
We had a blast zooming around Buckingham Fountain!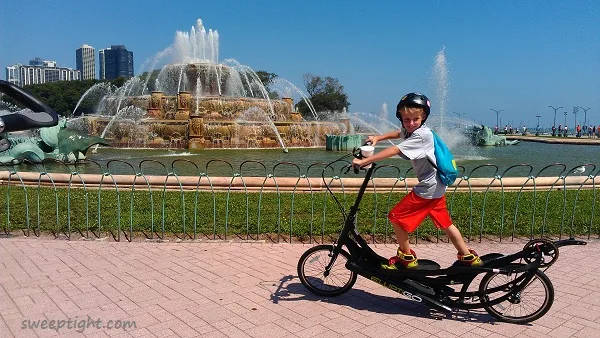 We spent most of our time riding in single file line to avoid running into people. Jodi was up front and saw peoples' initial reactions to the new age elliptical-bike—jaws dropping, pointing and tons of smiles.
I was in the back and by the time I passed I heard their reactions. I heard everything from "Look Mom! What is that?" to "Wow! Dad I want one of those!" Or my favorite, "Now that's cool."
Dozens of people asked how they handled, where we got them and how much they cost. People were so excited and friendly! We LOVE Chicago! 😀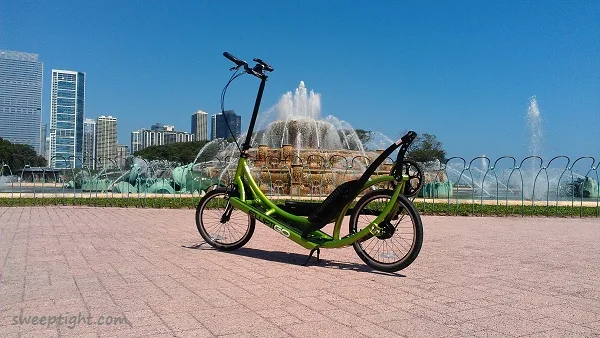 These are a bit pricey—starting at $1,799. But for the quality and low impact workout I think it's worth it. I use the elliptical in the gym all the time and it's such a bore—minutes feel like hours.
This ElliptiGo is more my style, these four hours felt like 45 minutes! And, because it's easily adjusted for different heights, it can be shared amongst family members.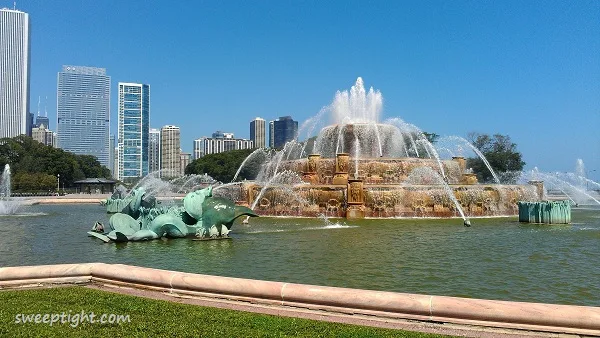 What a perfect day!