If you've ever read any of my posts, there is a good chance you know how obsessed I am with yoga, specifically Bikram yoga. This past February I even completed my first 30 Day Challenge! That's right, I did a class a day for 30 days straight! It was pretty intense to say the least. And everyday I would walk by a selection of yoga apparel and think oh, maybe I should consider getting some… I had never really looked into it and one day just felt the material of an Onzie tank top. I immediately went home and contacted the company. To my delight, they agreed to send me an outfit for review and even a gift code to giveaway to a lucky winner! 😀
Yoga Attire from Onzie
Until now, I've always just worn spandex running shorts and a regular workout tank to Bikram yoga. I mean, I never really anticipated being comfortable for a 90 minute class in a 105 degree room with 70 percent humidity. If I went in with that mindset I'd probably end up jumping out of my skin. That's part of the challenge after all. Well, after trying this Onzie yoga apparel, I am forever spoiled. It's like skin! Its silky smooth, fits like a glove but doesn't feel tight or binding, and doesn't get all gross when you sweat. It washes perfectly and doesn't seem to hold on to that "Bikram smell." Let me tell you, after that 30 day challenge, I had to throw my clothes away! They smelled so gross and after multiple washings, it was hopeless.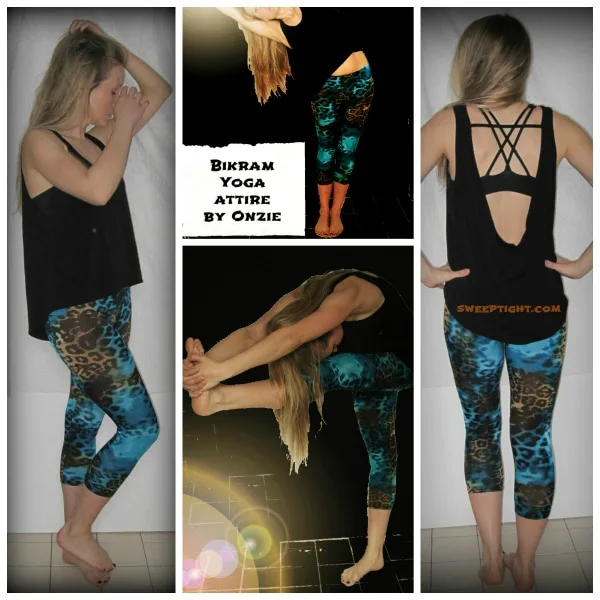 For review I received the outfit pictured above… the criss-cross bra top in black, scoop back tank, also in black and the capri pant in animal turquoise. This outfit is seriously made of the highest quality material I have ever seen or felt. And to make it even more awesome it is all made in the USA! While in class it keeps you cool and dries really fast. This is great for when you need to just hop in your car and drive home quickly. Typically, I have to shower there or change (creating even more laundry) but now it's not required. I have often tried to squeeze in a Bikram yoga class between my school classes there is not always a shower open at the facility. So, I have to get home as fast as possible to shower and get to school. Having to change several times is annoying and time consuming. Wearing this, I was able to dry off so quickly, I just hopped in my car and made it home in no time!
Onzie just came out with their new Spring Line and it is so adorable! Their new patterns and styles are whimsical and fun. I will definitely be sporting this outfit for more than just yoga.