Being self-employed, I am responsible for my own investments. I don't have a company setting me up with a 401K or annuity — it's all on me. I wanted to figure out how to invest with a little money since my pay is never predictable.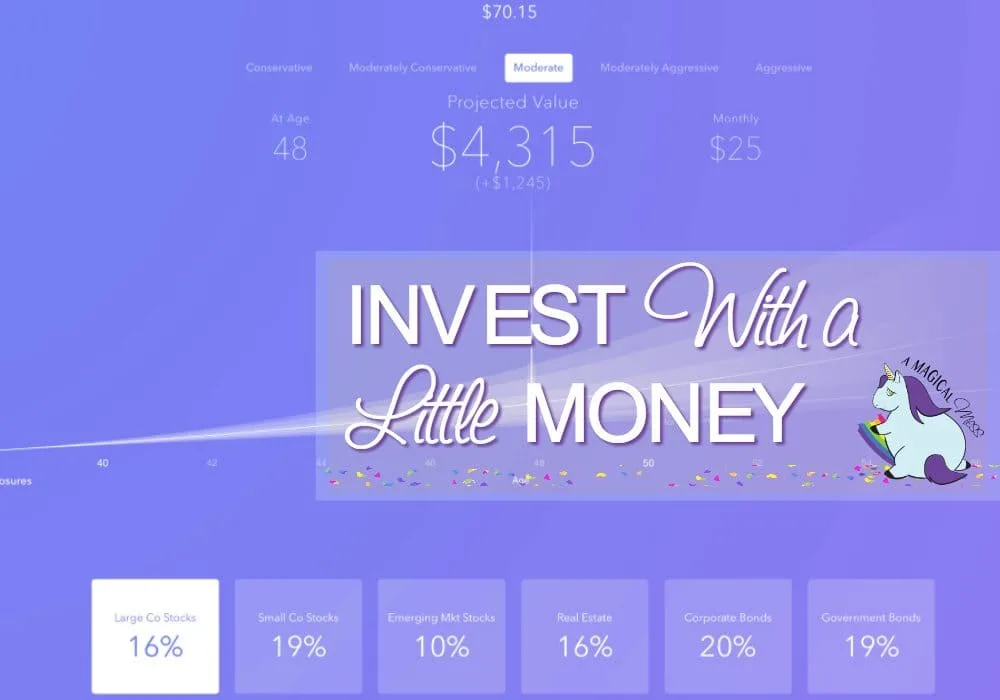 My husband is in the union and has benefits, but I can't shake the fact that I don't have anything of my own set up for retirement. I know we are married, but my mind is wired to be independent AF and I feel the need to contribute in all financial aspects of our life.
When things are going well with my business, it's easy to think I can throw a chunk of money into an IRA or special bank account, but then things slow down. So far, in the seven years of me working for myself, things have never been steady enough for me to part with large amounts of money at once. Plus, something always comes up. Like, our washing machine dies, or a portion of our fence falls down. Expenses comes up; that's just the way it is.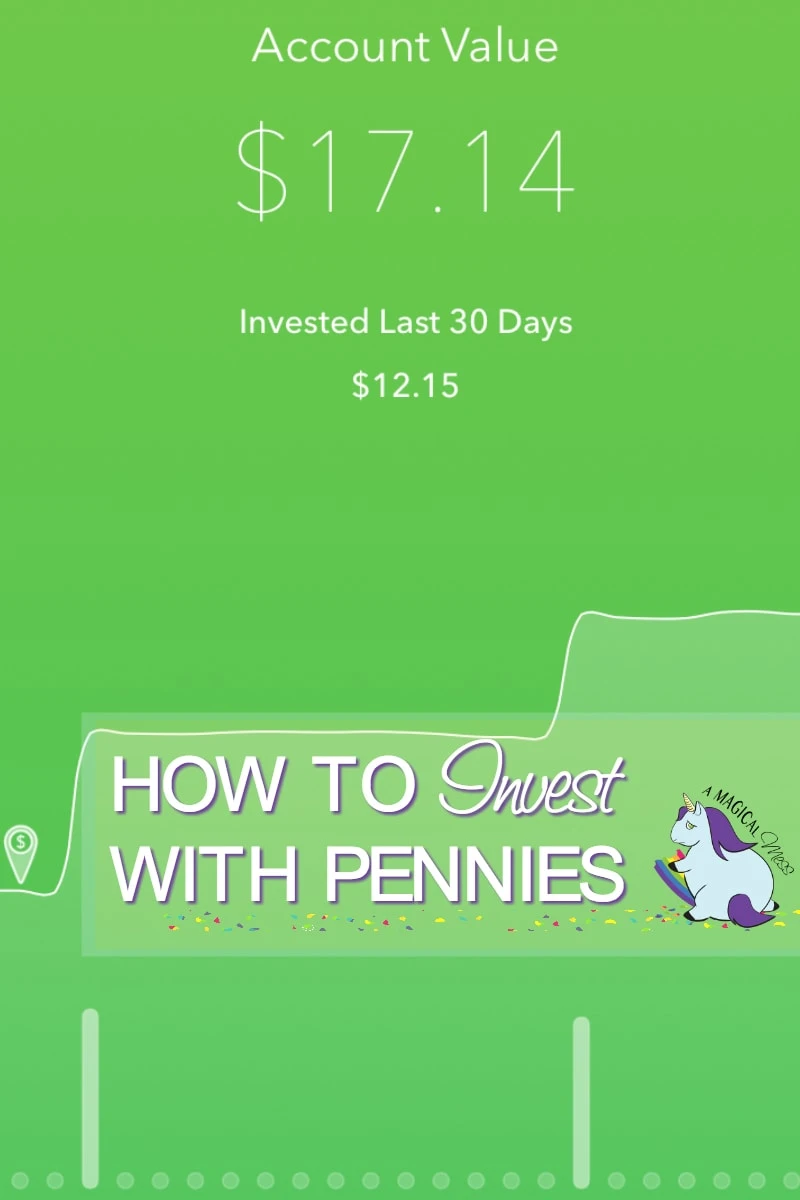 How to Invest with a Little Money Effortlessly
How to invest with a little money to soften the blow? Micro-investing. I cannot even remember where I came across the Acorns app, but I hopped all over it. I am not being paid to write about the app. It's just something I found and now use and thought other people might like, as well. I am using a referral link that will give us both $5.00 though! The idea is that they round up your purchases to the nearest dollar and invest that amount. So, if you buy something for $5.62, Acorns will invest .38. You link your credit card(s) to the app, and it's all automatic. You remain in control. It's up to you if you want the roundups to automatically invest, or wait for you to push the little acorn to approve it.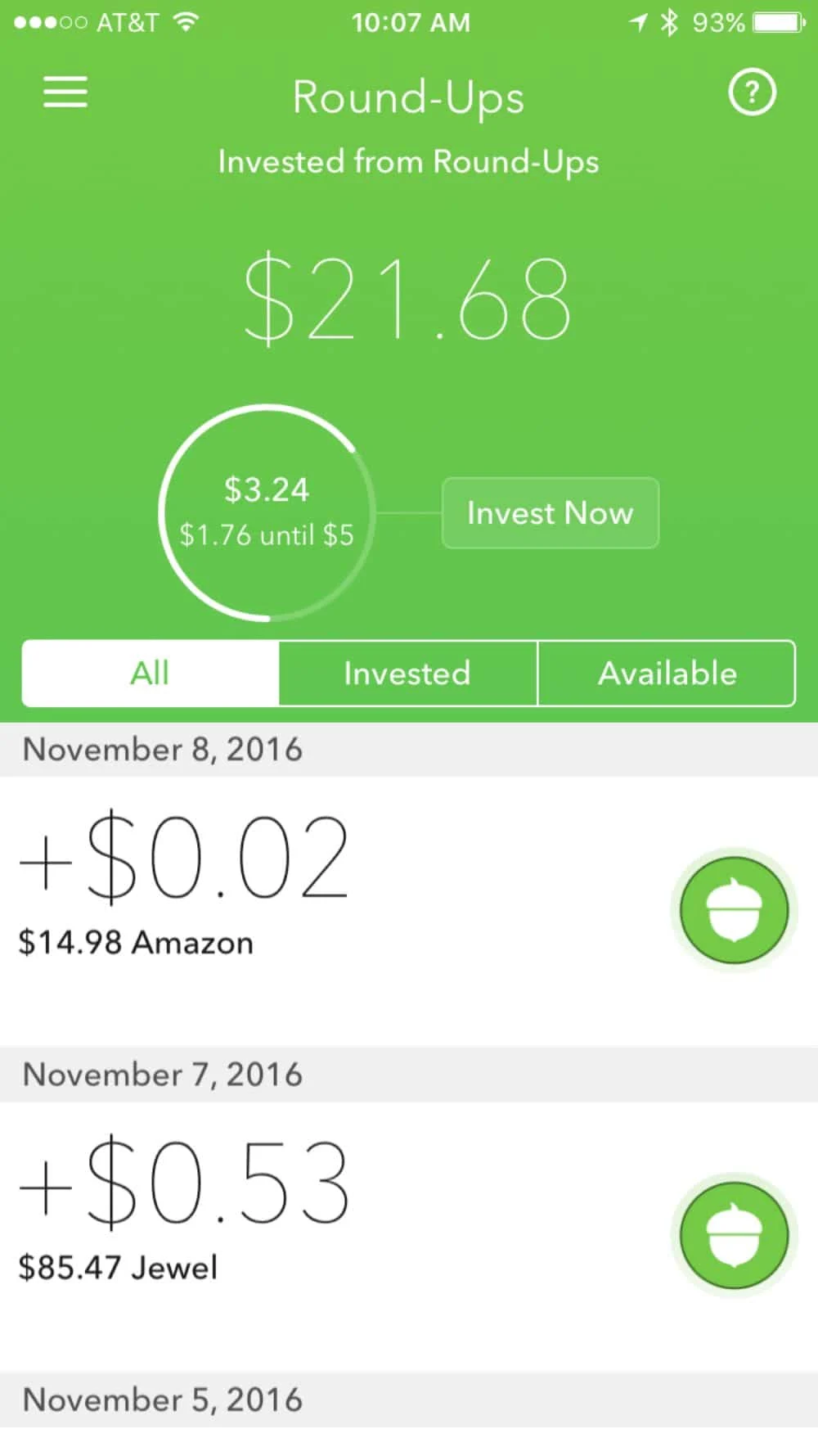 Now that I have used Acorns for a few months, I can tell you the pros and cons. I can also update that the app was suggested by a few woman entrepreneurs at the Women's Dream Conference. That made me feel a lot better about investing my pennies with Acorns.
Pros
Effortless – If you set the roundups to automatic, you don't have to do a thing. Invest more or withdraw with the simple push of a button, too. The money comes out of your bank account – not as an additional credit card charge.
Detailed – The reports are detailed and tell you exactly where your money is going. It's funny to own .03315 shares of a stock but I proudly do!
Diversified – Choose your level of risk and Acorns invests your money accordingly. Mine is spread out between government bonds, corporate bonds, large stock markets, small stock markets, emerging stock markets, and real estate stocks.
Opportunity – As I said above, I don't have a huge amount of money to toss into investments. Acorns and their ability to micro-invest allows me to invest with a little money and I am grateful for that.
Earn – Invite friends like I am doing now and you both get $5 in your account. There is also "Found Money" where brands that have partnered with Acorns will deposit a percentage of cash back into your account.
Cons
Fees – I realize fees are necessary. Trust me; I understand that nothing like this can be free. However, I didn't do my homework, so I was surprised when a full dollar was deducted from my account. When you are dealing with pennies, $1 is a lot of money. I had a whole whopping $17 in my account when that dollar was deducted — felt like quite a blow. LOL
Found Money – I don't feel like this is all that clear. When you click on this section, it shows you the participating retailers and an option to "shop now." I didn't realize you have to use a credit card linked to your Acorns account for it to register. I guess that should be common sense, but I didn't even think of it. I thought clicking through their link and shopping would be enough.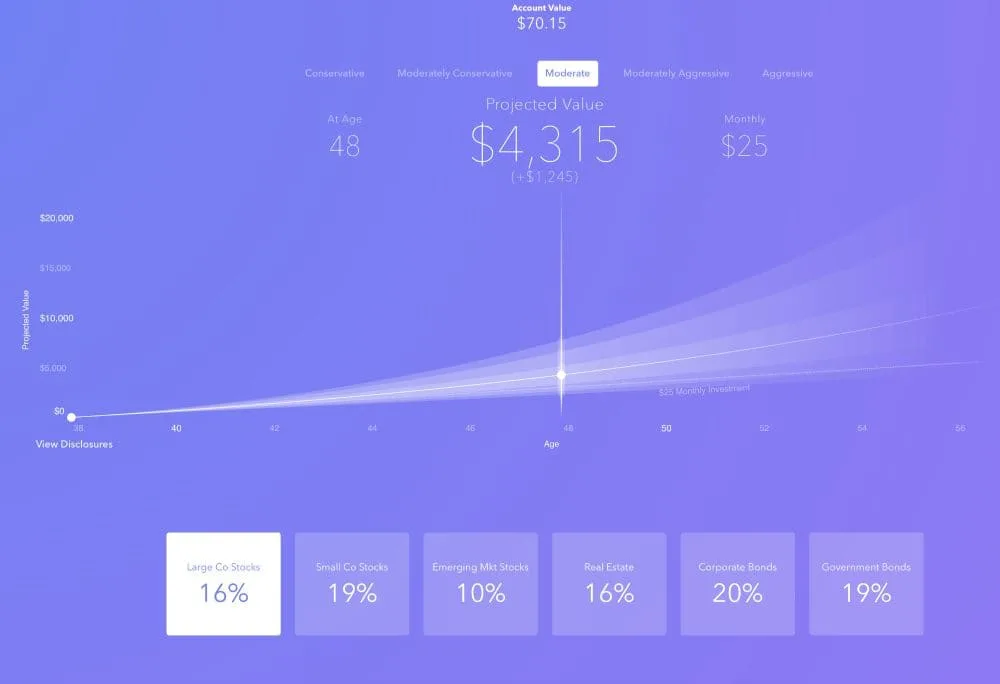 So far, I obsessively check my Acorns app. However, I think it would be best to set it and forget it. The stock market fluctuates quite a bit, and you have to think of the long game here. Don't let little dips scare you away. The idea is to invest for the future, not day trade. Overall, I love it, and I am happy that I found a way to invest with a little money.
Join Acorns for yourself — sign up here and we will both get $5.
Have you ever used an investing app? Do you have any tips on how to invest with a little money?