I was so delighted to review Benjamin Moore's Aura Interior paint. I LOVE to paint, and it has been fun to try out some new colors (but as you will see from my color palette, I am not very adventurous). For those of you counting – this is project review number three – but has been the most time consuming by far! Product received for review. Post contains affiliate links.
Aura boasts: low VOC, never more than two coats, paint plus primer, mildew resistant, stains wash off easily, and more.
When moving into our new house – I knew a number of things needed to go. At the top of the list would be the red wall in the living room (I know people, red walls are trendy, but I don't like red all that much. I have had to paint over red walls in the last two of our rentals, hopefully owning this one means it will be one of the last red walls I have to cover ever!), the dark fake wood trim around the house, AND the crayon art leftovers from the kids who used to live in our home in almost all the rooms of the house.
Benjamin Moore Aura Interior Paint
Benjamin Moore has more than 3,400 colors, and it was REALLY hard to narrow it down, but here are my paint color selections: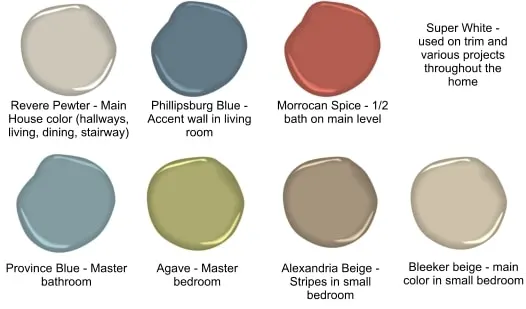 One of the bolder moves I made was the Agave (green-ish) in the master bedroom – the WHOLE room. It matches one of the colors in our duvet, so I figured I would give it a try. It looks beautiful with our dark wood furniture and our brown accent fabrics in the room (see bedroom window below).
I also LOVE the Revere Pewter, it is a mix of grey and beige, which I thought to be perfect because our last place was just grey and some days it felt gloomy. The Revere Pewter will be a warm color in our home and I am so happy with it!
We still have yet to paint the 1/2 bath and master bath (because we need to paint the trim and re-stain the vanities first), but I am excited about the colors in there too.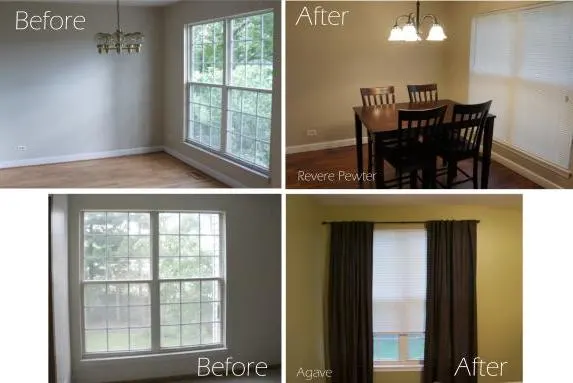 The Aura paint had GREAT coverage, it covered the red wall in ONE COAT (hooray!) the crayon leftovers in ONE COAT and the trim in a couple coats (but that was mostly to get the texture right).
The low VOC was nice because we were painting in the middle of summer, it was nice to leave the air conditioning on and not have to worry about windows not being open (although, it is probably still recommended you have a well ventilated area when you paint 🙂 )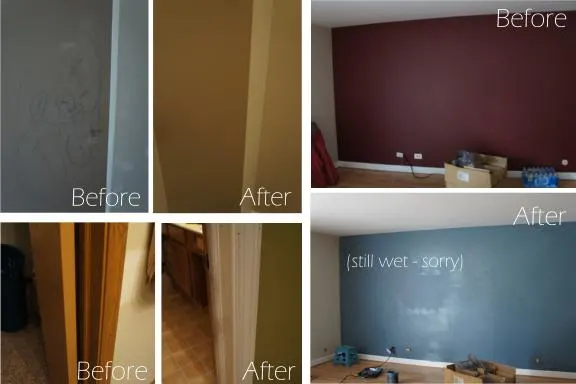 Having used cheap paint all of my painting years, it was so nice to try something that was a quality product. It covered smoothly, and made what would have been big projects into one coat projects.
Aura can be a little bit expensive if you are used to the cheaper price tag, but I would say it is well worth it to not have to buy primer and add coat after coat of paint.
Also, just a quick note about their retail stores – I went to one near me and had a REALLY great employee help me get through all of the paint options, all of the color options, what people usually do to pick the colors.
She was very knowledgeable and even when I didn't buy my paint that day, she offered her card and told me to call with any questions.
Overall, she knew the brand and knew how to answer all of my questions – much better than any experience I have had at a "big box store."
So if you are confused about a project, try a Benjamin Moore store location and they should be able to help you – find one here.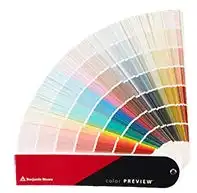 We earn a commission if you click this link and make a purchase at no additional cost to you.
To keep up with the other projects and the rest of the painting (I will get it ALL done someday soon) check out my tumblr delightfullycreative.
To find out more about Benjamin Moore and their whole line of paints (and colors) visit BenjaminMoore.com.
Please feel free to ask any questions about projects – I know I didn't go into much detail on how and what we did.