And the list goes on… Budgeting, planning, organizing, scheduling… Ahhh! We're supposed to juggle all this all while managing our "regular" overwhelming workload?
Preparing for holiday chaos is something I have yet to master. Who am I kidding, I am not even close! But when our friends at Extra Space Storage asked how we get ready for the holiday season it got me thinking.
So, I'm happy to bring you this sponsored post on behalf of Extra Space Storage and all of us frenzied maniacs out there.
Prepare for Holiday Mayhem
Make a list? Check it twice? Does the fact that I have 47 lists going at any given point in time count for credit here? I have come to the conclusion that this is my biggest problem. I overwhelm MYSELF.
Life is pure havoc on it's own, but the way my brain takes it in and needs to constantly categorize each issue is just creating more work. So, for this holiday season I am taking a deep breath and dedicating a lot of time to de-cluttering my mind. (The house is next.)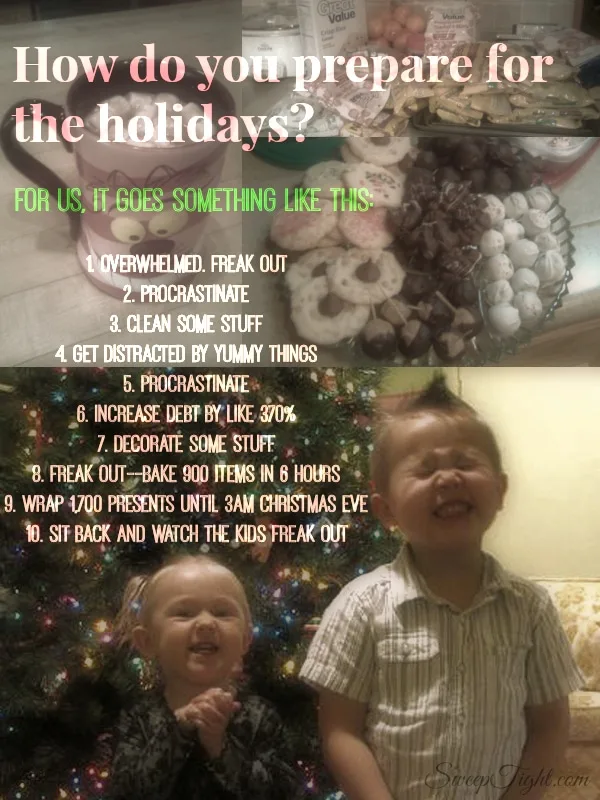 While the end result is totally worth it, I'd like to actually remember how we got there instead of searing my memories with stress.
I always seem to accomplish my goals but I'm not enjoying any of the processes because I'm under such constant stress. I forget that this is my life and someday I'm going to look back and realize that spending my time in full-spaz-mode didn't do anyone any favors.
The Plan
My first step is to actually have a plan. And something I've realized in my planning, is that I have to plan time to plan, otherwise bust out the super-spaz cape!
In a nutshell, here's what I've come up with:
Breath
Don't over think, just do
Get rid of physical clutter
Take on ONE thing at a time and finish it
Set a timer for tasks to stay on schedule
Don't be afraid to delegate
Seems simple enough right? Well, I'm off to go get rid of all the nonsense that I don't need around here!
How do you prepare for the holidays?