This article was published for Swap.com Kids' Consignment. All opinions expressed are solely my own.
Is anyone else as plagued as I am with their children's outgrown items? From toys to clothes, I am obsessed with keeping everything in excellent condition–Gram taught us to NEVER break a thing and to keep everything immaculate with all original pieces. So, when these items no longer have a purpose, it pains me to just get rid of them. And, I am no longer allowing myself to hoard everything like a pack rat. Our house is simply not big enough. Sigh.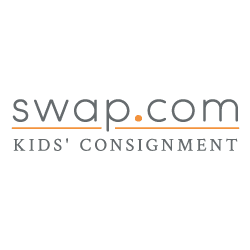 Swap Your Stuff
I've attempted to sell things on eBay, Amazon, Craigslist and have had multiple garage sales. The trouble with these methods, is that they are all very time-consuming and you rarely get a fair price for all your efforts. Well, there is an easy solution! Swap.com is like the wonderful brain child of Amazon and Once Upon a Child. You simply send them your stuff and they handle everything from there. The photos, the shipping, the storage and inspection is all done by their experts!
With Swap.com there is no waiting in line, lugging your stuff to multiple locations or the stress of taking the perfect photo.
Buying from Swap
As a buyer, the experience is similar to Amazon. Just fill your cart and all your items ship from one location regardless how many different sellers you buy from. Your first order and any order over $50 ships free! Plus the prices of these items are 50-95% less than retail so everything is a great deal.
Another huge perk is that you don't have to worry about all the different ways you can be scammed. Swap.com is a trustworthy and fraud-free establishment. I can't tell you how many times I've seen strategic wording on eBay to get you to buy an empty container of the product you think you're buying. Or calling on an ad on Craigslist only to find out the product is no longer available, or worse, blindly traveling to a dangerous neighborhood to pick up your order. OR, purchasing something in "excellent condition" only to receive it and realize it's stained and smells like an elephant's foot. Swap.com even offers a 100% money back guarantee if you're not satisfied with your order!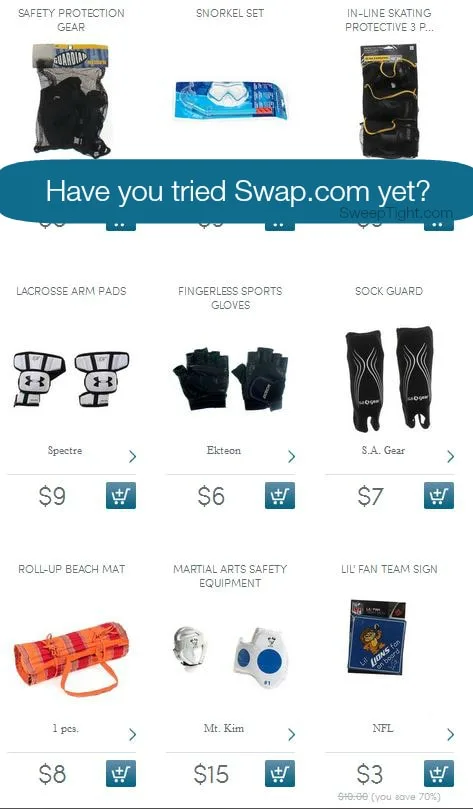 Save yourself some time, energy and money. Use Swap.com for all your kids' ever-growing needs. I can't believe how much I would have saved if I used Swap to get all of Adam's athletic gear! Lesson learned.