Ancestry is something I got into a few years back thanks to my Grandfather. He enlisted me to find out more about his family tree. I headed straight to ancestry.com since I had already heard good things about them. Fast forward to a few months ago, and I had the opportunity to work with them. I received an Ancestry DNA test at no cost. All opinions are my own.
Learn More About Your Family Tree with Ancestry DNA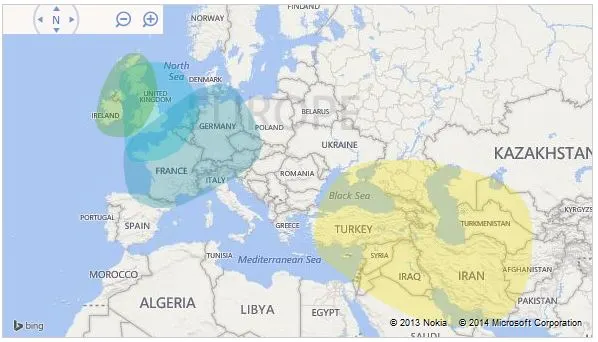 My intention had been to have my Grandfather take the DNA test. Then I thought maybe it would be more beneficial to have my Gram take it since we know that her mother was a "doorstep baby". (Those are their words as she was literally left on someone's doorstep.) Since I couldn't decide, I just took it myself. That way we gain insight into both their backgrounds via my results. And, also because I couldn't handle the suspense and wanted it for myself. :/
Since I was raised by my grandparents, my Grampa had always told me I was Dutch, Italian, Hungarian, and English. He would never really factor in my mom's side and basically only considered his nationalities. As I got older I learned more about the whole mixture of nationalities that I really am and it was too many to remember. You know that project you have where you have to create all the flags? Well, it was a project and a half for this girl.
Taking the Ancestry DNA test is as simple as can be. You receive a kit in the mail with easy instructions. You just collect your saliva in a little tube and ship it off for the most part. You have to have a current ancestry.com membership and it will link up to it. It will also show you more possible tree matches based on your results.
My test results took around 3 weeks. They had predicted that it would take longer, so that was a pleasant surprise. Most of my results seemed consistent from what I had known, but I had a few interesting twists.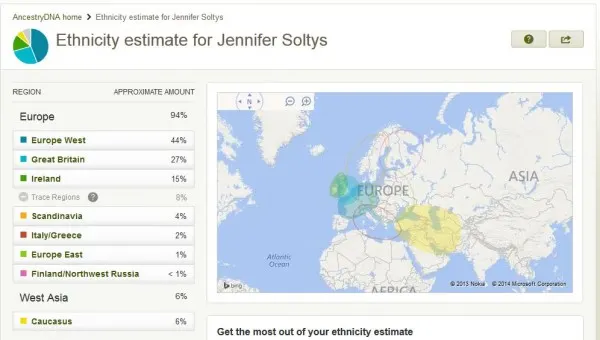 The science that goes into this testing is beyond me, but I know they compare the DNA of others within different areas of the world. They circle the general areas in which your DNA matches closest to. From there, I was able to pinpoint a bit closer based on what I knew. Like, I know that we are very much Dutch. That's the chunk of "Europe West". For Great Britain, we knew that my Gram and my Mom were quite a bit English. Oh, and my Grampa's whole story of telling me I was so Italian? I am a whopping 2%. There's goes me excuse for loving pasta so much. 😉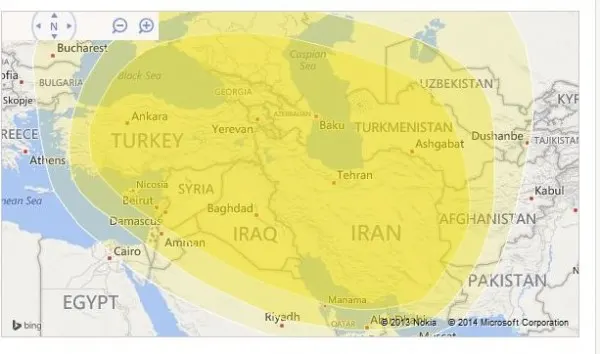 The one that was a surprise was the Caucasus region. No one in my family had ever mentioned any ancestry within that area. It's so interesting to see. You can also zoom into these maps to get even more detailed info like cities and even roads.
Exploring ancestry has been an extremely interesting project. I was even able to go back as far to connect us with Mary Queen of Scotland! A few people have emailed me through the site to introduce themselves as relatives and to help collaborate to find out more info.
Genealogy and learning about your family tree is a lot easier than you would think when using Ancestry.com. It's fun, informative, and even gave me a much-needed geography lesson! The DNA kit would make for a fabulous gift for any person interested in ancestry.
Does your family keep up on your ancestry? Have you tried the DNA test yet? I would to hear your thoughts.