The benefits of drinking water are seemingly endless. I am well aware of how great it is for my overall health.
My skin, urinary system, vascular system, digestive system, and mental state all improve when I drink enough water. BUT, I have no natural thirst.
Getting those 8 glasses (or more) a day is a job. When I first began to track water intake, I realized I was only getting about 2-3 eight ounce servings a day!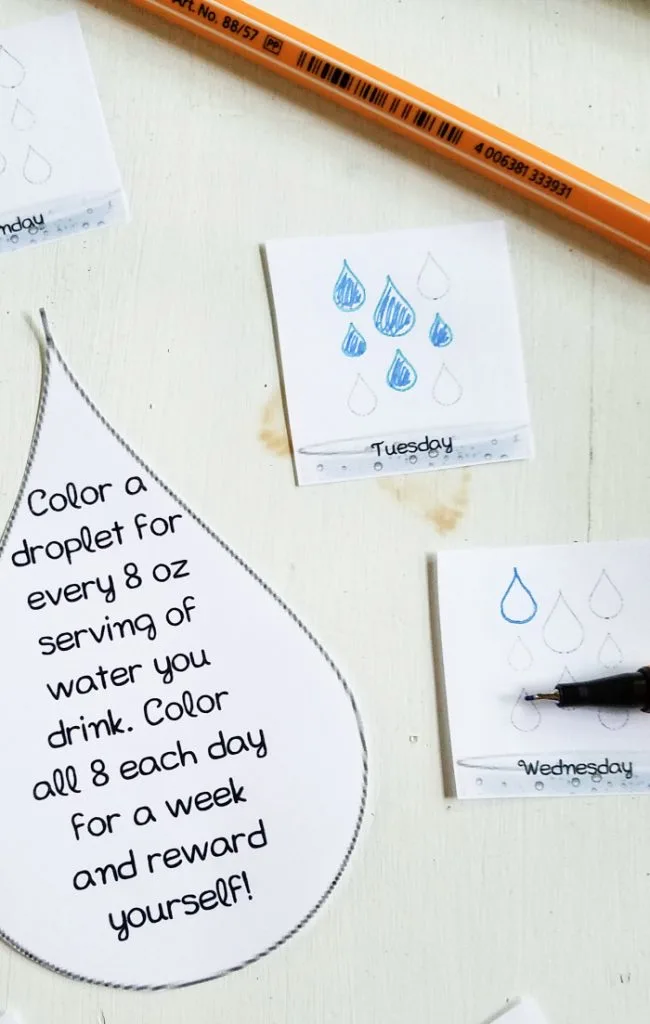 Track Water Intake
To help me accomplish my daily goal of at least 64 oz/day, I find it essential to track water intake.
What's been working best for me is this simple little, printable droplet counter.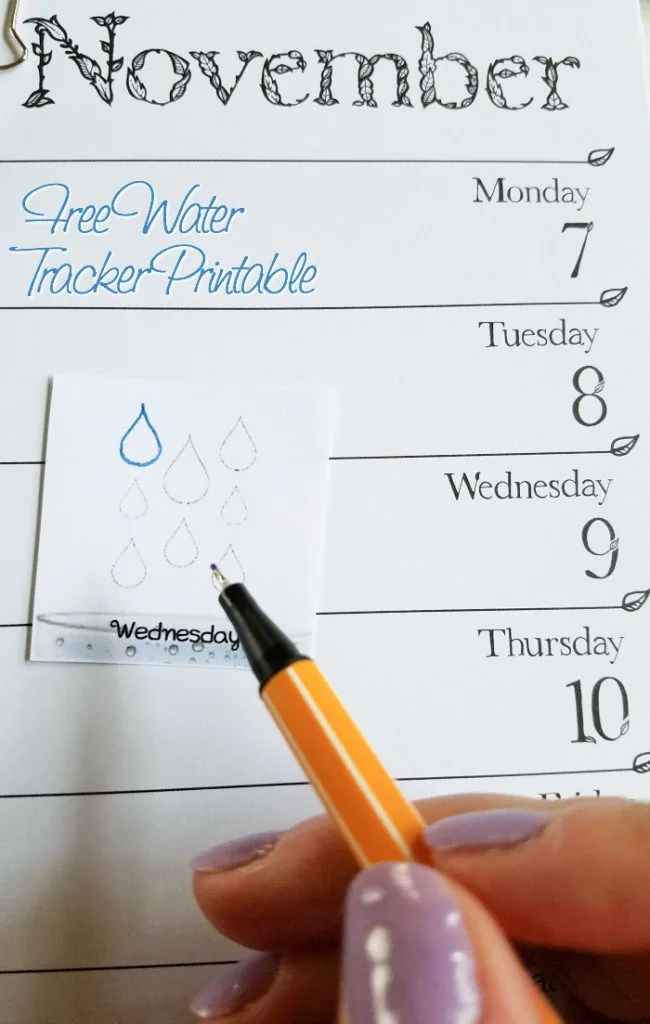 I recently found my new favorite planner with beautiful coloring pages that inspires me to rejuvenate my mind each week.
This little water tracker fits the theme perfectly since I have my all-time-best-ever-favorite marker pens handy anyway.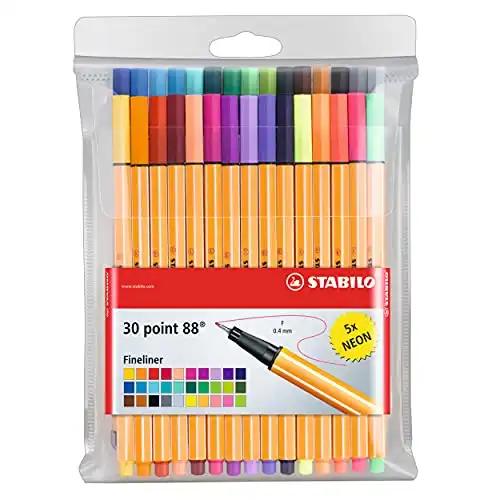 I simply color one droplet for every 8 oz serving of water. You might be wondering, does drinking green tea count as water intake? Or things like coffee, soda, juice…
Well, as a nutrition science graduate, we count all liquids as technically water intake. BUT, for overall health, I suggest only counting things like unsweetened teas, coffee–and obviously water–towards your daily water intake goals.
Beverages like green tea and coffee have a slight diuretic effect, but not really enough to offset the hydration they provide.
I'm not suggesting consuming 64oz of coffee or tea by any means. It's just okay to count your morning cup towards your daily goal if desired. Sodas, sweet teas, and juices are loaded with sugar and empty calories.
These should be consumed as more of a treat as opposed to as a means to hydrate. However, there are a couple exceptions when it comes to juice. Just check out these tart cherry juice benefits!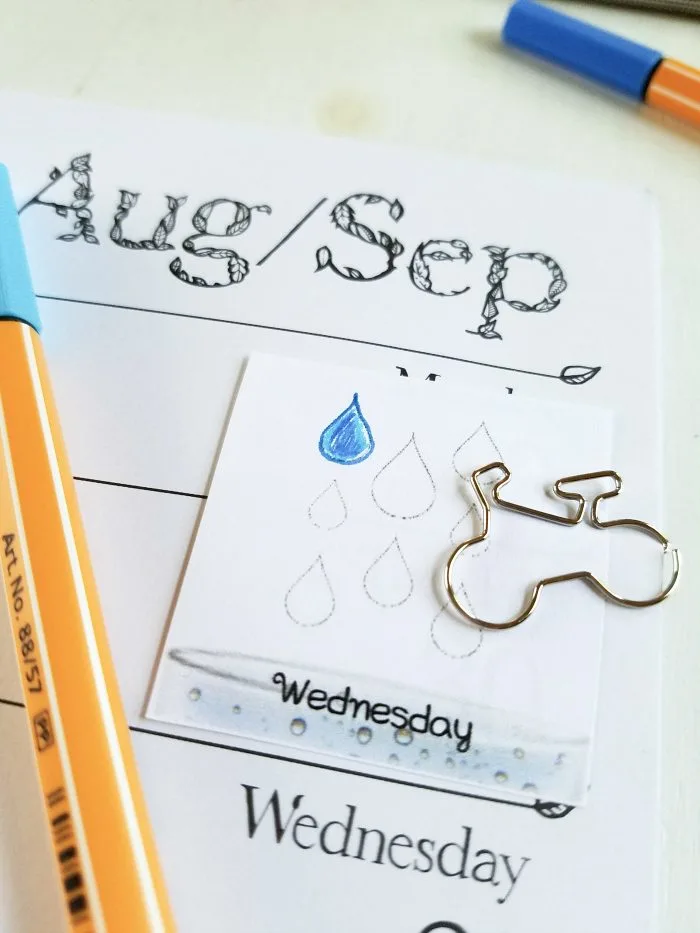 Free Printable
I'd also like to point out that these little printables also give me an excuse to use all my fantastical paperclips. Because office supplies can make my day.
As for rewards, if I fill up every water droplet each day for a week, I like to give myself a little treat.
Things like fresh flowers, an at-home spa night, some uninterrupted reading time are my favorite types of rewards. Plus, the act of drinking enough water in itself is incredibly rewarding.
My skin clears up, my kidneys and intestines are happy–which is huge for me because I have lots of medical issues–and my blood pressure is even improved.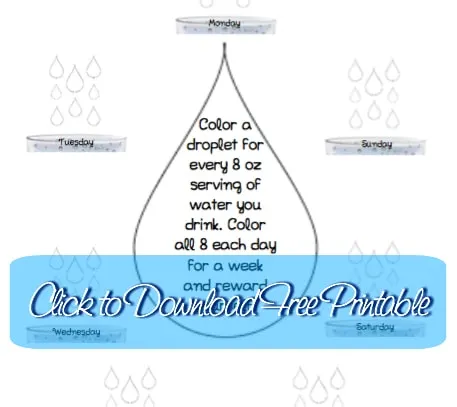 I have chronic low blood pressure. Like so low, I constantly feel faint. I've tried increasing my salt intake but even that doesn't really help. I found that the only way to bring it up is make sure I am adequately hydrated.
It is important to note that drinking water doesn't raise your blood pressure, it allows you to keep a healthy blood volume which I rarely have due to dehydration which contributes to my low pressure.
Do you find it helpful to track water intake?
If so, what method do you use?