I've put together my picks for the best fantasy novels for young adults because, well… I'm a geek. I love all things geeky, and that includes fantasy novels. Although, I love my video games, I think reading is an awesome way to spend time, and I think more people should be doing it. That's why I've compiled my top picks in this article for the best fantasy novels for young adults. This post contains affiliate links, all opinions are my own.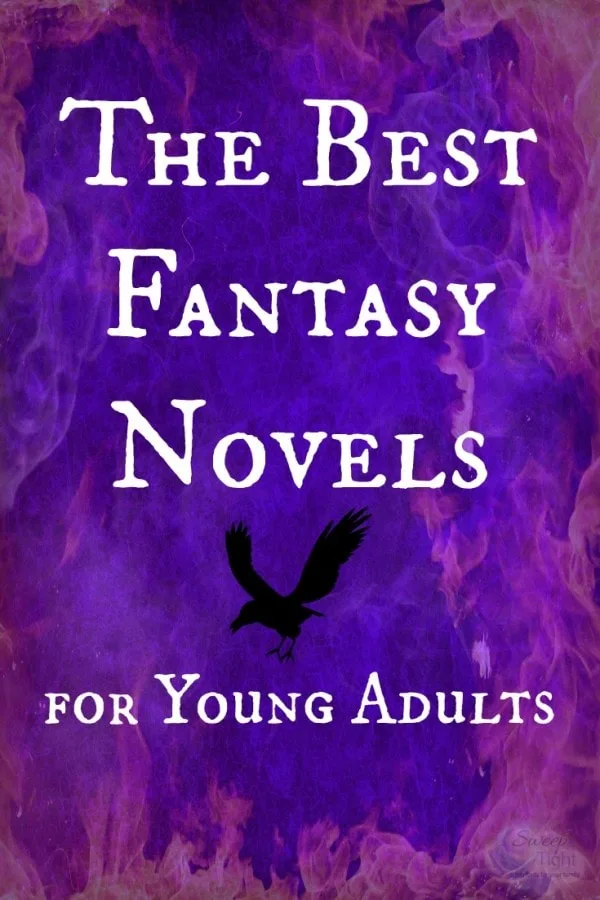 Fantasy Novels for Young Adults – The Cream of the Fantastical Crop
I love fantasy novels. Not only do they generally have swords, dragons, and magic, they also have that selfless, save the world vibe that I love so much. There are literally hundreds of thousands of books in this genre out there. Some of them are awesome. Some of them. Well, let's just say you can never get lost hours back. I thought I'd help fantasy readers out there by giving them some really great reads to sink their teeth into. You're going to notice that everything in this list is a trilogy or longer. I don't like my stories to end. 😉
Harry Potter
The Harry Potter books are the quintessential coming of age story. What makes this series so great is the way J.K. Rowling pulls you in and the drastic changes that the characters go through. Of course, in any good book the characters change, but in Harry Potter they change immensely. So do the books themselves.
Take "Harry Potter and the Sorcerer's Stone", for instance. It's the first book in the series, and in general, it has a pretty light tone. Harry and his friends meet for the first time, and it's all about exploration and friendship. By the last book, "Harry Potter and the Deathly Hollows", the series is decidedly dark and filled with danger, love, loss, betrayal, death, and a host of other adult topics. This series is at the top of my list of fantasy novels for young adults for that reason alone. Plus, this series is a great read.
The Wheel of Time Series
Arguably one of the best series of books in the genre, "The Wheel of Time" is a series of 14 books that takes the fantasy genre and blows it wide open. This makes my list of fantasy novels for young adults because of what I think is exceptional writing, a huge story full of plots and sub-plots, and the way there is no black and white – only shades of gray.
The author, Robert Jordan, originally intended this to be a 6 book series, but the story grew and grew until it was a massive collection. This is one of the few books series I've ever seen that requires an appendix to keep track of characters, lore, locations, and everything he wove into the series. This uber huge book series begins with "The Wheel of Time", in which the main character is just a farm boy trying to survive. It's not until book three, "The Dragon Reborn", that he actually accepts his fate as savior of the world. Through all 14 books, the lead character, Rand, along with his companions are constantly pulled and pushed towards and against good and evil actions which will shape their fates. It's a must read series for fantasy fiction fan.
ALL of the Dark Elf Books by R.A. Salvatore
There are 17 books by R.A. Salvatore which center around the dark elf, Drizzt Do'Urden. From The Dark Elf Trilogy, featuring "Homeland", "Exile", and "Sojourn", in which Drizzt rebels against his race's evil ways, to the most recently published The Hunter's Blades Trilogy, featuring "The Thousand Orcs", "The Lone Drow", and the "The Two Swords", which are decidedly darker, R.A. Salvatore delivers books which are filled with action, adventure, and a decidedly introspective, thoughtful slant not often seen in series of this nature.
Honorable mention goes to his series, "The Cleric Quintet". This is another series full of action and magic. It also has a cleric who uses weapons like weaponized yoyos and a mute dwarf which does battle with a tree limb. It's a fun ride!
Although I only featured three sections in my top picks of fantasy novels for young adults, you can see that there's a lot there. Some might say that I should have included "The Hobbit" and The Lord of the Rings Trilogy, but those things are so hard to read, many young adults don't have the patience for them.
In any case, if you're looking for some great fantasy novels for young adults, read my picks and sink your teeth into some meaty books that always leave you satisfied. My recommendation is to start with The Wheel of Time series. I have yet to find a book series so completely and totally self-contained. It's lore is all it's own, and the writing is superb.