After living in the suburbs our entire lives, we finally made it to the Lights Festival in Chicago. I don't know what's been stopping us from going all these years but I'm so happy we were able to attend the 25th Anniversary Magnificent Mile Lights Festival. Jen, the kids, and I all received incredible VIP treatment at the event thanks to BMO Harris. This post is based solely on our experience.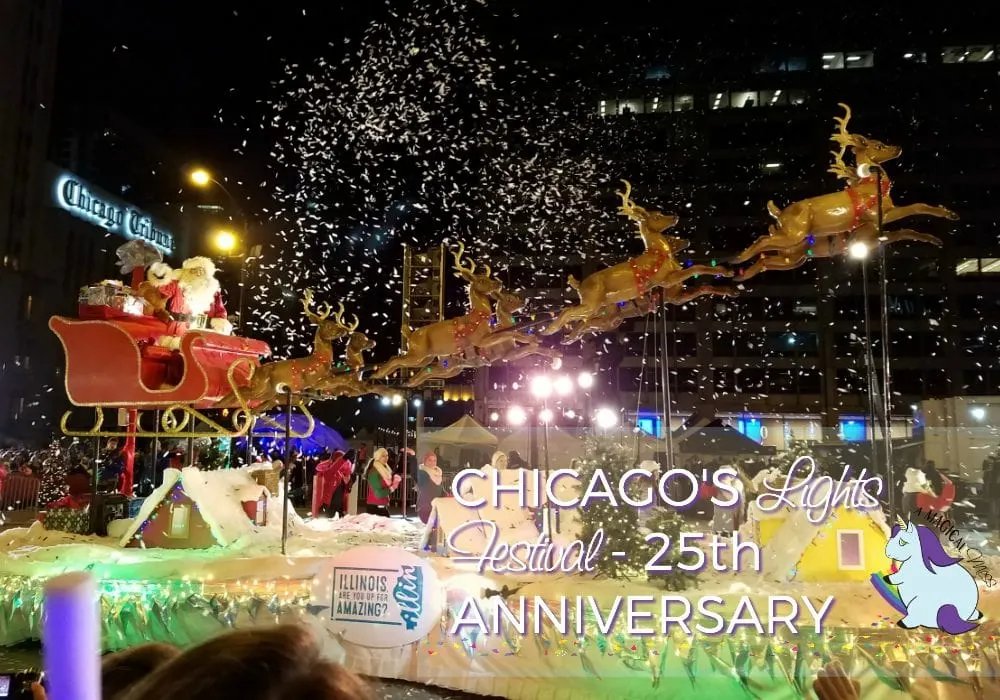 Magnificent Mile Lights Festival in Chicago
First of all, I'd like to acknowledge and give credit to the people of Chicago. Our weather is always unpredictable but this season it's been extra weird. The day before the Lights Festival in Chicago I was literally outside in a t-shirt, only to wake up to sleet and snow falling from the sky the next morning. It was windy–cold and windy out of nowhere. Sure, we have warning and know it's coming. But that doesn't give our blood any time to prepare.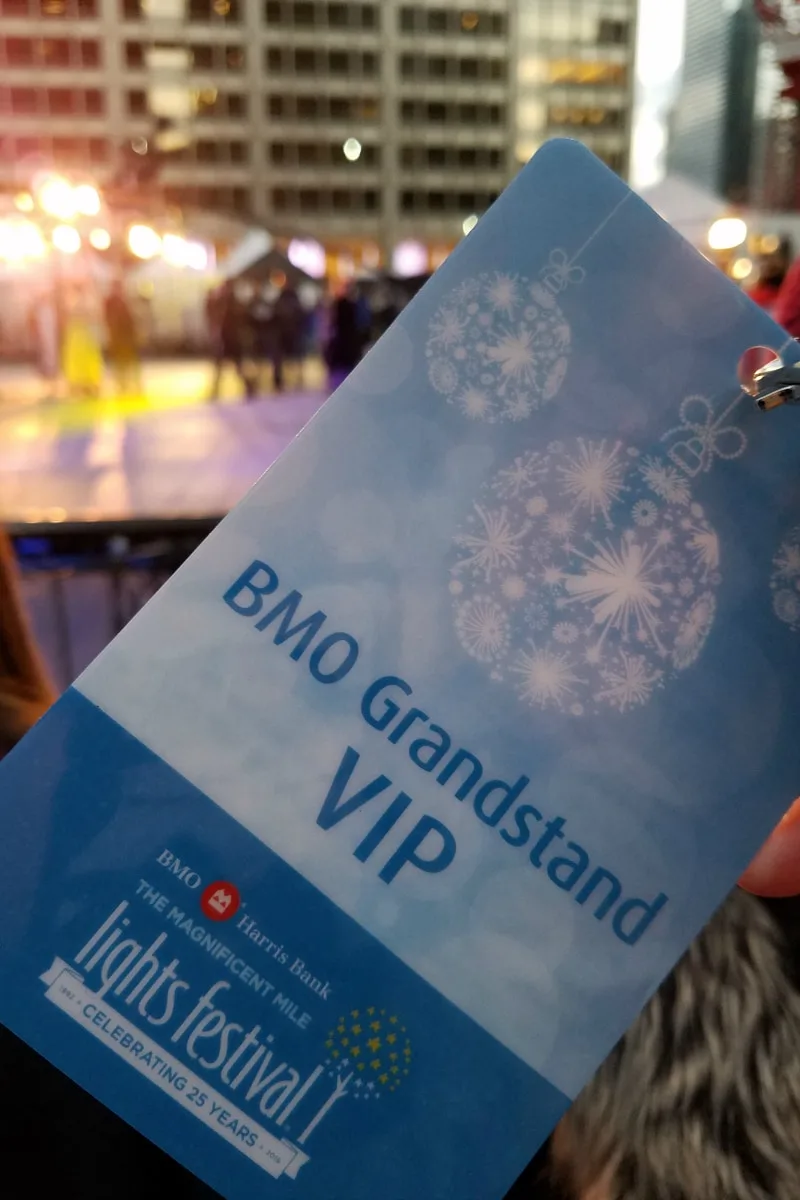 As the crowds began to gather along the sides of Michigan Avenue, we saw the icy tears and rosy cheeks of fellow freezing Chicagoans… and heard not one single complaint. Everyone was sincerely happy to be there and in their highest festive spirit. Bundled babies, excited kids, and parents all totally dedicated to the merriment.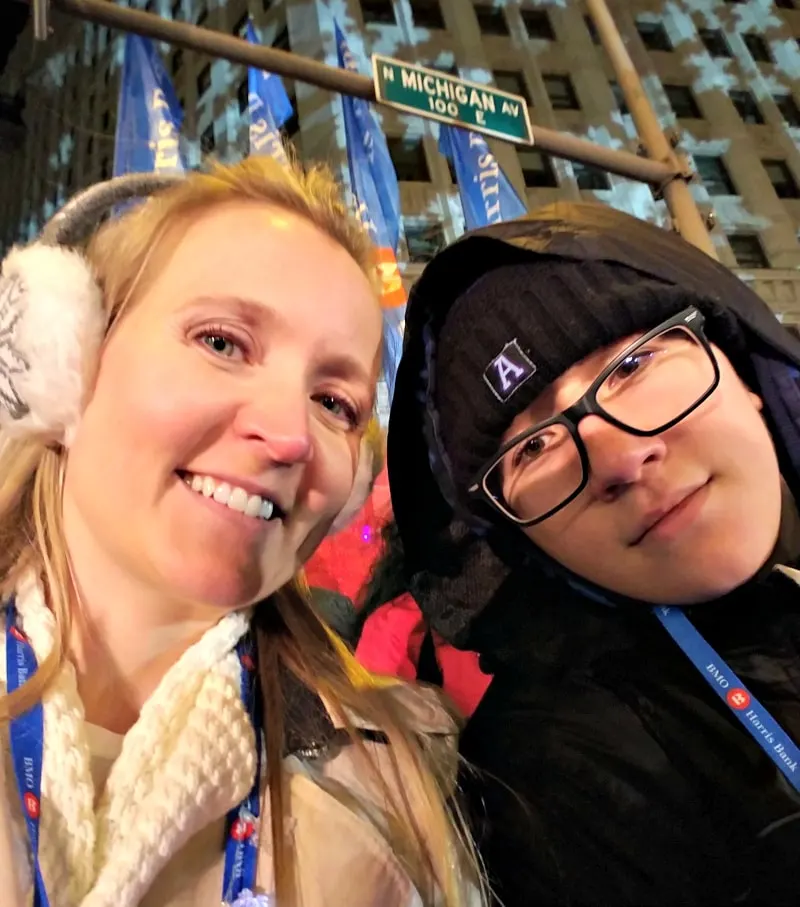 We went to meet the BMO Harris team to get the information we needed for the day. These people are awesome. They supplied us with hats, mittens, hand warmers, blankets, and light-up things to ensure we stayed comfortable and shiny throughout the event. We then walked over to our VIP seating area in the grandstands–located right in front of the media broadcast zone! Our faces were on the news broadcast! (Just in the background but still exciting.)
BMO Harris
This is just one example of the many perks of being a BMO Harris customer during the Lights Festival. Other benefits include:
15% off at Dylan's Candy Bar (perfect timing to stock up on treats for the holidays)
BYOGO holiday beverage at Dylan's Candy Bar
Discounted parking with Spot Hero
20% a single item at the BlackHawks store on Michigan Avenue
BMO will select 100 customers on parade day to enjoy the parade from the grandstand viewing in the broadcast zone
This is the fifth consecutive year BMO Harris Bank is the title sponsor of the BMO Harris Bank Magnificent Lights Festival. I'd say they've mastered it.
Marching Bands
So, I have a serious obsession with marching bands. They are so freaking great. I love how each musician contributes to the sound and overall visual performance. I have the utmost respect for the talent and skill it requires. To play your instrument, remember the music, execute the synchronized marching/dancing… I'm exhausted just thinking about it. Check out my video (above) to see a couple clips of them in action.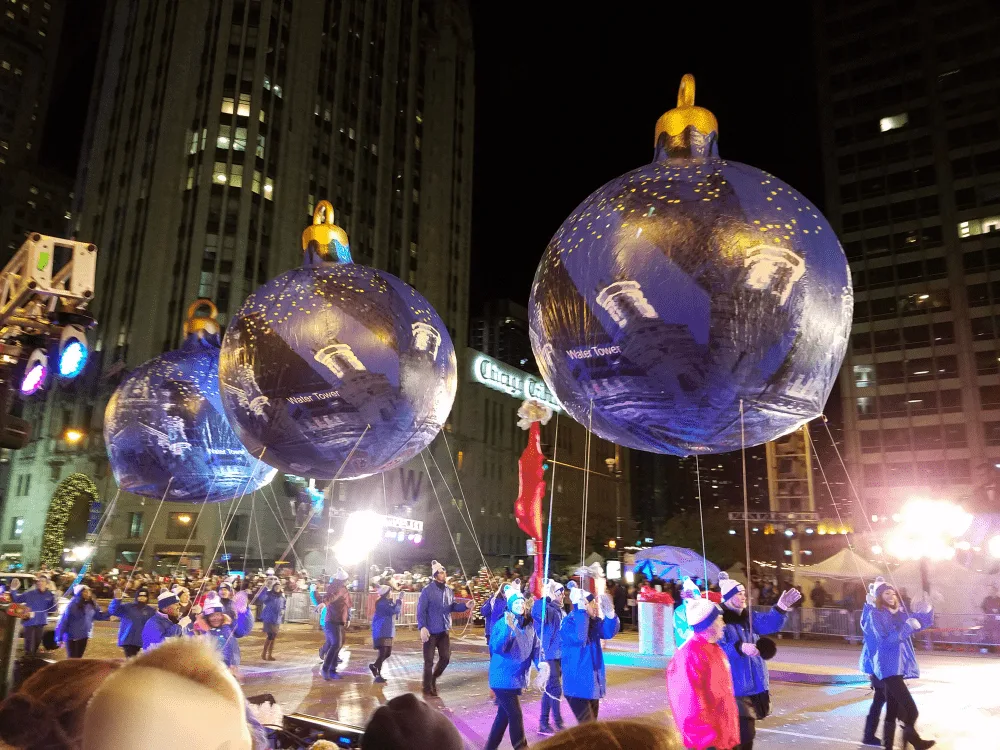 The Floats
How can we possibly do a post about a parade and not mention the floats! We picked some favorites and definitely had to mention one that just, well… you'll see. 😉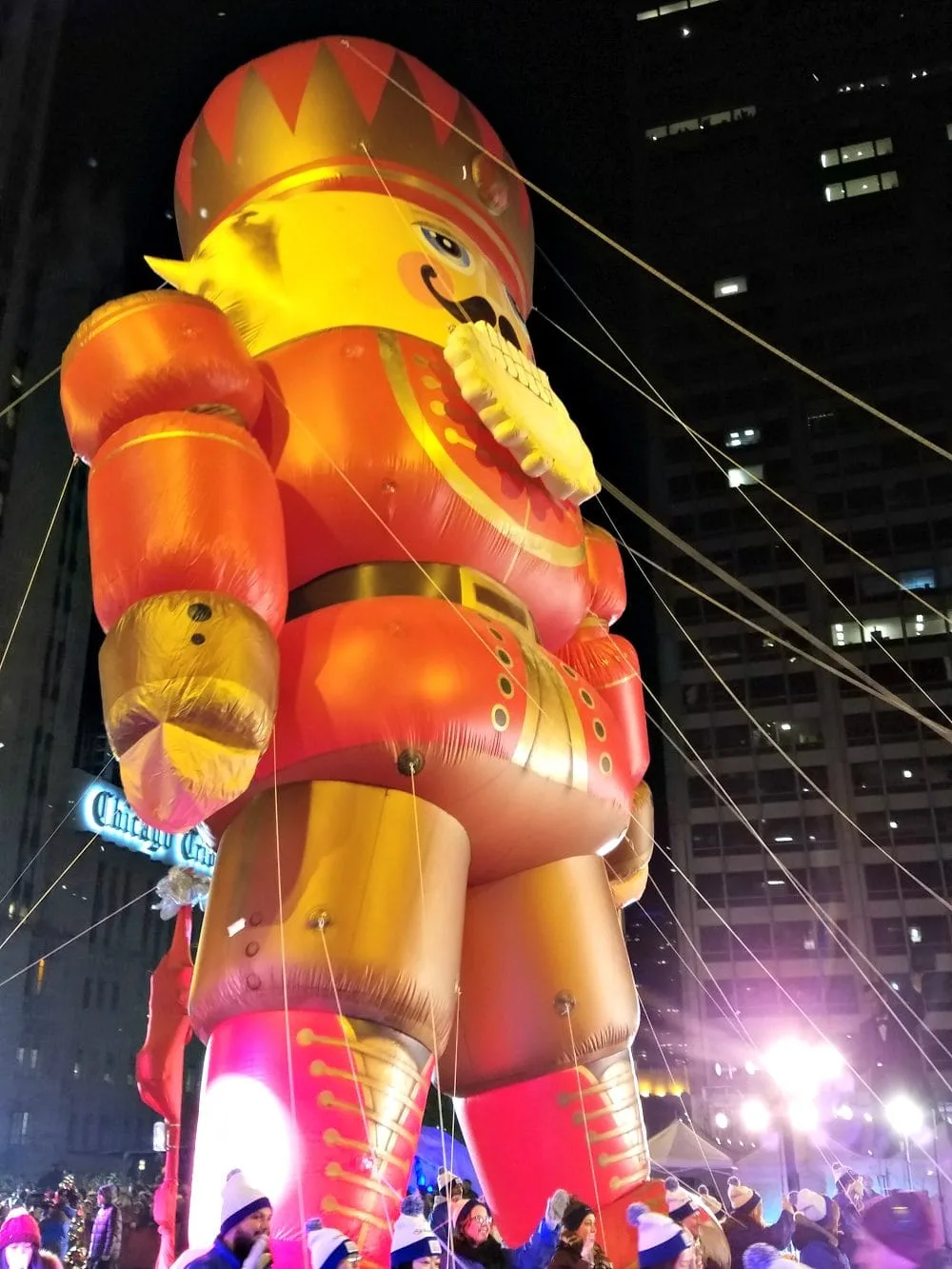 The giant marching Nutcracker was pretty awesome to see making it's way down Michigan Ave. I'm pretty sure I heard that it takes 30 people to get it around.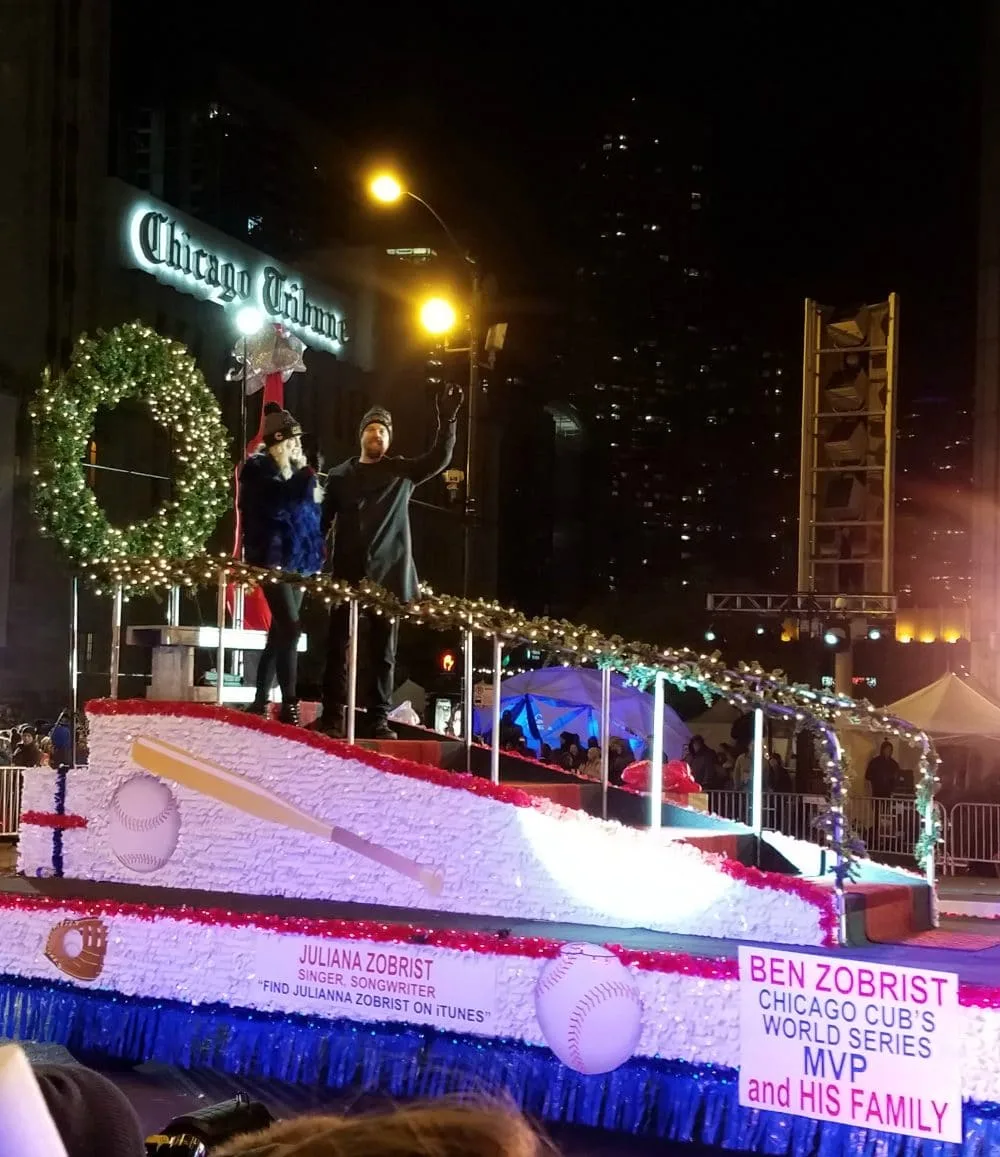 Whether you're a Cubs fan or not, you've gotta hand it to them–they really gave us a great game with a helluva big build up. It's great to see Ben Zobrist soaking in that hard-earned glory with his family.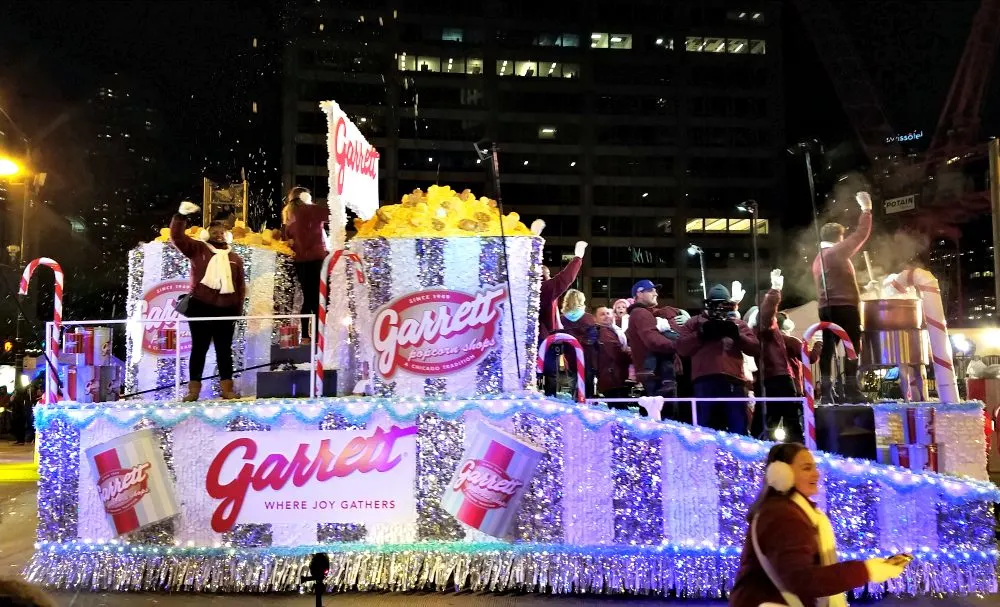 Perhaps my personal favorite float: the Garrett's Popcorn float. Chicago style popcorn is my greatest weakness and this bad boy was shooting fresh, hot popcorn into the crowd. They were also throwing mini bags of the delightful sweet and salty popped kernels to the people. It was kind of a like a fantasy come to life…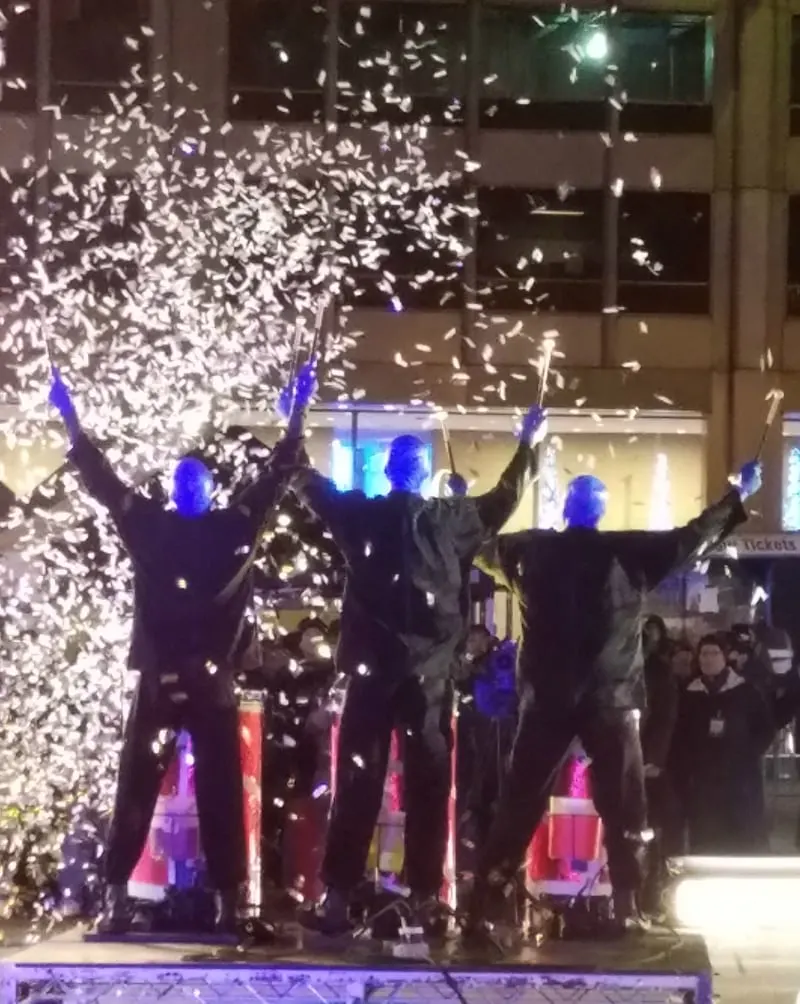 Blue Man Group is never a disappointment. These guys are entertaining like no other group. We could only see them from behind, but I was just fine with that perspective. 😉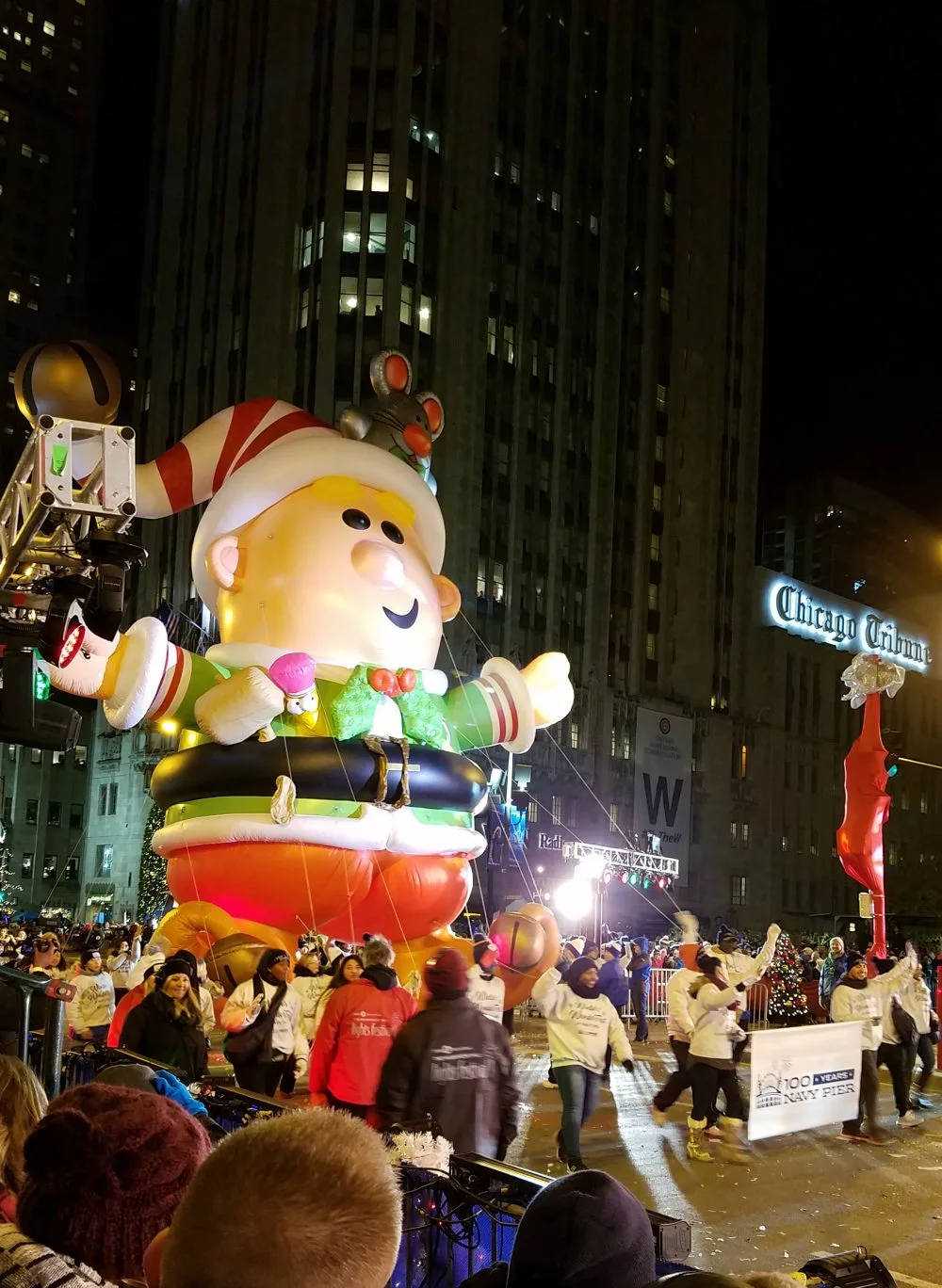 Check out this super fun Christmas Elf! He's celebrating the 100th anniversary of Navy Pier.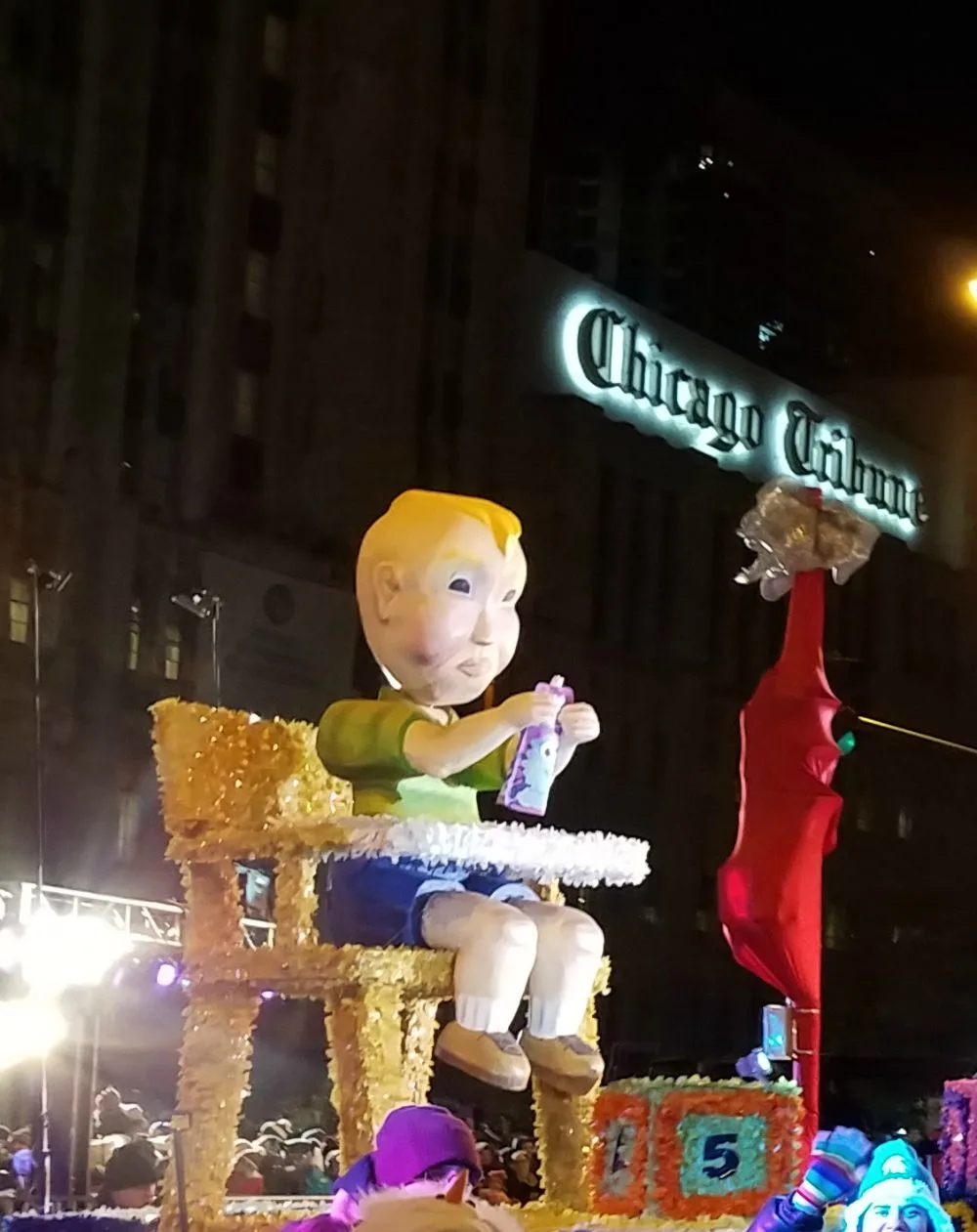 And the creepiest float award goes to Kefir Probugs. LOL I actually love their product but even they have to know that this is just a tad horrifying. They made up for it by tossing out product coupons.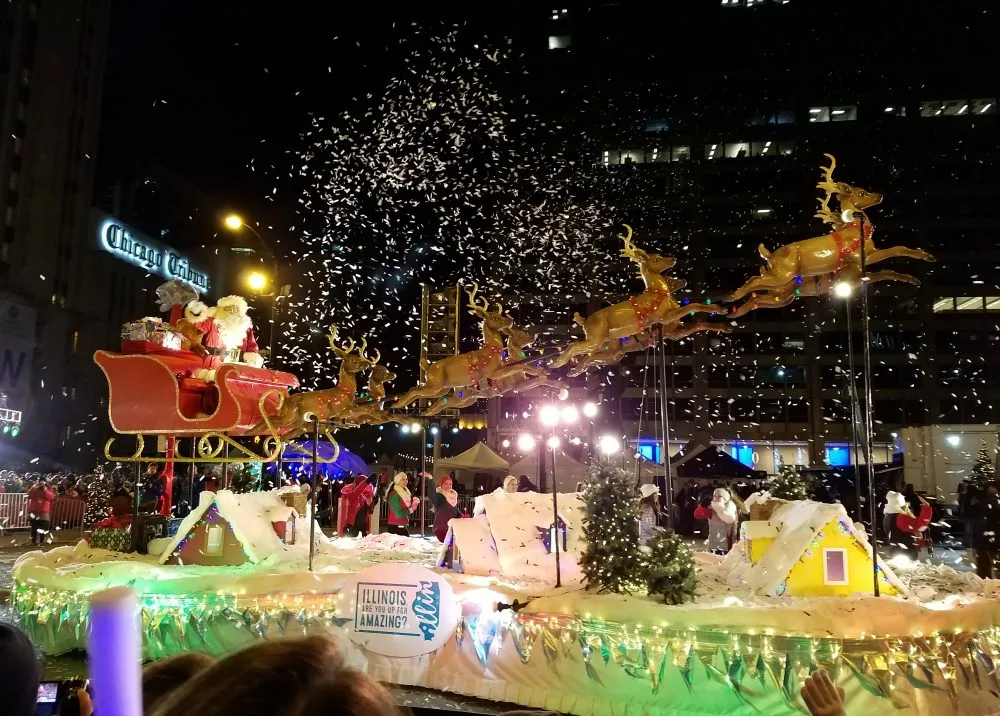 Overall
The parade ended with Santa showing up and a fantastic fireworks show over the river. It was as if we were inside a Christmas snow globe. I cannot think of a better way to get into the spirit of the holidays–filling the entire city of Chicago with magic. Well done, BMO Harris. Well done. We certain felt the full effects of the BMO effect.
Have you ever attended the Lights Festival in Chicago?