Anime month, the month in which we fans of this beautiful Japanese animation celebrate, is here, and it's time to let your geek flag fly. Forget Christmas.
February 13th through March 3rd is the most wonderful time of the year. BECAUSE ANIME!
Seriously, anime is the best. From robots with souls to demon hunters to pirate captains, Anime month is one full month of celebrating one of the most beautiful art forms on the planet, and GameStop is helping us celebrate with their We Love Anime Month. Huzzah!
We received the products seen in this post, but all thoughts and opinions shared are our own.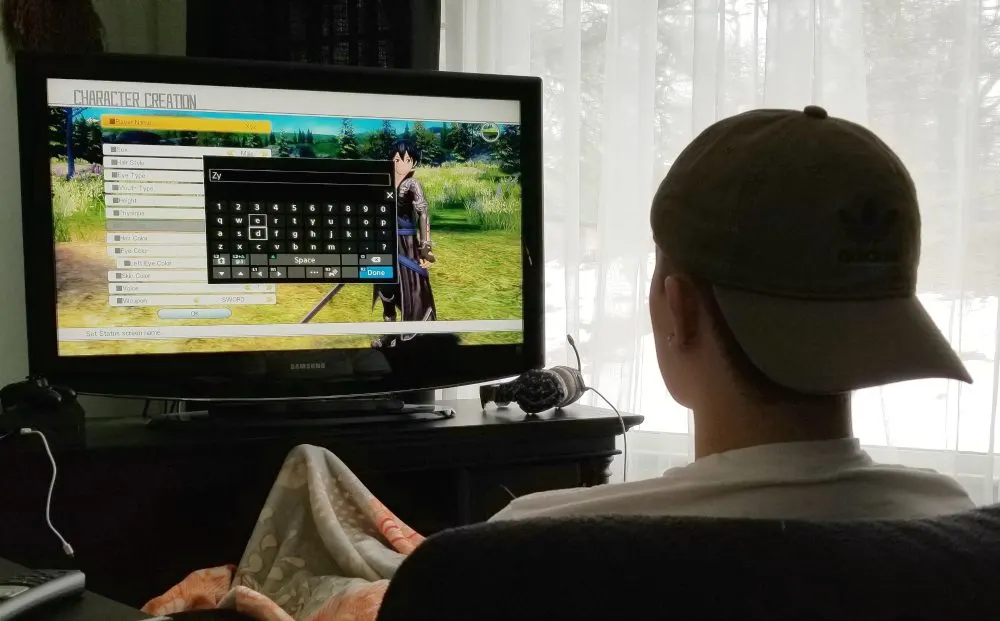 We Love Anime Month Means Big Deals
So you love anime. You love anime games. You love anime swag. But do you also love a deal? Sweet. I knew you would.
Well, my geeky friend, prepare for a metric ton of awesome, because during GameStop's We Love Anime Month, you can score big deals on all kinds of anime swag, games, and more.
Through March 3rd, Anime fans and the people who love them can get fantastic deals on Pops, games, apparel, and more. Check the deets:
Games from $14.99 (Power Up Rewards members only)
Buy 3 get 1 free on Pop! Vinyl and Blind Bags
20% off any 1 toy, apparel item, trading card, or collectible with purchase of Dragon Ball Fighter Z, Shadow of the Colossus, or Dissidia Final Fantasy NT
Savings across the board on anime apparel and collectibles
4 for $10 deal on pre-owned games ($4.99 and under)
Up to 50% EXTRA credit when you trade in 3 or more games
And these deals aren't on some weird rando anime that only a handful of people have heard about and that no one cares about. These deals are for the good stuff. We're talking deals on fan favorites like:
Dragon Ball Z
Naruto
One Piece
The Seven Deadly Sins
You get the idea. It's the cream of the anime crop, people.
If you're a Power Up Rewards member, you're going to score that $14.99 deal I mentioned earlier on some hot anime games like Digimon World of Next Order and One Piece Burning Blood.
If you aren't a member, just sign up when you head over to your local GameStop, and you'll be good to go. It's as easy as a match between Goku and Krillin. I mean Krillin BEFORE Dragon Ball Super.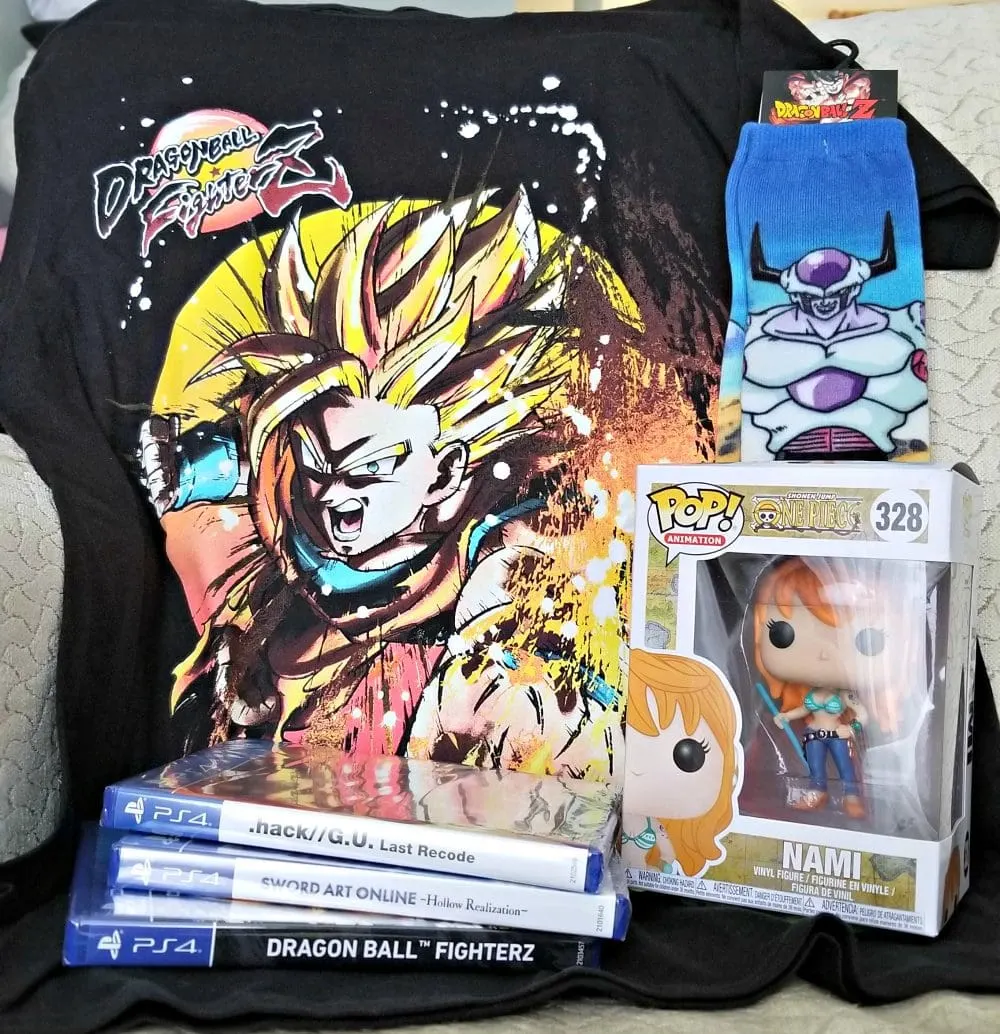 What We Got from GameStop for Anime Month
Since we're partnered with GameStop, they sent us some cool swag for We Love Anime Month. It was a nice cross-section of anime items that offers a taste of what the winner of our giveaway is going to score.
The box we received from GameStop was at least a Super Box 3, with some pretty great stuff, including:
Nami Pop!
Dragon Fighter Z T-shirt featuring Goku in all his SS glory
A pair of DB King Cold socks *very warm, actually
Sword Art Online Hollow Realization for (PS4)
.hack//G.U. Last Recode (PS4)
Dragon Fighter Z Day One Edition. Kameeeeeee hameeeee HAAAAAAAA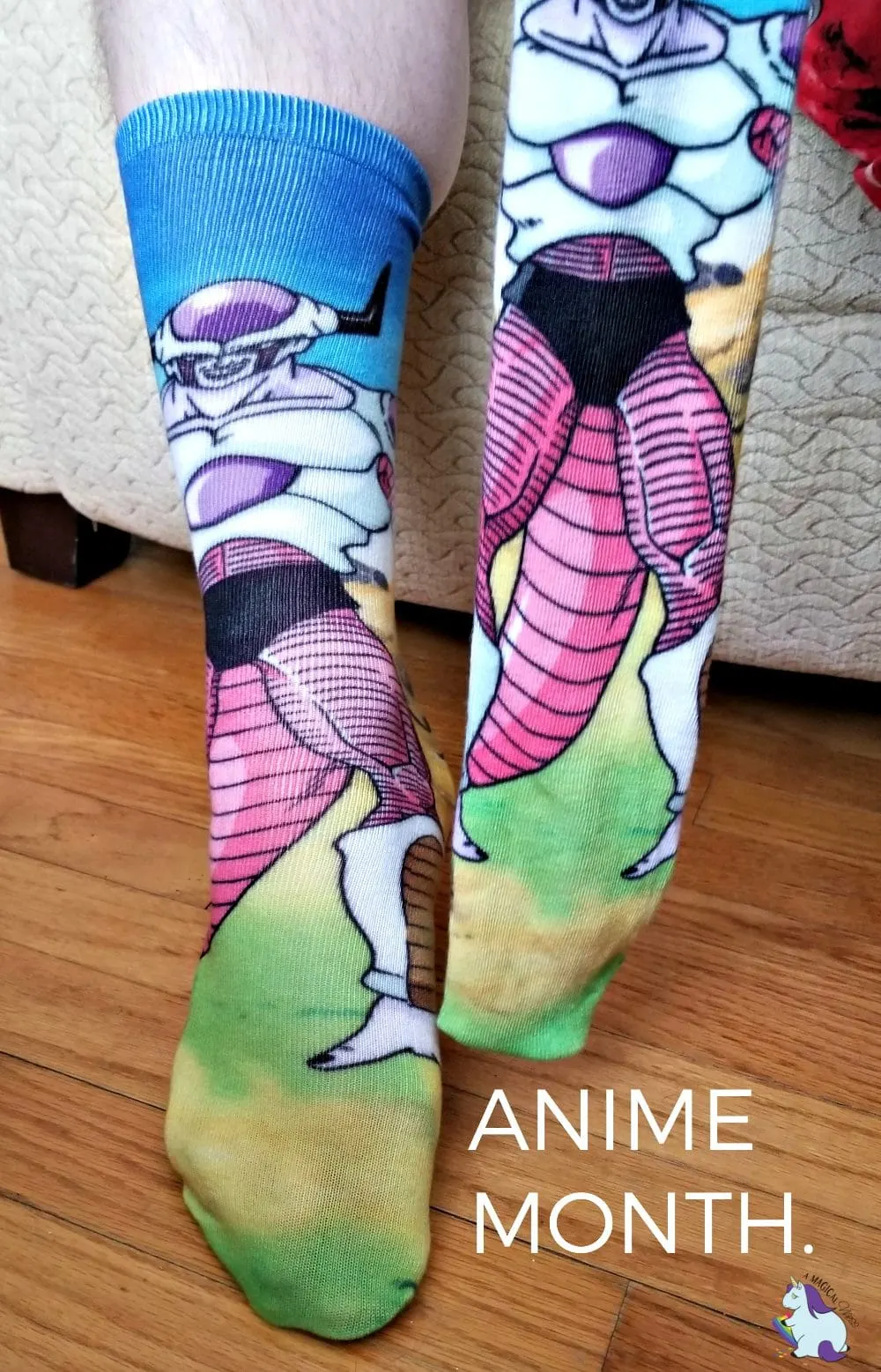 Anime Month Means a Month of AWESOME
If you love anime, then you're going to love GameStop's We Love Anime month. Through March 3rd, GameStop is a virtual wonderland of games, swag, and more for any and every anime lover.
So remember: GameStop. Anime. Deals. Those are the high points. One last note: Believe in the you who believes in yourself. (If you don't know this, you need to watch more anime).
What You'll Get from GameStop for Anime Month
We got some sweet swag for GameStop's We Love Anime month, and you can, too. One lucky winner is going to score a prize pack to make their geeky friends jealous, including:
1 shirt
A pair of socks
3 anime games (PS4 or XBox)
2 Funko Pops
GIVEAWAY ENDED!!! WINNER: Marlene Williams