Rock of Ages is the perfect movie to watch if you want to dance, laugh and reminisce about the 80's! This movie was so much fun to watch and left me wanting to go buy some Aqua Net and put on some leg warmers. With the knockout cast and epic songs from rock bands like, Def Leppard, Foreigner, Journey, Poison, Twisted Sister and more, this is a must-see for all! Product received for review. Post contains affiliate links.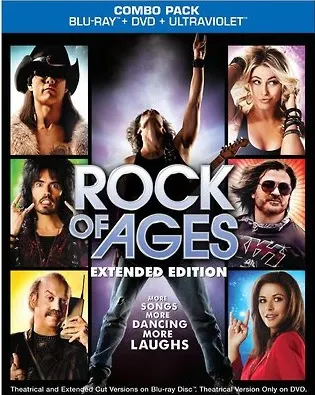 Rock of Ages Synposis:

"Rock of Ages" tells the story of small town girl Sherrie and city boy Drew, who meet on the Sunset Strip while pursuing their Hollywood dreams. Their rock 'n' roll romance is told through the heart-pounding hits of Def Leppard, Joan Jett, Journey, Foreigner, Bon Jovi, Night Ranger, REO Speedwagon, Pat Benatar, Twisted Sister, Poison, Whitesnake, and more.
I had been looking forward to seeing this movie, but I had no idea that it was a musical. <— Duh. Obviously, I knew there would
be music
, but I didn't know that the majority of the story would be told
in music
. When I first realized that I was a little disappointed. Well, shame on me! Turns out that it was awesome! I absolutely loved this movie!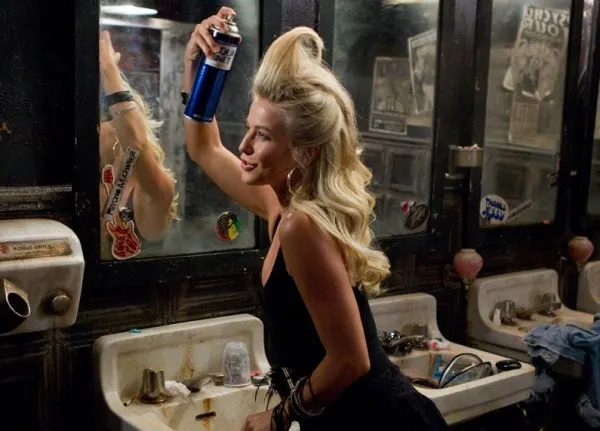 Remember 80's bangs? I certainly do!
Julianne Hough does an outstanding job at playing the small town girl, Sherrie. She is just so darn adorable and beyond talented. I knew she could dance from Dancing with the Stars, but she can sing and act, too! She meets her city boy, Drew, played by Diego Boneta. Together these two pursue their dreams to make it big. Of course, there's tons of drama along the way.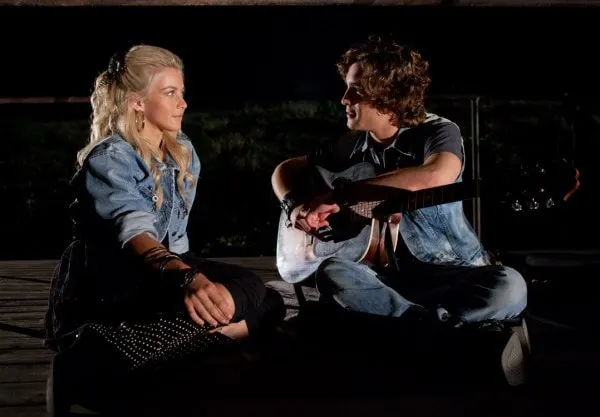 Each one of the actors did such an impressive job in this film. They all did their own vocals, which just amazes me. When I watched the special features on the Blu-ray I learned that Tom Cruise actually spent months with a vocal coach to get him prepared for his role of Stacee Jaxx. It paid off because he sounded great! I recommend watching the bonus features, because it even shows Def Leppard watching him perform their hit Pour Some Sugar on Me. Even they were impressed!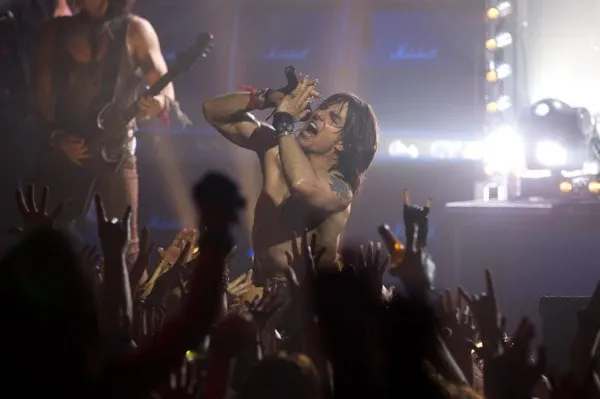 I could go on and on about this movie, but my favorite part was probably the 80's nostalgia. I was still pretty young during the 1980's, but I have many memories. My attempt at the fashion like, leg warmers, neon colors, scrunchies and side ponytails, and the music – most of it will never get old for me. It brings back so many memories and just puts me in a good mood.
Own Rock of Ages on Blu-ray Combo Pack or Digital Download 10/9