Meal prepping tips are key to balanced eating. Balance is a word I struggle with in life so living a balanced lifestyle for me is a daily challenge. Moderation might as well be a word in a foreign language. In an effort to balance the scales in our household, I follow some meal prepping tips and general rules to keep me on the right track. Disclosure: This was a sponsored post written by me on behalf of Nestle USA's Balance Your Plate but all opinions are my own.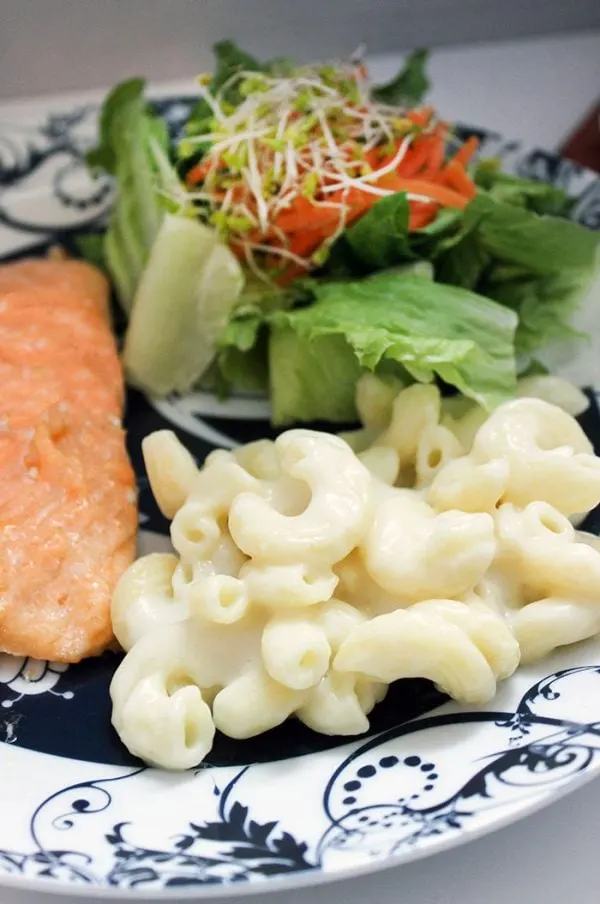 I know we are not alone when it comes to not having it all together. Most Americans only meet nutritional guidelines 7 out of 365 days. That's a staggering statistic. Everyone wants to eat better, but busy lifestyles make it hard to stay on track. We need simple solutions to choose from that can help make balanced eating a reality. Balance Your Plate is an educational program that helps consumers meet the Dietary Guidelines for Americans by providing simple meal planning ideas pairing frozen meals and pizzas with fruits, vegetables, whole grains, and low-fat dairy. Here are some rules I try to follow to keep our dinners in line.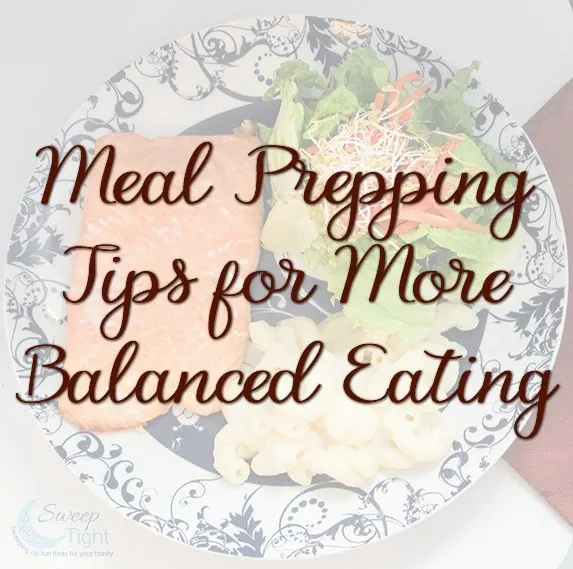 5 Meal Prepping Tips for More Balanced Eating
Color – Try to create a plateful of colorful foods. Choose foods with a variety of colors. In my dinner, I have the pink salmon, white cheddar macaroni and cheese, and green salad with additional bright veggies.
Veggies – Pile on the vegetables. The majority of your plate should contain veggies. Normally, I serve our salads in separate bowls. This gives more room for extra veggies on the plate. Here is an opportunity to boost the color if need be. Vegetables come in all sorts of colors.
Fruits – I could have put fruits along with the veggies, but I would rather present them as dessert. A nice sweet slice of pineapple, sliced strawberries, or some juicy melon is a tasty way to end the meal. It's usually enough to satisfy the dessert craving, as well.
Frozen – Don't be afraid to use frozen prepared meals. Let me tell you, if I had to rely on having fresh veggies every night for dinner, we would rarely eat vegetables. Let's face it, most of us don't have the time to go to the grocery store every couple of days. Stocking your freezer with frozen prepared meals is not only practical, but smart.
Water – Once you build your beautiful plate, don't derail all your efforts with a sugary drink. Water is the best choice by far. Try to get used to it! Add lemon or even cucumber slices if it's too plain for you. Overall, just try to choose something that's not full of empty calories.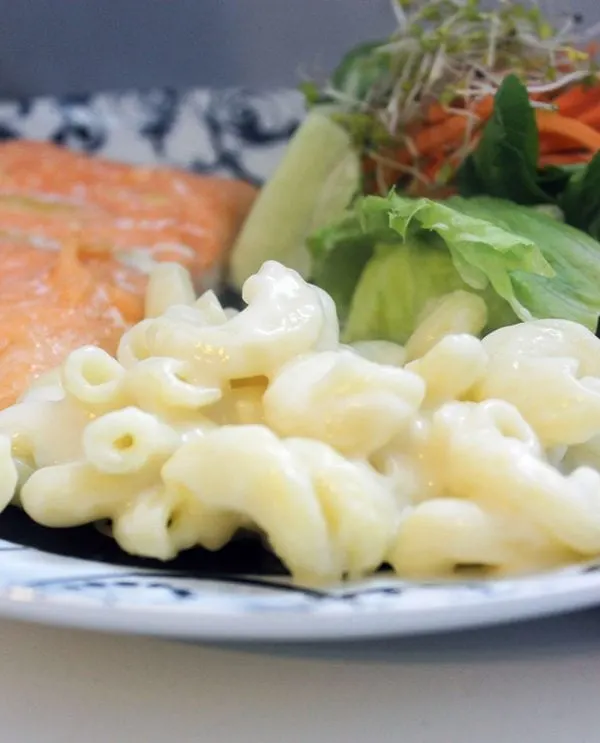 My absolute favorite frozen meal is macaroni and cheese. In all honesty, I would devour a bowl of it for dinner. I am so thankful I found Lean Cuisine® Vermont White Cheddar Mac & Cheese. It is so good — so good. There's nothing "lean" about the flavor, that's for sure. Enjoying it as a part of a balanced dinner makes it even more delicious. It's a flavorful dish that everyone enjoys without the guilt.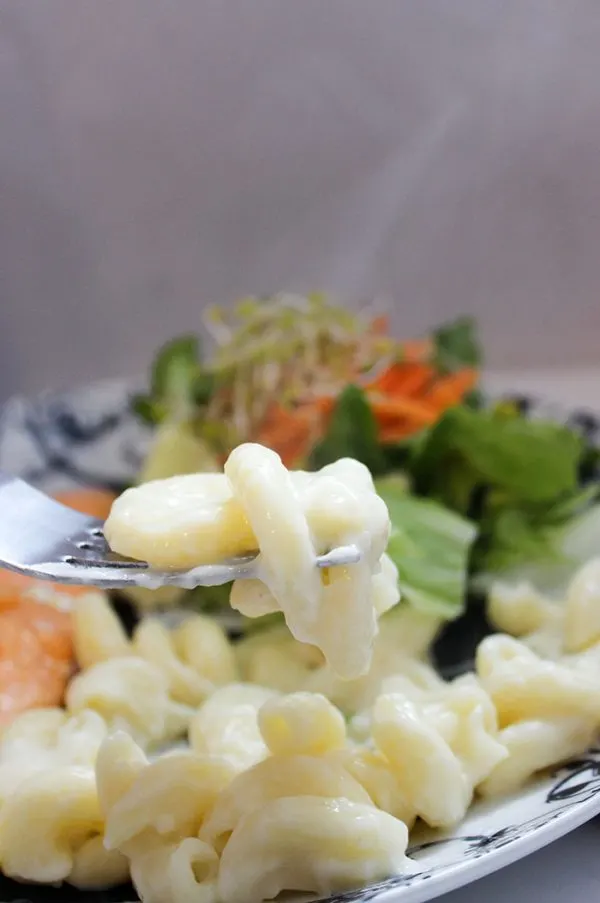 Lean Cuisine® has come a long way. They have been a brand that I trust for years but have reintroduced themselves as a modern eating brand to support women's wellness. They now have easy to follow meal plans that provide recommendations for pairing frozen foods with fruits, vegetables, whole grains, and low-fat dairy for balanced meal planning. The new Lean Cuisine chef-inspired and ethnic dishes offer a variety of new recipes and new benefits like gluten-free, 1 cup of vegetables, and 15 grams or more of protein with delicious bold flavors.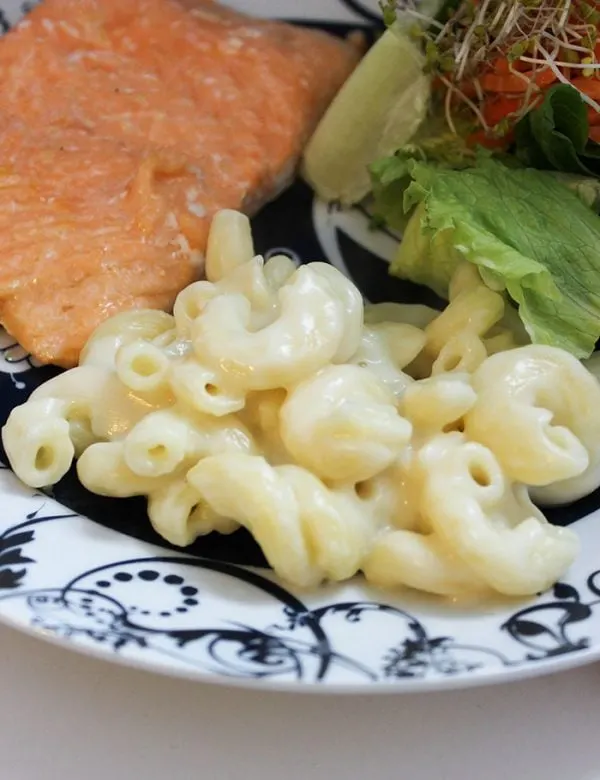 I often eat Lean Cuisine for lunch but love using them as dinner side dishes, as well. That way they are always on hand, easy to make quickly, perfectly portioned, and a great choice for our balanced plates.
Balance Your Plate
For more meal prepping tips and advice to balance your plate, visit Nestlé USA. Balance Your Plate with Nestlé helps consumers find unique ways to integrate more nutrition throughout the day, while managing portions and calorie intake. Designed with busy schedules in mind, Balance Your Plate helps people meet guidelines without sacrificing flavor or nutrition. The initiative makes it easier for everyone to make better choices and find perfect pairings to eat balanced meals.
Do you have any meal prepping tips for balanced eating?