Natural dog food made in the USA is more important to us than ever lately. With so many recent recalls, I feel like we can't be too careful. Plus, we want our guys to get the best nutrition possible to make them happy and healthy. This post is sponsored by Only Natural Pet and the BlogPaws Professional Pet Blogger Network. I am being compensated for helping spread the word about the NEW Canine PowerFood, but Sweep Tight only shares information that we feel is relevant to our readers. Only Natural Pet is not responsible for the content of this article.
Natural Dog Food Made in the USA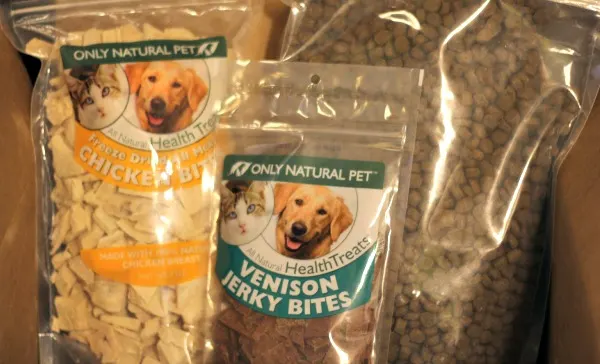 Canine PowerFood is the newest release from Only Natural Pet. It's formulated by a holistic vet and manufactured in the USA. Fruits and vegetables sourced from farms in the United States are what makes this #FarmToBowl kibble so unique. The Only Natural Pet team played a huge role to make sure that only quality ingredients are used. They spent time on the family-run farm in Minnesota that grows the garbanzo beans and yellow peas used. The chicken used is always hormone and antibiotic-free and is processed only 20 miles from where it was raised. They take pride in offering fresh, nutrient-packed ingredients to provide your pet with a real PowerFood.

We received the Canine PowerFood kibble along with some treats. We decided to just give The Grump the kibble for now. Hilo's still finishing up his diet food and Franklin is still on his puppy formula. Slowly introducing the new dog food is important to avoid upset tummies. The Grump responded well right away, though. He could smell the new addition once I mixed it in with his food. He gobbled it up extra quickly and his wide eyes told me he enjoyed it immensely!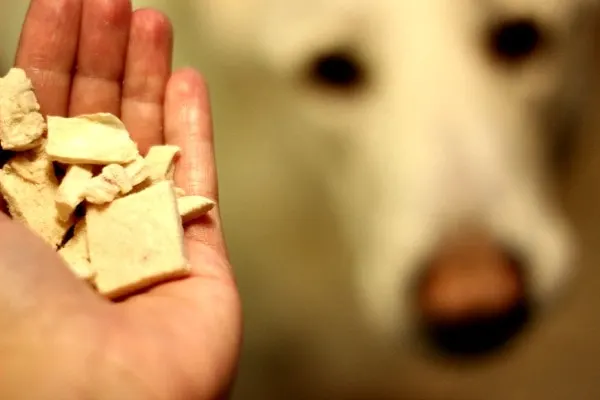 Let's talk about the treats. My goodness are they a hit. The Freeze-Dried Chicken chunks make our guys shake with excitement. They are light little pieces and the texture kind of reminds me of astronaut food. (I almost lost a hand right after this picture.)
Everyone is loving this new natural dog food. I would love to eventually get them all on it. Since I now have learned it's packed with protein, amino acids, essential fatty acids, good carbs, and so much more, I feel great about giving it to them. Each piece of kibble is also infused with their proprietary PowerBoost, which is a raw, freeze-dried blend of superfoods like, green lipped mussels, sea cucumbers, probiotics, and pumpkin. Our dogs are officially eating better than us humans!
Only Natural Pet's new dog food will be available for purchase October 6th. Find it exclusively on Only Natural Pet, Pet360, and PetFoodDirect.