Not that I should be telling the whole world, but the hubby has a new job that has weird hours. This leaves me home alone some nights, which can be a little disconcerting. We decided to look into a home security system, just for my peace of mind – and so if we are gone for longer periods of time – we can feel like someone is watching the house. I have never had a security system, and quite frankly I was a bit worried about signing up for the 3-year contract that most of them require. I was thankful to find a solution from SimpliSafe and to have the chance to work with them on this review. They have a no-contract system, that features simple pricing tiers and REALLY easy to install systems.
No Contract Home Security System
The SimpliSafe home security system is wireless (so no home phone line needed), it is easy to install and comes with the 3M Command strips, so it is easy to take down and move if you are a renter.
First – I have to be honest, you DO have to install it yourself – but it was SO easy. They have a whole book that goes step by step through each of the items to install, and it is all pre-programmed, so you just activate batteries, stick to the wall and go. You can start with one of their pre-packaged systems – these include things like motion sensors, entry sensors, and more, then you can add on more things like carbon monoxide detectors, or sensors that will notify you of water leaks, broken glass or frozen pipes.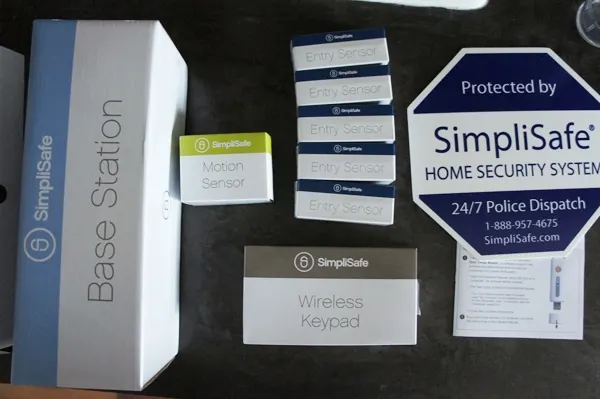 There are three different pricing choices, starting at $14.99 a month, you can get 24/7 Live Alarm Monitoring. With the most advanced plan being $24.99, you can add their cell phone app to arm and disarm, SMS alerts to let you know who and when people enter the home.
With the "home" setting, I can turn the alarm on as soon as I walk in the door and be certain I (and more importantly someone else at SimpliSafe) will be notified if someone unwanted enters the home. With the SMS alerts, my husband can get a text as soon as I walk in the door so he can know I am home safe – or when we have older kids, we can know when they arrive home safe. I also really liked their user forum – lots of helpful tips about changing the response times on the unit, if you should display the company sticker at the entrance of your home, and more.
The systems packages start at just $230, and then with the $14.99 a month with no contract – you can save money in just a few months if you are switching from a contract plan. Check out SimpliSafe for more information or to get started with your own home security system.