Makeup can be an unorganized mess. I do my makeup while sitting on my floor in front of my mirrored closet doors. All of my supplies are all over the place and it's horrible. Sure, I pick it up and make it look nice when I clean, but it doesn't take long to go right back how it was! Product received for review. Post contains affiliate links.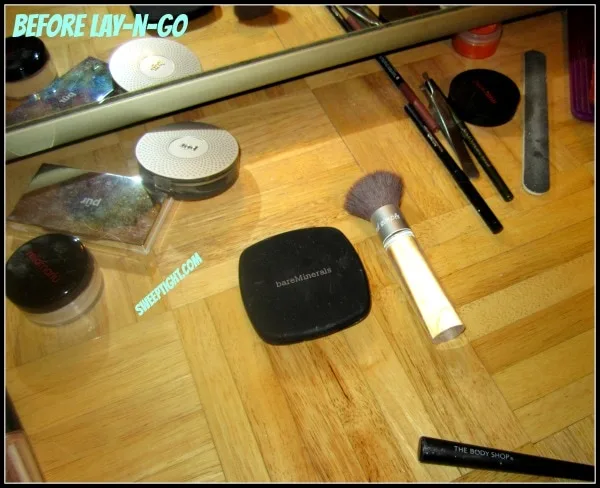 Actually, that picture is not even that bad. I just so happened to have gone through a lot of my makeup so it was a tad bit less obnoxious. But, the Lay-n-Go is awesome and seriously the answer to my problems!
The Lay-n-Go Cosmo is an 18″ diameter cosmetic bag that lies flat so you can spread your makeup out on it. It's made with an easy-to-wipe-clean material so it's durable and water repellant. It also has a little pocket for brushes or other items. Then, with the quick pull of a drawstring, it turns into a clutch. It scoops up everything that was on it and turns itself into a tote!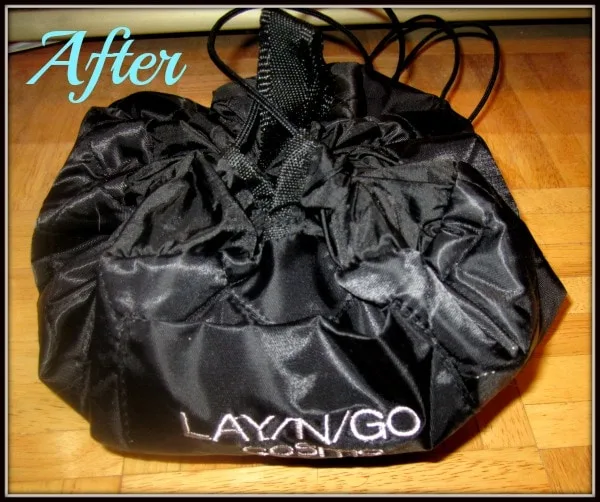 Let me tell you how great this would have been for Shelley and I at BlogHer12. Two girls rooming together means a lot of stuff and makeup scattered everywhere. We spent a lot of time each day just tiding up our crap items. If we would have had Lay-n-Go Cosmos, it definitely would have saved some time. If you travel – get one ASAP!
Makeup Mess Solution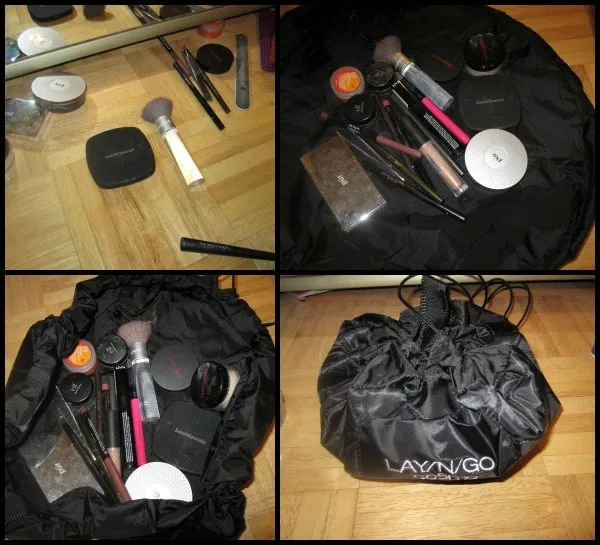 For the parents, I have even bigger news… There are larger Lay-n-Go's for toys. Yes, I don't have kids, but I have stepped on a Lego. It's pain like no other. They make a 5′ round Lay-n-Go that your kids can use as play-mats. Then, just pull the string to swiftly scoop up all of the toys! Easy. There's also a Lay-n-Go Lite which is 18″ in diameter and reversible. This is an activity mat, cleanup, carryall and storage solution in one! It's not a surprise at all that these products were invented by a very smart mom — Amy Fazackerley!