Yoga has quickly become my favorite way to exercise. I wouldn't have said that a few years ago. I never thought it could possibly give me a hard enough workout… boy, was I mistaken! Product received for review. Post contains affiliate links.
The Ultimate Yogi Yoga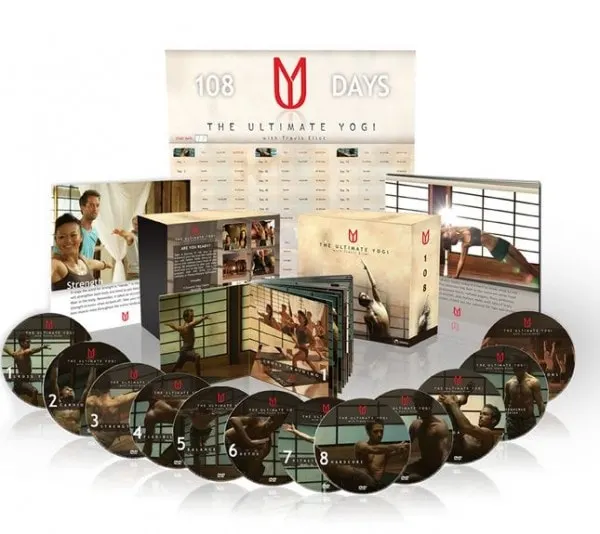 The Ultimate Yogi with Travis Elliot is a 108 day program designed to transform your body and mind. It comes in a DVD booklet with everything you need for the potential to change your life. I am telling you, I prefer yoga over any type of exercise now! It's healthy for my entire being. It's also how I slimmed down before my wedding.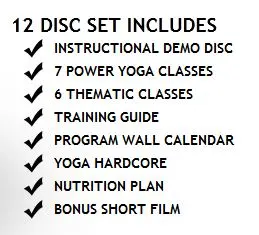 With yoga you get the whole package – strength, cardio, flexibility, balance, weight loss and mental well-being. Being that I am obsessed with multi-tasking, that's right up my alley! Really, though… what else can you do to receive all of those benefits?


I think the most common misconception of yoga is that it's easy. No way buddy. It's challenging all around and that's the beauty of it! I even convinced my friend's husband (who has done MMA fighting) to try it and he was floored at how tough it was for him! He now works yoga into his workout routine regularly.
Some people love the interaction of taking classes at a gym. Not me. I prefer to workout in the comfort of my own home. This isn't always as motivating, and there can be distractions, but for me it's still the best choice.
I also require structure and a good plan to keep me going. This program provides that big-time. There is a calendar and the 108 days is broken down into 3 stages of 36 days. It's so clear on how to do this and it also mixes it up, so you won't get bored!
I haven't made it through all 108 days yet, but I have done enough to know that it's awesome. Yoga feels so good and it's also great for my issues with anxiety. The long lean muscles beginning to appear are an added bonus, too. 😉