I am a 2014 Nature's Sleep Ambassador. I receive products for review purposes and take pride in sharing my honest opinions. This month I am happy to bring you this post about Spring Cleaning, redecorating and rewarding yourself for all your hard work.
Spring Cleaning Frenzy
I've come to the conclusion that I am definitely a solar powered human. After the longest winter of my life, just one sunny day above 40 degrees and I cannot stop spring cleaning. And, boy did the whole house need it!
I started in my office/dining/living room because taxes, homework, blog work and projects have taken over this space. My mind completely shuts down upon entering this room. If I didn't get organized I would have surely failed, well, everything.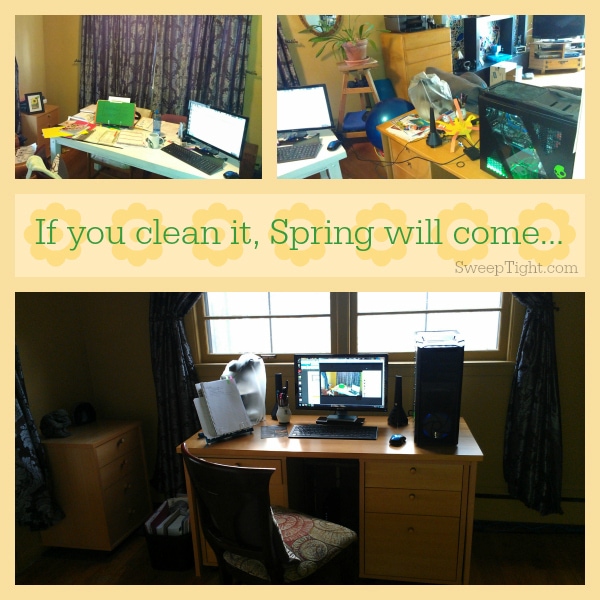 When it comes to Spring cleaning, it is hard to stop at just my side of the house. When I went over to my mom's side and was helping her strip her bed, I couldn't believe what she was sleeping on! Ever since menopause totally kicked her butt, her bone density is terribly low and she is constantly in pain. In a desperate attempt to cushion her sore skeleton she had piled up layers of foam on top of an old mattress. Her and Ben have been sleeping on this for years. I was shocked. So when the Nature's Sleep 10″ Memory Foam mattress arrived, I couldn't wait to tell them it was for them!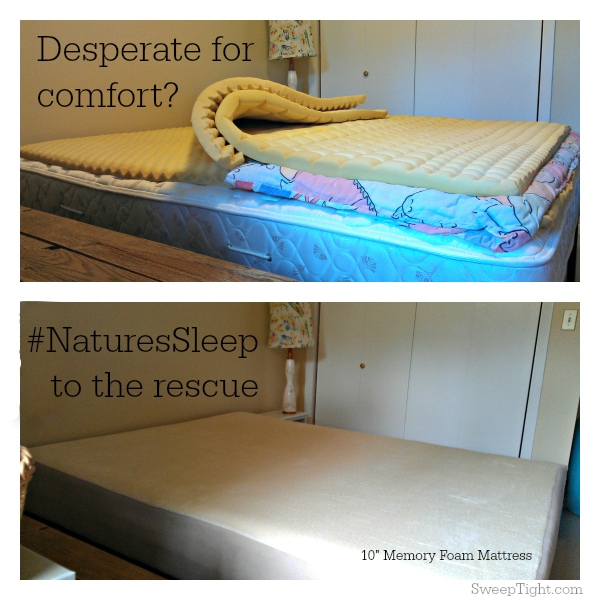 Living in a multi-generational home can be a huge challenge, but it also has endless perks. For instance, built in babysitting. Need I continue? But seriously, if it weren't for my mom and Ben (her SO) I wouldn't be able to finish my degree or do any of the things that I have done or plan to do. I actually owe them my life. Plus, they are helping me raise two very well-rounded small humans.
Rewards
After knocking out most of my spring cleaning and helping my mom start hers, everything feels so much fresher. If that's not rewarding enough, redecorating can really add new life to your day. Even if it is just adding a couple fresh flowers to a nice clean room, you owe a little treat to yourself.
Better yet, if you can manage it, updating your mattress is an ongoing reward. My mom and Ben have been sleeping on their new memory foam mattress for only a few days now and cannot believe the difference in their day. Relief from aches and actually feeling rejuvenated is more of a reward than anything. But to make the room even more bright and inviting, my mom bought herself some lovely new bedding. I know Ben hates to admit it, be even he likes the frilly flowery linens! 😉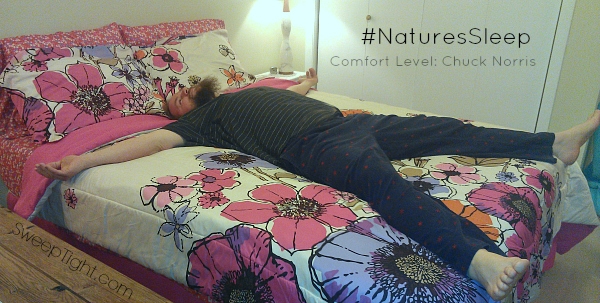 If you aren't sure how to pick the right mattress for your needs, here are some valuable tips:

Rainbow Crumbs for You
Weekly newsletter with our latest posts and shenanigans.