The Inside Out movie premiere experience was–in a word–exhilarating. It brought about all my inner emotions and had me running to catch up with my own self. To my surprise, I learned a great deal. I was able to attend this event as part of an all expenses paid trip sponsored by Disney. All thoughts and opinions shared here are my own.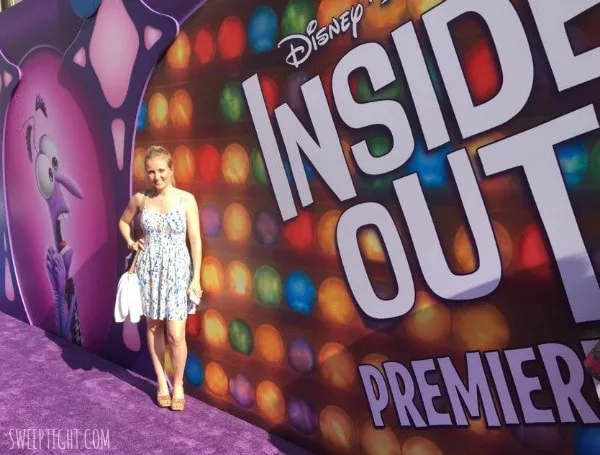 Inside Out Movie Premiere
I've thought long and hard about how I could find a relatable experience to that of the Inside Out movie premiere.
Maybe being the bride in an arranged marriage–excited, nervous, surrounded by strangers, a lot of eyes on her, pressure to have social skills on point… well, that's not really relatable. But with photographers lining the sides of the street and the promise of bumping elbows with your favorite celebrity, those are exactly the thoughts and emotions that are flying through your mind.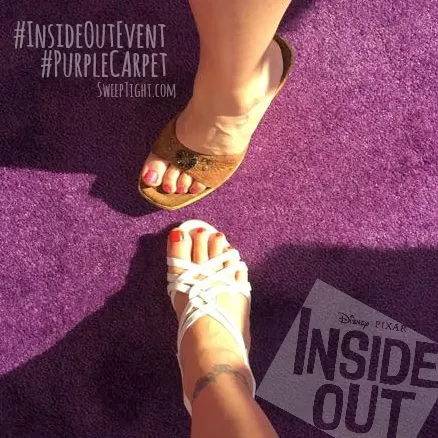 How about being in a dream where you're seeing everything from a third person perspective and you're watching yourself fumble all over the soccer field… It's the championship game and you're so close to scoring the winning goal but it's like your feet are ankle deep in molasses. As hard as you try you just can't kick hard or fast enough. That's kind of what the purple carpet was like–only instead of being frustrated, you're completely enamored by your surroundings. I saw so much. Yet I missed so much. But that's all part of it. You just have to breathe it all in and try not to hyperventilate.
Perhaps it's a bit like Christmas morning, if Christmas is also your birthday and your parents just won the lottery.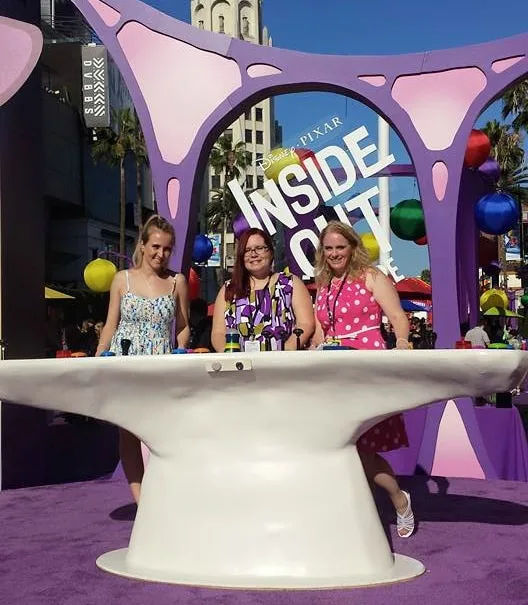 You know what–I don't think there is anything that compares to this experience! It was a once in a lifetime, awesome opportunity that knocked my expectations into another dimension.
Highlights from the Purple Carpet
Photobombing celebrities.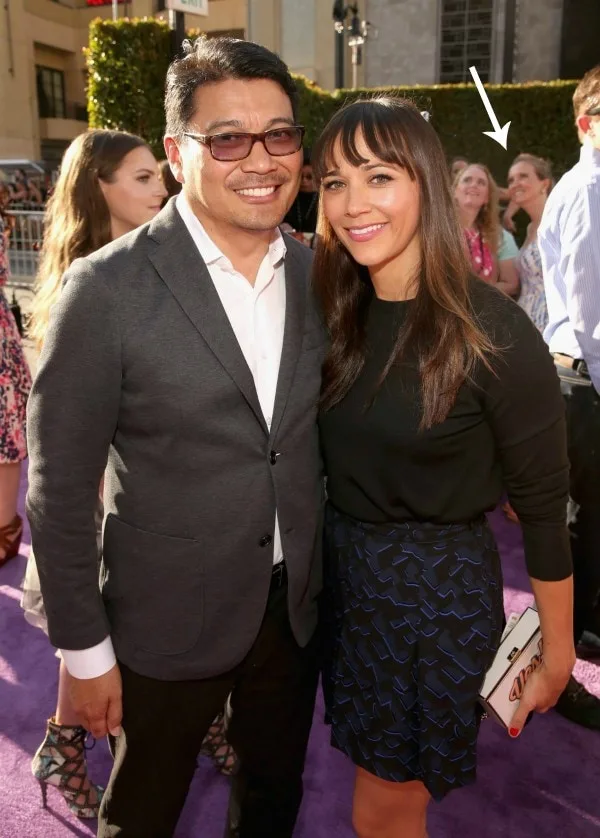 I had no idea what to expect at the pre-party. Because the Inside Out movie is obviously family friendly, the purple carpet was just that. It was loaded with fun activities, yummy foods, and carnival-like entertainment–even a bouncy house!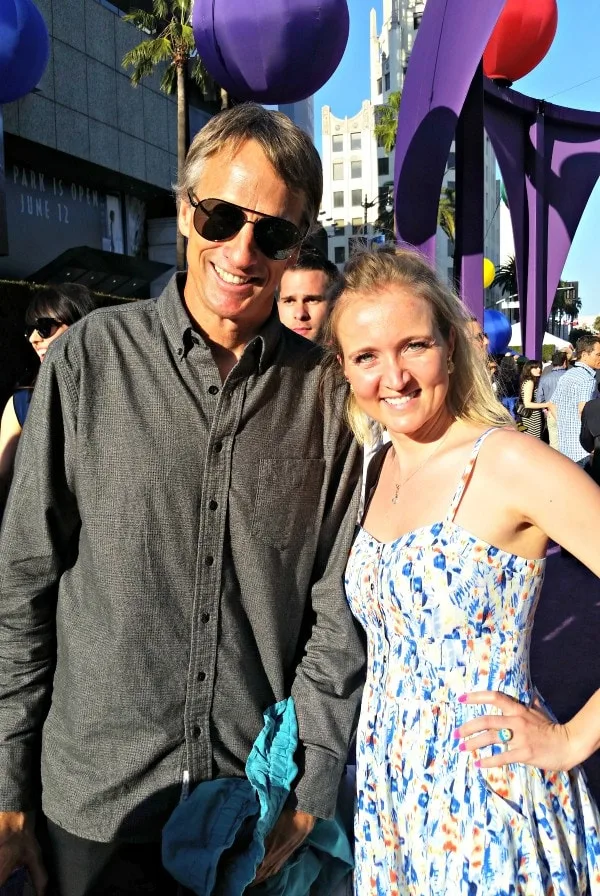 Celebrities like Johnny Knoxville, Tori Spelling, Garcelle Beauvais, Tony Hawk, and many others were there with their families. It was so cool to see them enjoying themselves. But that also made approaching them a delicate affair. I didn't want to be intrusive. However, just standing there staring was really quite creepy. I think (at least I hope) I found myself somewhere in the middle. Those that I did approach were super friendly.
Despite my best efforts to maintain my composure, I totally geeked out when I was RIGHT FREAKING NEXT TO FRED SAVAGE. I stuttered and rambled something super lame. But he was nice enough to let me take a shaky selfie.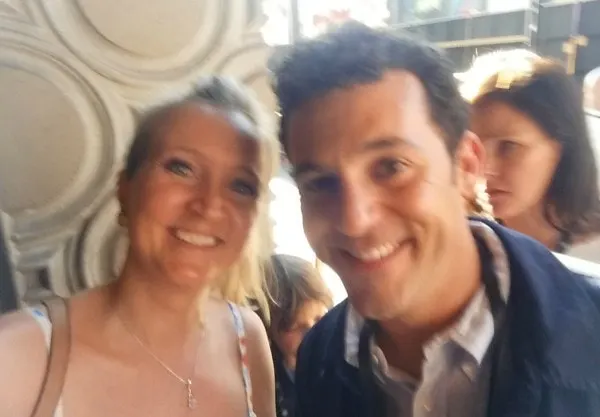 I was broadcasting live via Periscope for a large portion of this event (Jennifer was my most loyal viewer 🙂 ) which monopolized my phone but allowed my family to experience this excitement with me. If you're on Periscope, follow me @TeenyBod!
Purple (or red) Carpet Supplies
All you need is your phone, a charger or spare battery, and something warm for inside the theater. A purse is definitely not necessary. Maybe just a simple clutch to hold your ticket, badge, and phone. But a purse just gets in the way and ends up in all your photos, which may not be bad. Tessa, April and I dedicated a whole flip book to April's purse:
As for the Inside Out movie… I'll be posting a whole lot more about that later. But mark your calendars to see it yourself in theatres everywhere on June 19th!
Meanwhile, you can make this super fun Hexaflexagon with the kids! Simply click on the image to print.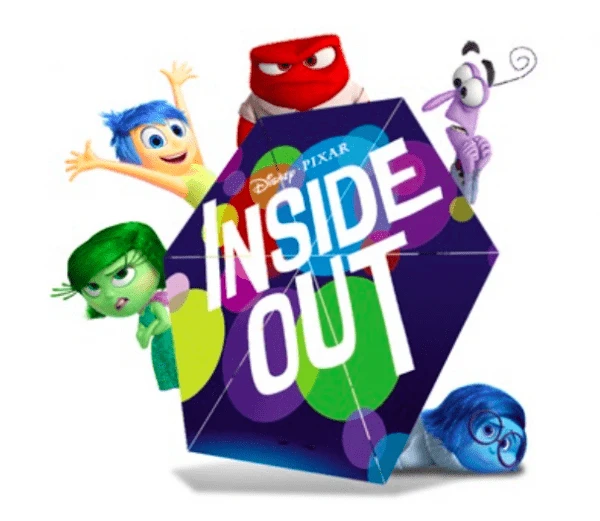 Subscribe on YouTube to see all the fun trailers!