According to a recent study published in the journal, Psychological Science, using pen and paper, not laptops, to take notes boosts memory and the ability to retain and understand concepts.
We received a unit for review and one for giveaway, but this blog contains only my honest opinions based on my experience with the device.
There is just something about writing what you're hearing, reading, or thinking that seems to reinforce the subject in your mind.
Now that we're firmly planted in the digital age, a lot of notes are delivered or taken electronically.
Just in time for the back to school season, we have a product that seamlessly melds the worlds of digital and physical: RoWrite, the smartest writing pad I've ever used.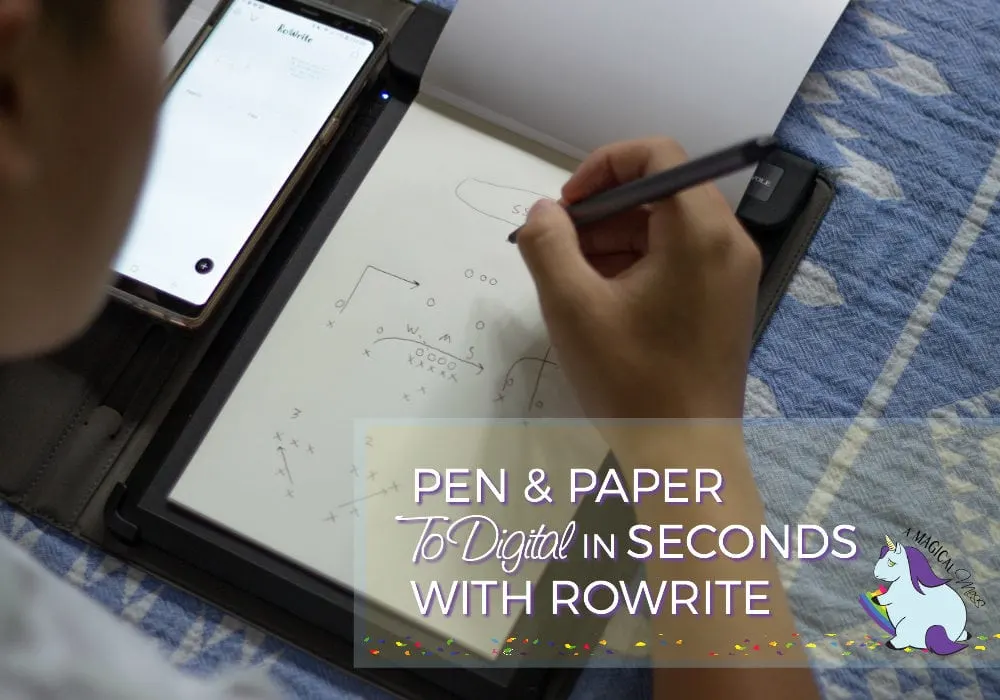 Taking Notes
To study for exams in college, I used to handwrite notes during class and while reading the textbook, then transfer the most vital information onto one piece of paper.
During the test, I could visualize the information–the color of ink used, the position on the page, and what my hand looked like when writing it.
It was these study methods that got me through some of the most difficult courses.
My kids–my son especially–is really struggling to find study methods that work for him.
His high school provides a Chromebook for much of the educational materials and coursework that's required, but I rarely see him hand write notes.
An artist at his core, he's been drawing and using his hands to transfer what's in his head since he was old enough to hold a crayon.
Like many, he's a visual learner. I encouraged him to take notes in class during the end of last year, but he complained it was difficult to keep everything organized.
With so much of his materials digitally stored, paper was getting lost in the shuffle.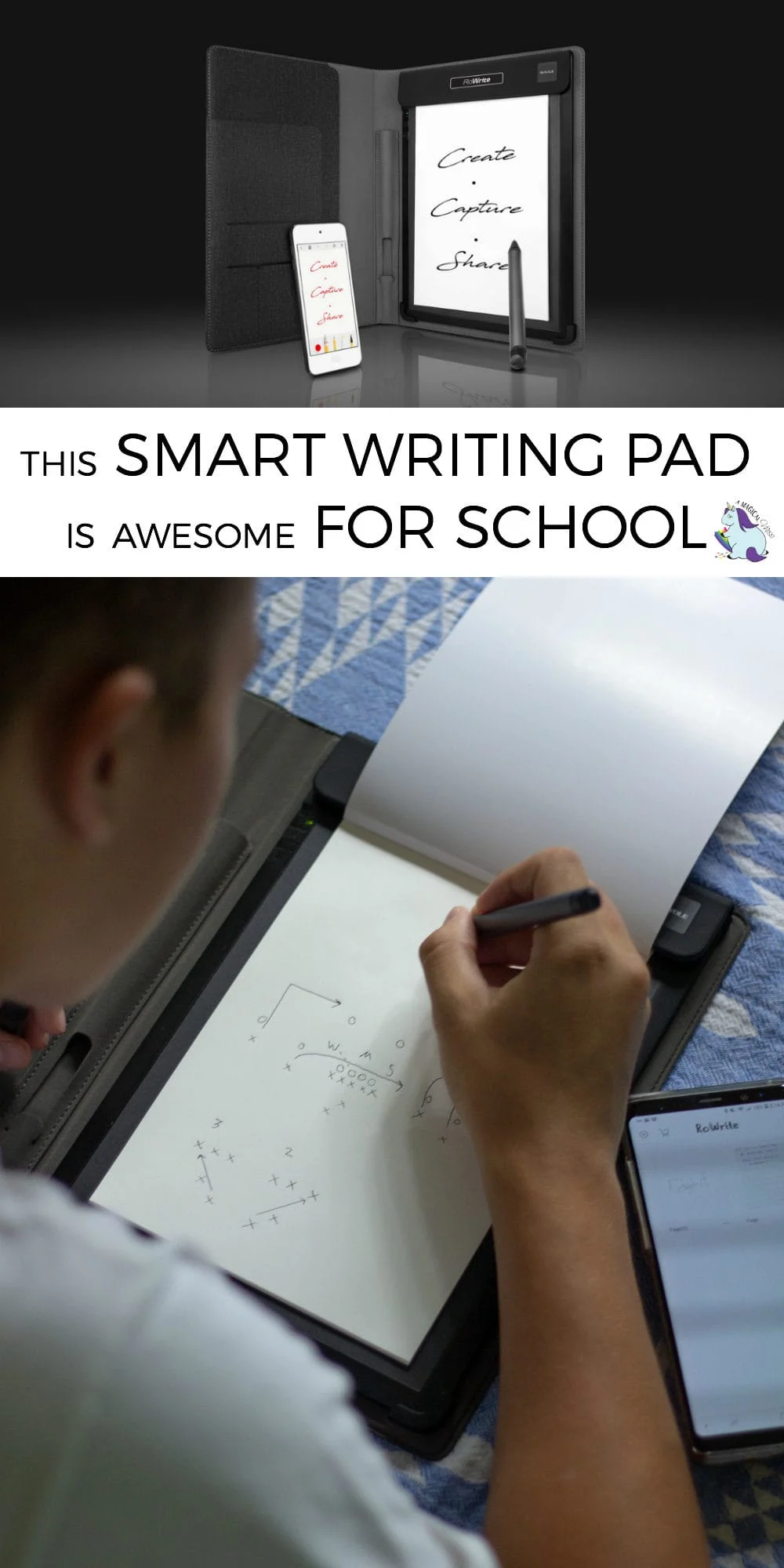 RoWrite – Smart Writing Pad
Unlike other digital apps I've attempted to use for note taking, RoWrite uses a real pen and actual paper.
You can rest your hand like you would naturally, without worry that it will smudge the digital copy.
Via a Bluetooth connection, this smart writing pad picks up your pen strokes and makes them instantly available on your chosen device as digital copy.
Drawings, notes, doodles, math problems, or whatever else you create will be available within the app. My son is currently studying his football plays.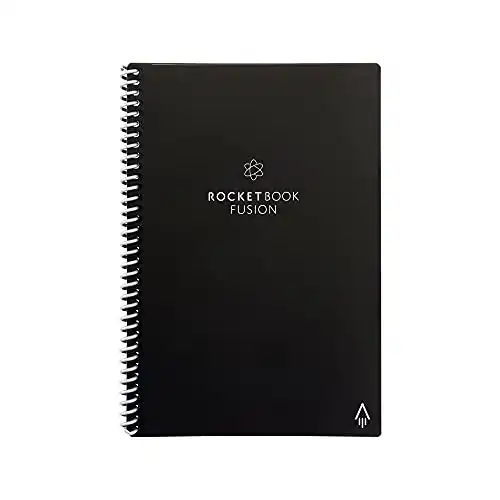 Also within the app, you can edit your work, add color, convert your handwriting to editable text, share it with friends and classmates, and even record video of your creative process.
The device uses a battery-powered pen and A5 paper. Pen strokes within the guide marks will be captured.
While regular-sized paper can be used, it is not recommended.
The RoWrite pads are designed with two guide holes, and their thickness is optimized to capture every pen stroke.
The package also includes a beautiful folio, ink refill, (2) A5 notepads, a charging cord, and ink refill extractor.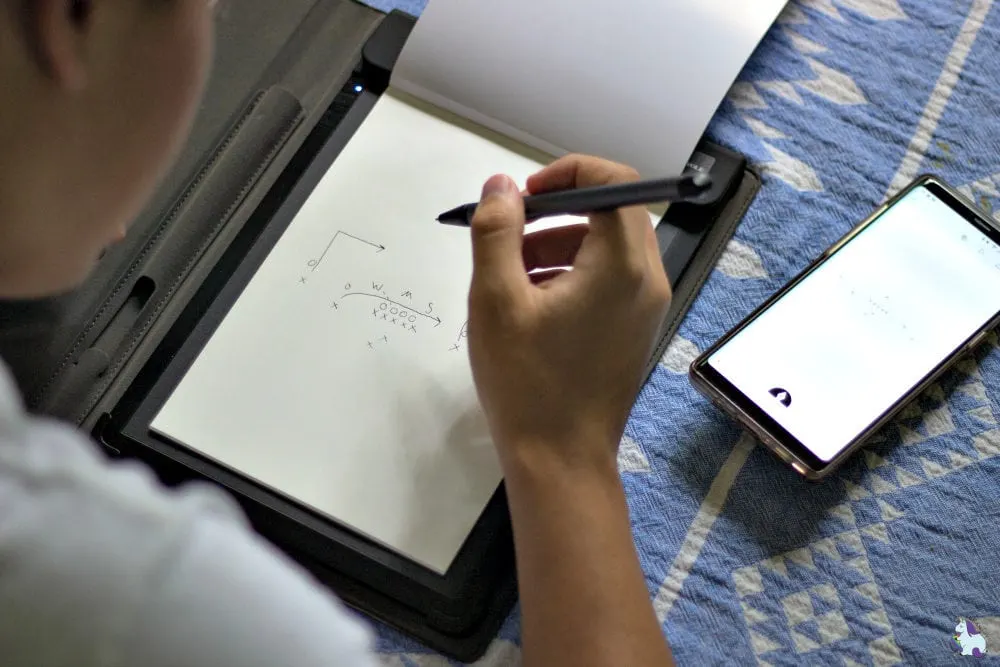 Once the RoWrite app was installed on my Android phone (also available for iOS), I was capturing my writing within minutes.
The entire set up is incredibly user-friendly, and I can't wait to see how my kids will apply this to their learning process.
While your phone and smart writing pad are paired, you can write freely, then push the sync button to see your work in the app.
If you add to the paper, simply hit the sync button again and it will show up as a separate document.
To merge all additions, you simply long hold each selected document, then hit merge for one, continuous document.
Once you're satisfied, you can then add color, additional graphics, or animate the document to show how your work unfolded.
You can save to cloud services and share your creations with friends, family, and co-workers.
Imagine the possibilities! Sharing notes with classmates has never been easier.
Documents can be saved as video, JPG, PDF, or PNG files and added to other apps like Evernote, Google Drive, and Dropbox.
More back to school posts