On the quest to fill the pantry with dry mixes, a good homemade taco seasoning mix is a must. It's so easy to make taco seasoning that I think I'll skip purchasing the packets for good.
I'm starting to pay closer attention to the ingredients in the mixes in my cabinet. So often they contain ingredients I cannot pronounce. Mixes are convenient and I'm all for them, just might as well make my own when they are so easy (like this homemade pancake mix).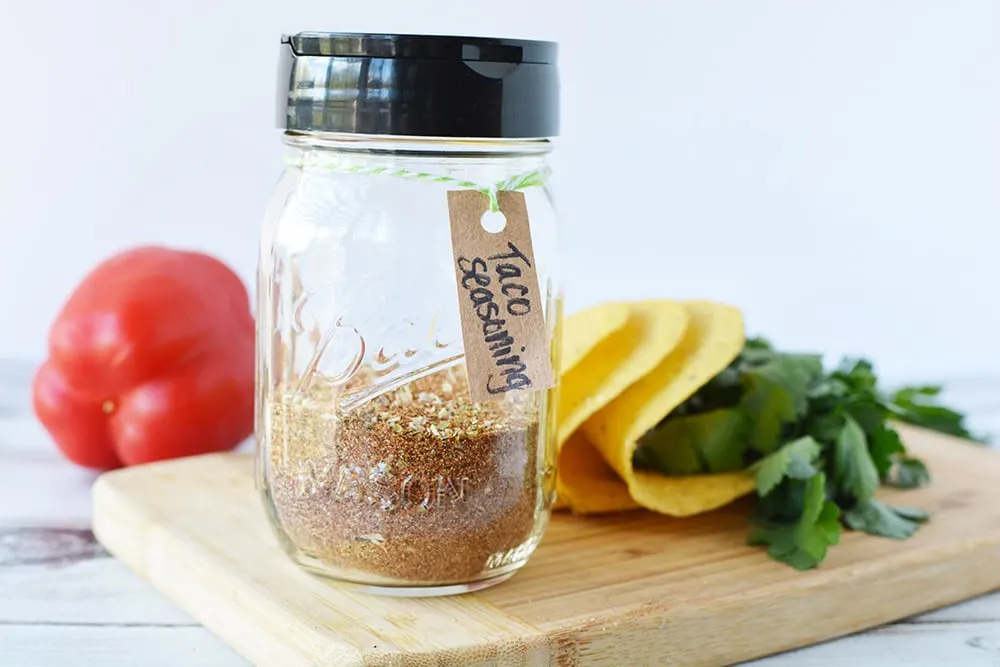 Easy taco seasoning mix
Taco seasoning mix isn't just for taco night. There are many times when I'll add a dash of the seasoning to a steak or other meats for Mike. It adds just the perfect amount of extra flavor.
Because I use this mix often, it's all the more reason to make a larger batch. The batch you see photographed is a double batch. You may want to make a single batch first to make sure you like it. Then, feel free to double or triple it.
Another pantry essential is this homemade fajita seasoning that's gluten-free and low sodium. These flavorful seasoning mixes will have you whipping up delicious meals for your family all year.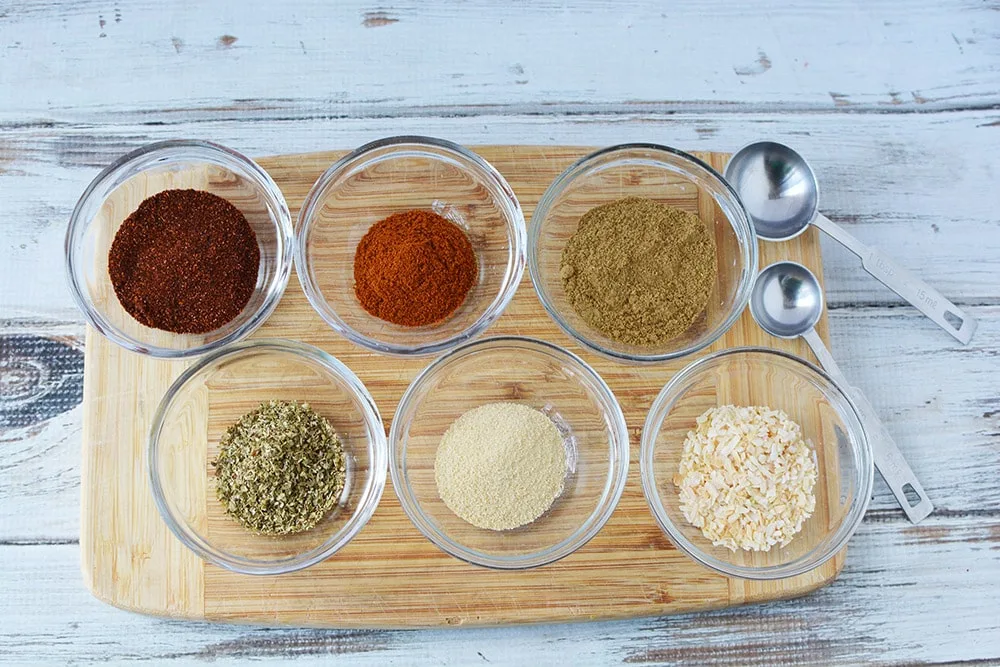 Salt is missing from the picture with all the bowls. Personally, I think it needs salt. Should you want a sodium-free version, feel free to leave it out.
Cayenne pepper is another optional ingredient depending on your taste. Depending on how hot you like your tacos, you will want to adjust, include as suggested, or leave out the cayenne pepper.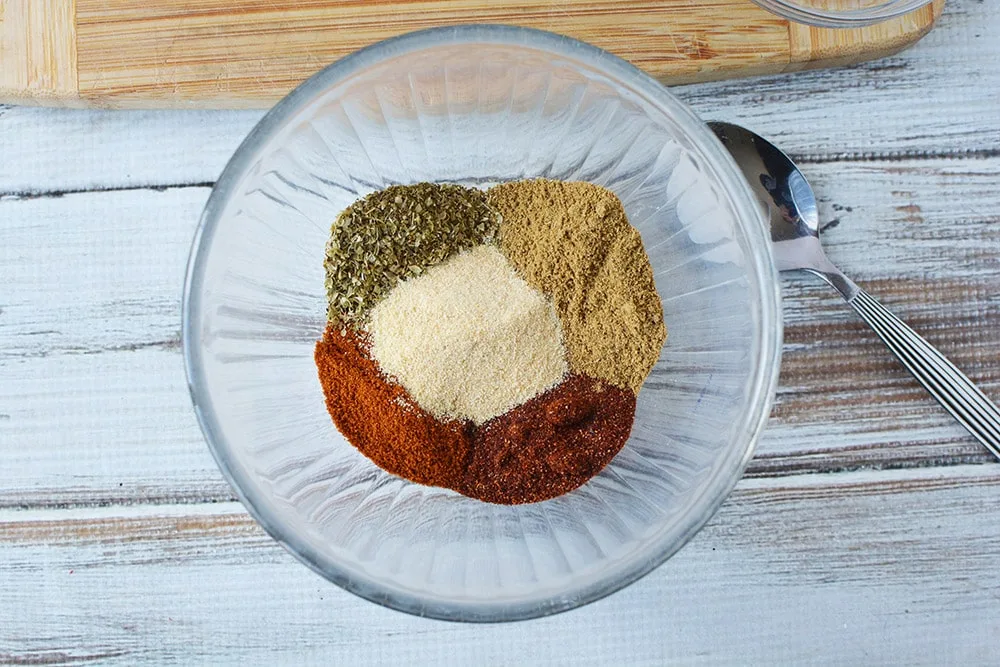 Taco Seasoning Mix Ingredients
(Exact measurements in recipe card below)
Chili powder
Cumin
Paprika
Dry minced onion flakes
Garlic powder
Oregano
Salt
Cayenne pepper (omit for mild)
How to make taco seasoning
Mix all the ingredients together.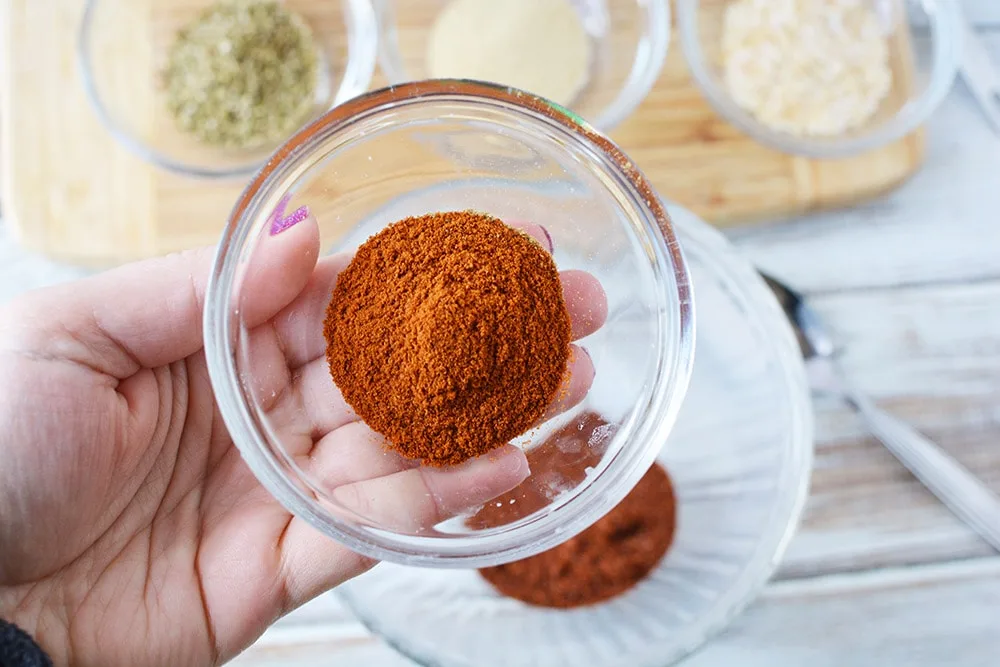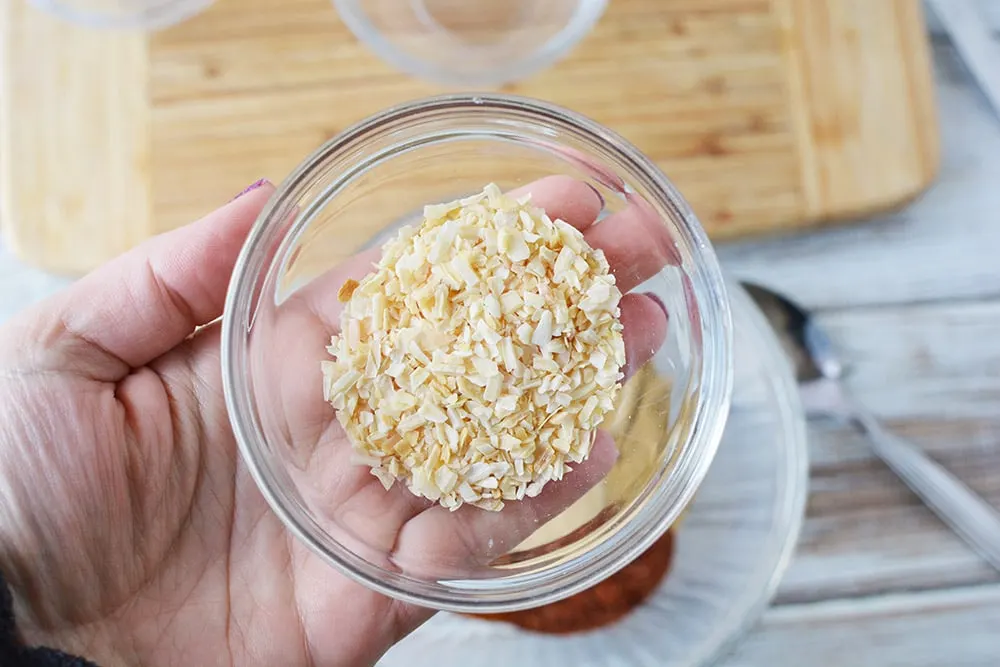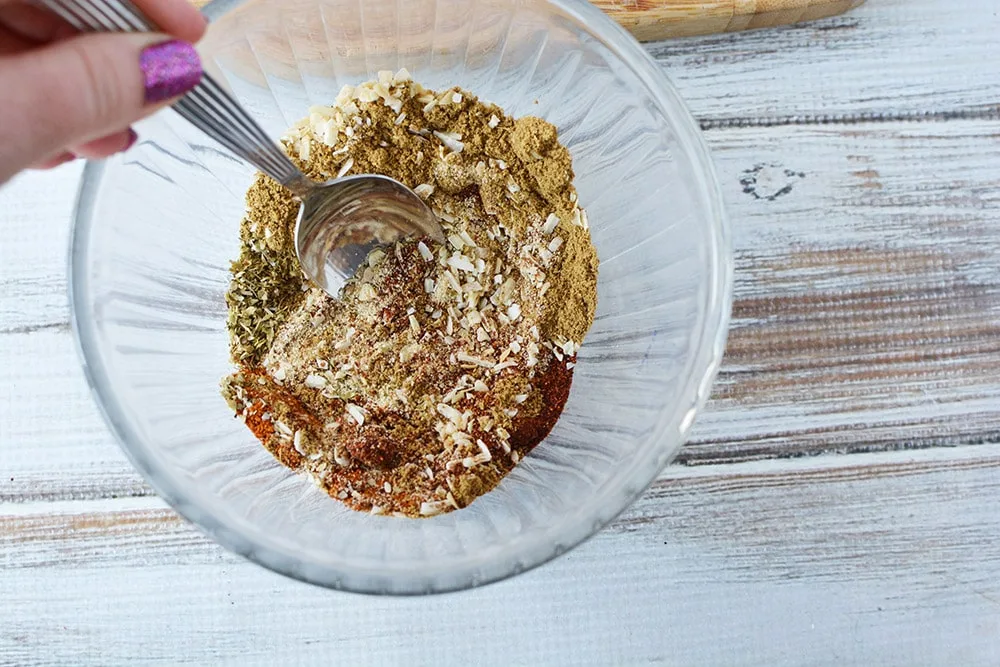 Store in an airtight container in your cabinet.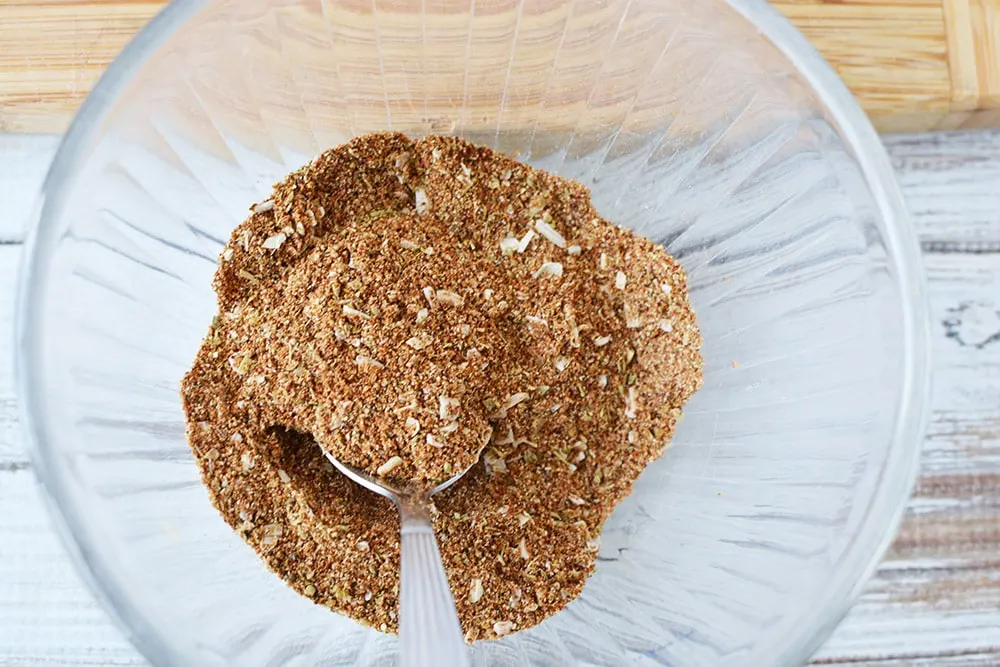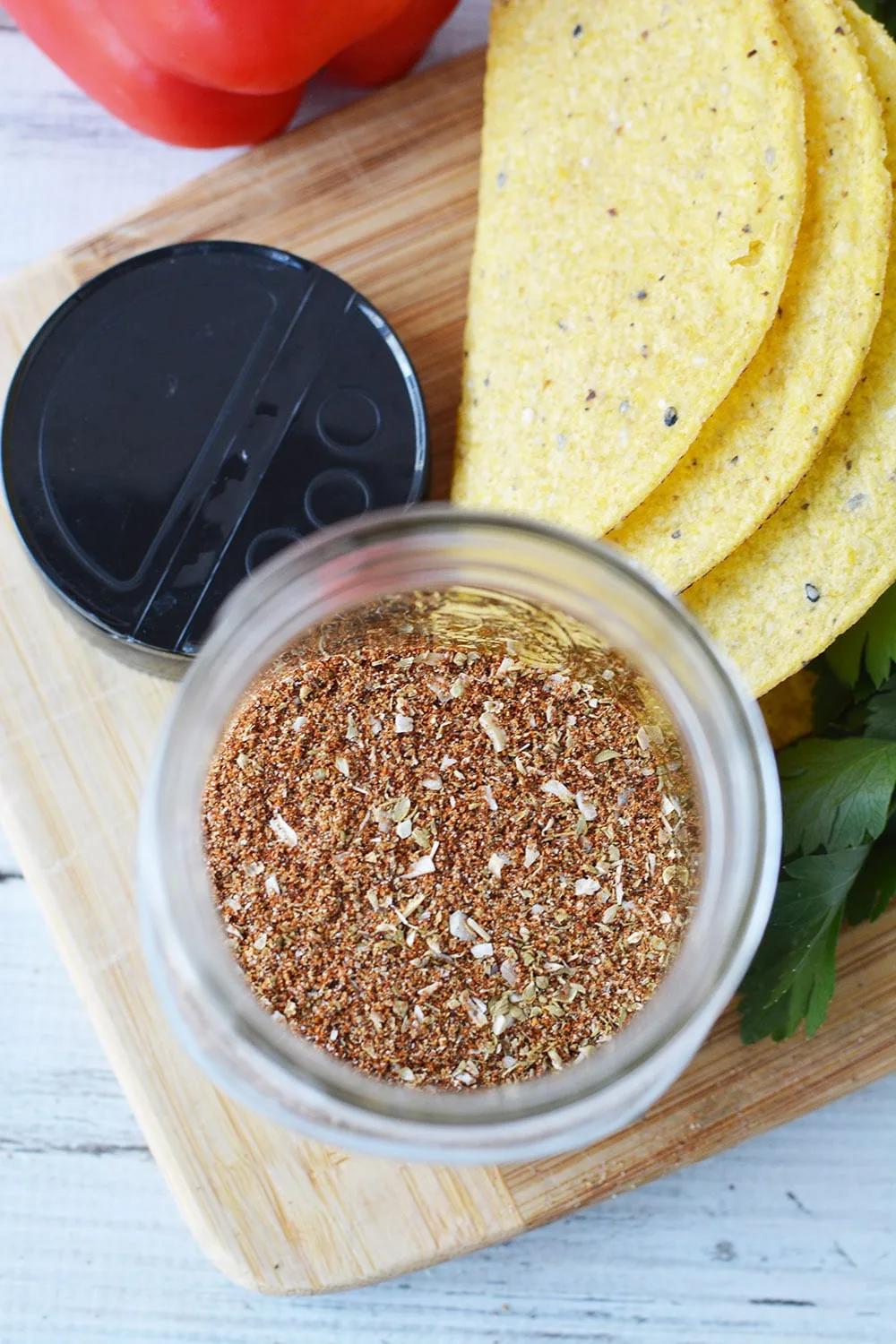 How to use the mix to make tacos
Add 1/4 cup of water and 3 tablespoons of the homemade taco mix to 1 pound of drained and browned ground beef, chicken, or turkey.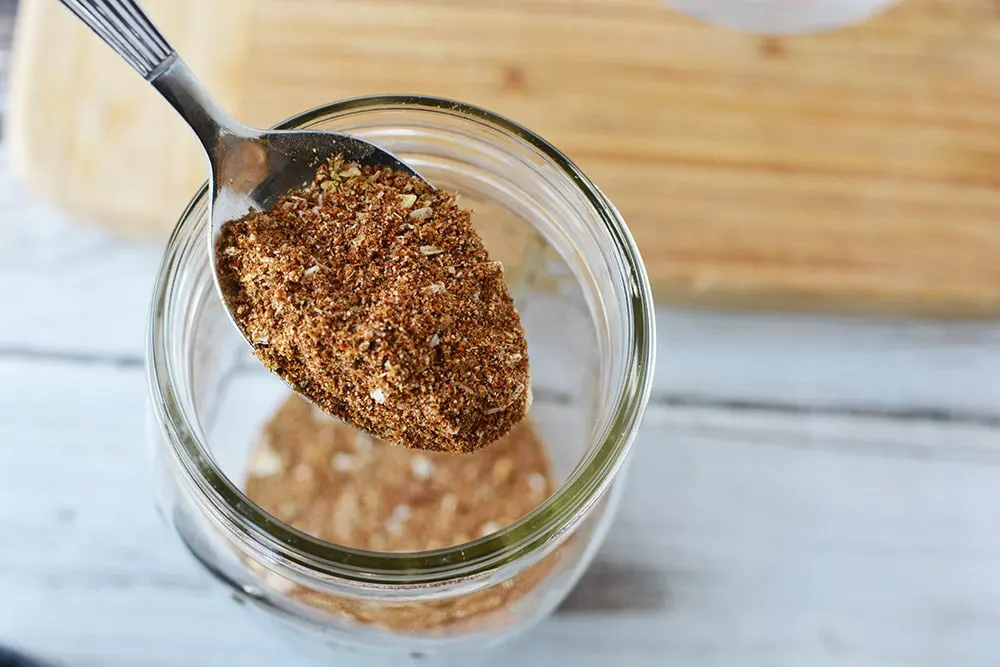 Heat over medium-low heat or until the mixture begins to bubble.
Reduce heat to low and let simmer for five minutes, stirring frequently.
Add to taco shells along with your favorite toppings.
You can use this taco mix to make this double decker taco pizza or these chicken ranch tacos!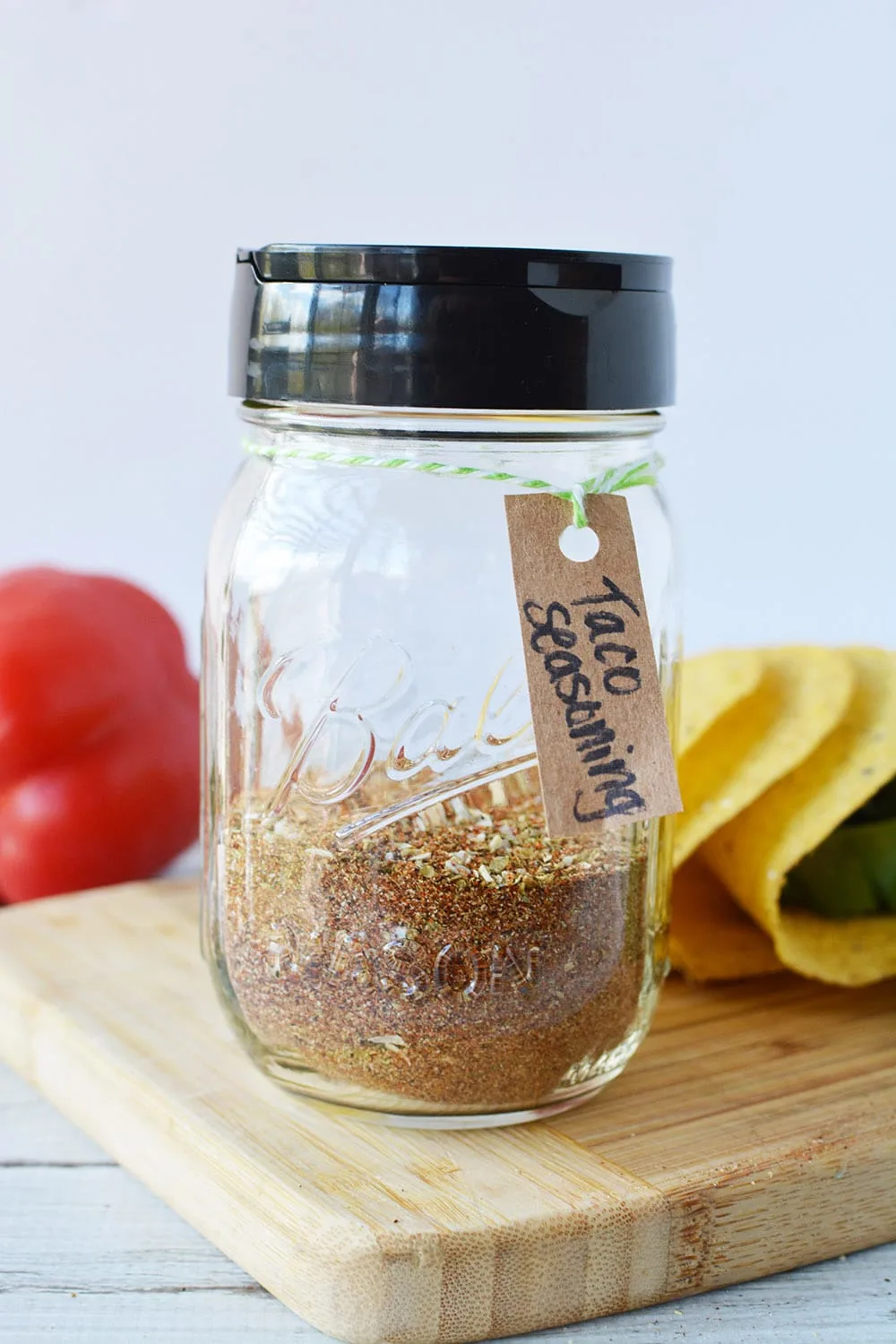 One batch of mix makes about 2/3 cup. You use three tablespoons of mix per 1 pound of ground beef.
You'll get about 9-10 tablespoons of mix, which means you should have enough for 3 batches of tacos.
Of course, the amount of tacos you need depends on the size of your family.
Recipe notes and FAQ
Is chili seasoning the same as taco seasoning?
Chili seasoning and taco seasoning aren't the same thing, but they're close. Generally, the biggest difference between the two is that chili seasoning has more chili powder and paprika while taco seasoning has more cumin.
Can you substitute taco seasoning for chili seasoning?
Yes! Because the two are so similar they are completely interchangeable. You'll just get a slightly different flavor.
What else can I use taco seasoning for?
You can substitute taco seasoning for chili seasoning in chili. Because it's a mix of spices, you can use it as a rub for meats, as well. Some people even put it in Greek yogurt or sour cream.
Yield: 2/3 cup
Taco Seasoning Mix Recipe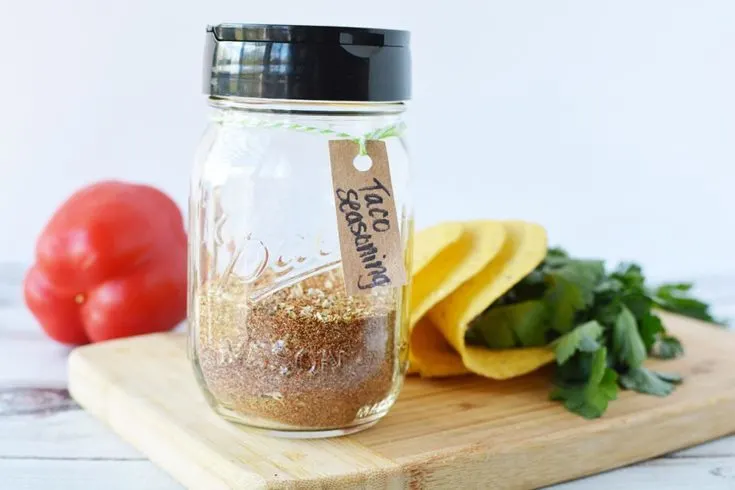 Make your own taco seasoning to keep in your pantry. An easy dry taco mix to make with spices.
Ingredients
2 1/2 tablespoons chili powder
2 tablespoons cumin
1 1/2 tablespoons paprika
1 1/2 tablespoons dry minced onion flakes
1 tablespoon garlic powder
2 teaspoons oregano
1 teaspoon salt
1/2 teaspoon cayenne pepper (omit for mild)
Instructions
Mix all ingredients together and store in an airtight container in your pantry.
To Use:
Add 1/4 cup water and 3 tablespoons mix to 1 pound of drained browned beef, chicken or turkey.
Heat over medium-low or until mixture begins to bubble.
Reduce heat to low and simmer for five minutes, stirring frequently until adding to taco shells.
Notes
The nutrition facts are for the entire jar of seasoning. This doesn't really make sense, but that's how it has to be in the card. You'll have to calculate your nutrition facts when you make your actual tacos if you want to be accurate.
Recommended Products
As an Amazon Associate and member of other affiliate programs, I earn from qualifying purchases.
Nutrition Information:
Yield:
1
Serving Size:
1
Amount Per Serving:
Calories:

183
Total Fat:

7g
Saturated Fat:

1g
Trans Fat:

0g
Unsaturated Fat:

6g
Cholesterol:

0mg
Sodium:

2727mg
Carbohydrates:

33g
Fiber:

14g
Sugar:

4g
Protein:

9g
Nutrition facts are an estimate only.
More dry mixes to make: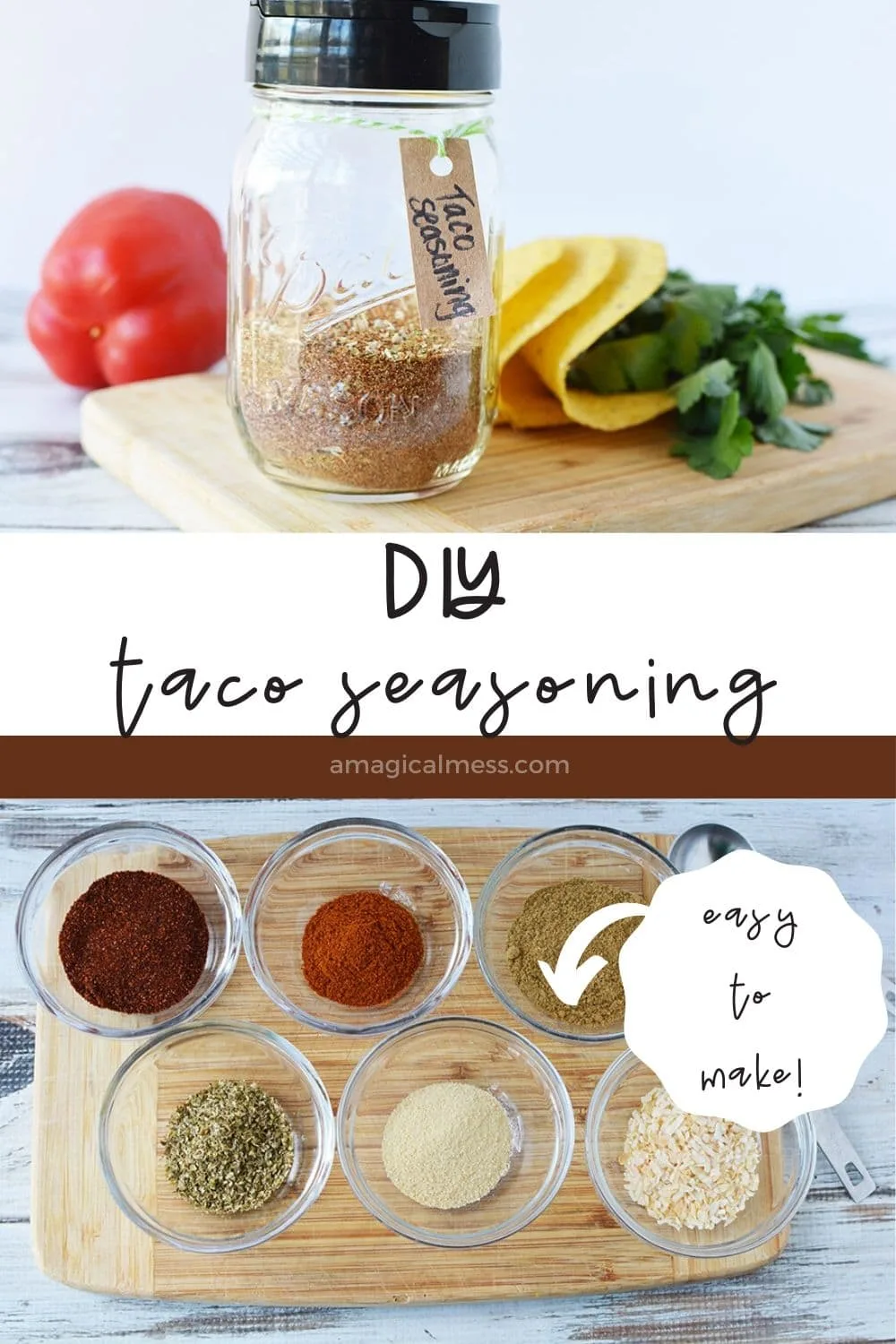 Subscribe to the blog to get recipes like this delivered to your inbox!
Do you like to make your own dry mixes?
Please let me know if you try this homemade taco seasoning.