Here is an easy mini fruit tart recipe that you can make for summer parties. Isn't bite-sized food just more fun to eat? Especially at parties, people love to eat foods in one or two bites. Kids love anything mini, too. The red, white, and blue colors of these tarts make them perfect for the 4th of July or Memorial Day. This post contains affiliate links.
This mini fruit tart recipe is super easy since the phyllo shells are already made. You just have heat them up. After that, it's just filling the cups – not much to mess up there. The colorful fruits provide their own beauty to the recipe. We are all about easy recipes that look impressive. You will want to add this to the list of desserts to bring or serve at summer parties.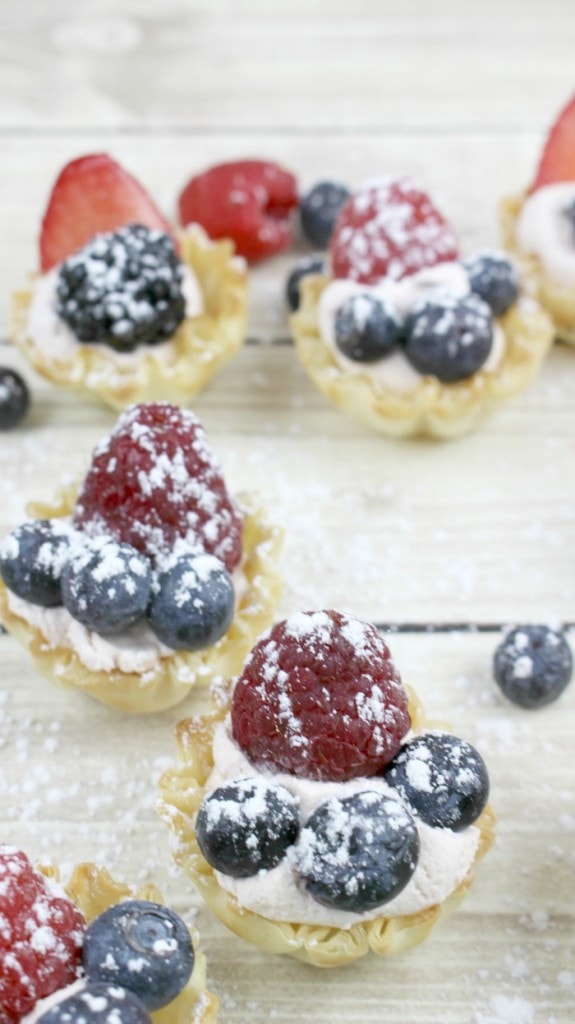 Easy Mini Fruit Tart Recipe – 4th of July Party Food
INGREDIENTS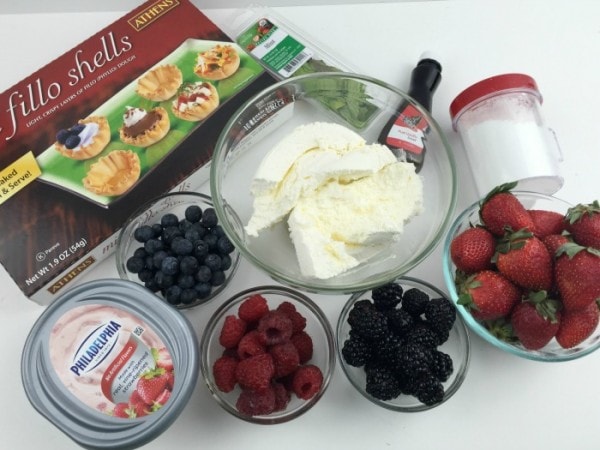 1 package mini phyllo shells (I used Athens)
4 oz frozen whipped topping
4 oz Philadelphia Cream Cheese – strawberry flavor
1/2 cup powdered sugar
Strawberries
Raspberries
Blackberries
Blueberries
DIRECTIONS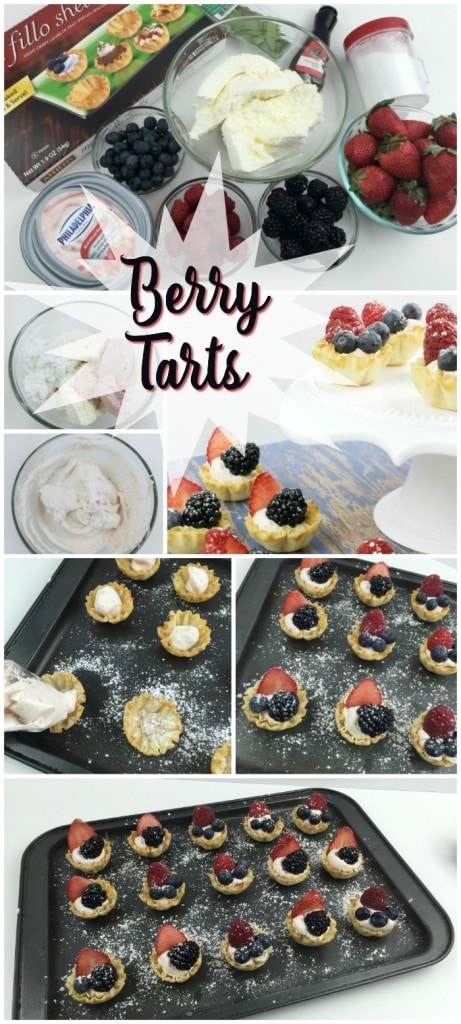 Place phyllo shells on a cookie sheet and heat in the oven according to package directions.
Let cool on the cookie sheet while you prepare filling.
In a medium mixing bowl, add the cream cheese and whipped topping. Beat with an electric mixer on low speed for about 1 minute.
Add the powdered sugar and mix on medium speed until light and fluffy.
Place filling in a pastry bag or Ziploc bag with the corner snipped off.
Sprinkle phyllo cups with powdered sugar.
Pipe the filling into each cup.
Top each pastry cup with your choice/combination of berries.
Sprinkle with more powdered sugar.
ENJOY!!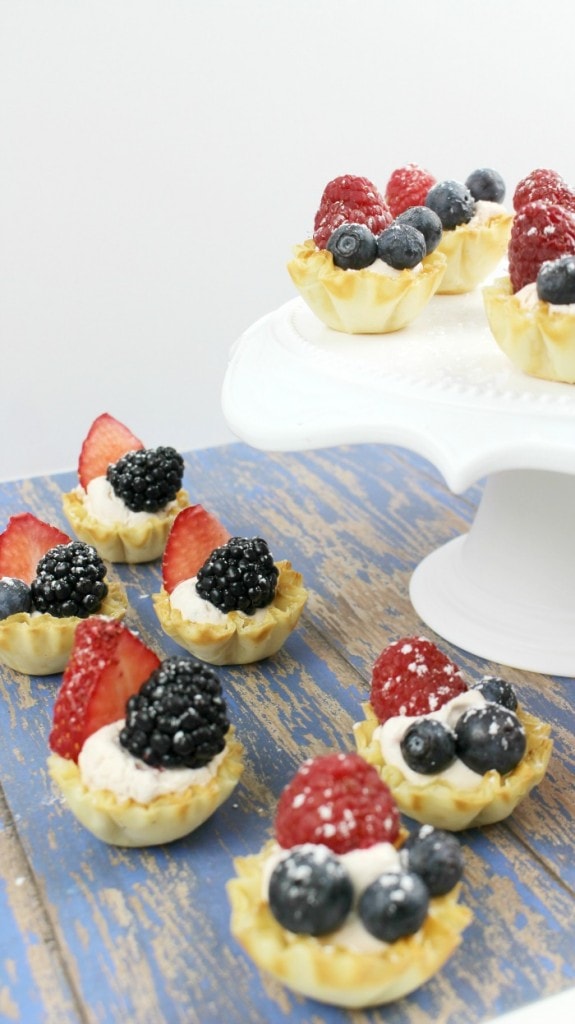 The patriotic colors make these mini fruit tarts ideal for Memorial Day or 4th of July party food, but don't let that stop you from serving them all summer. With so many summer barbecues, graduation parties, birthday parties, and pool parties, there are plenty of excuses to make mini fruit desserts.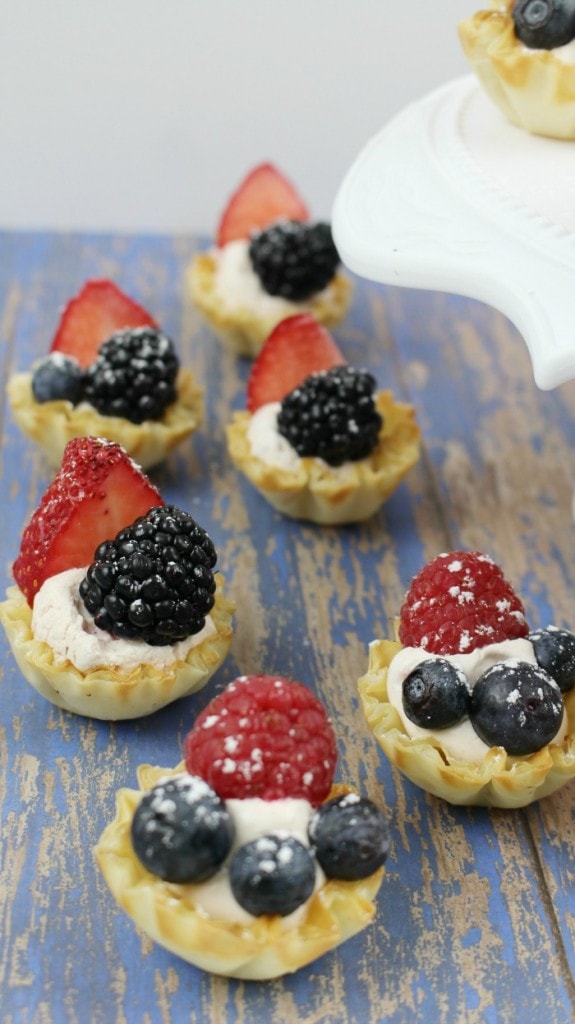 Have you tried a mini fruit tart recipe? 
Rainbow Crumbs for You
Weekly newsletter with our latest posts and shenanigans.