After seeing the video of a guy inflating a LayBag™ and laying on it literally everywhere and anywhere I just had to have one to do a post on LayBag™ reviews. I also purchased a generic version to do a comparison on quality and ease of use. Let's just say summer has been extra relaxing this time around. (Blue = Official LayBag™; Pink = Generic)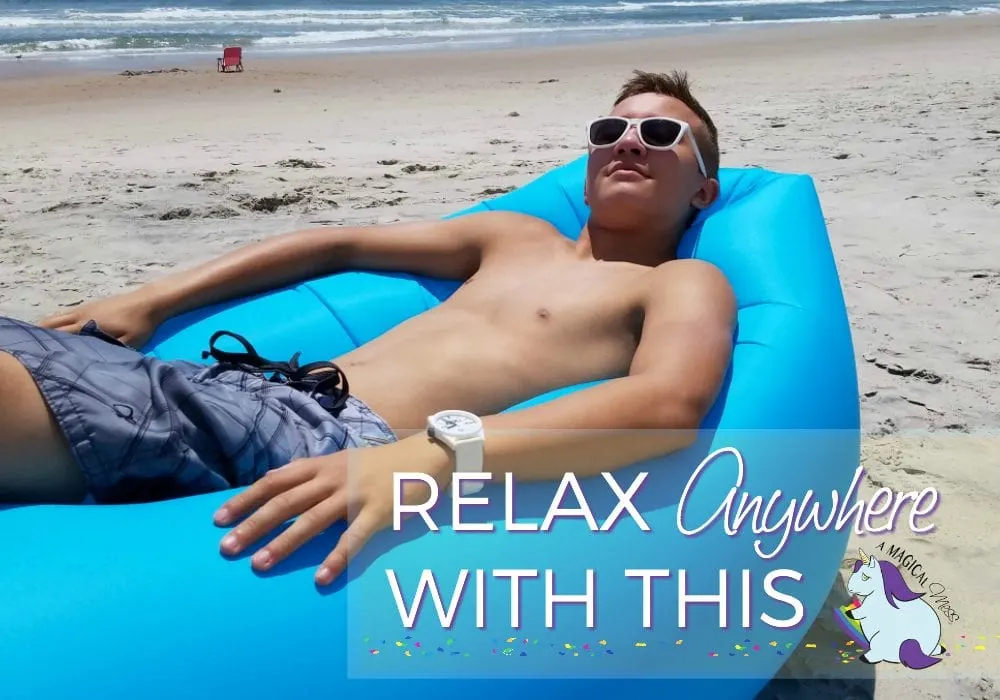 Inflatable Loungers and LayBag™ Reviews
I first purchased this generic brand of inflatable lounger. I was super curious about the overall concept of these air sofas and wasn't quite ready to commit to the expense of the name brand. I was also pretty skeptical about how easy they inflate. The video below really does make it seem too good to be true.
We took the generic version outside in my yard to test it out. The method of filling is pretty basic. You simply open one part of the dual-tube design and swipe in front of you to fill with air. You then flip it over and repeat to fill the other side. Once both sides have enough air, you roll and clip to shut.

Without a breeze we found this quite difficult. Evan ended up running up and down the length of the driveway to force air into the inflatable lounger. He got it filled enough but I still think more air would've made for a comfier experience.
We then took both the generic air sofa and the LayBag™ to the beach. With a nice breeze they are incredibly easy to fill. However, the LayBag™ is considerably better quality. The material is more durable and it is constructed to provide more support. With the generic you can legit disappear into the center while the LayBag™ provides more of a sturdy base that you cannot fall through.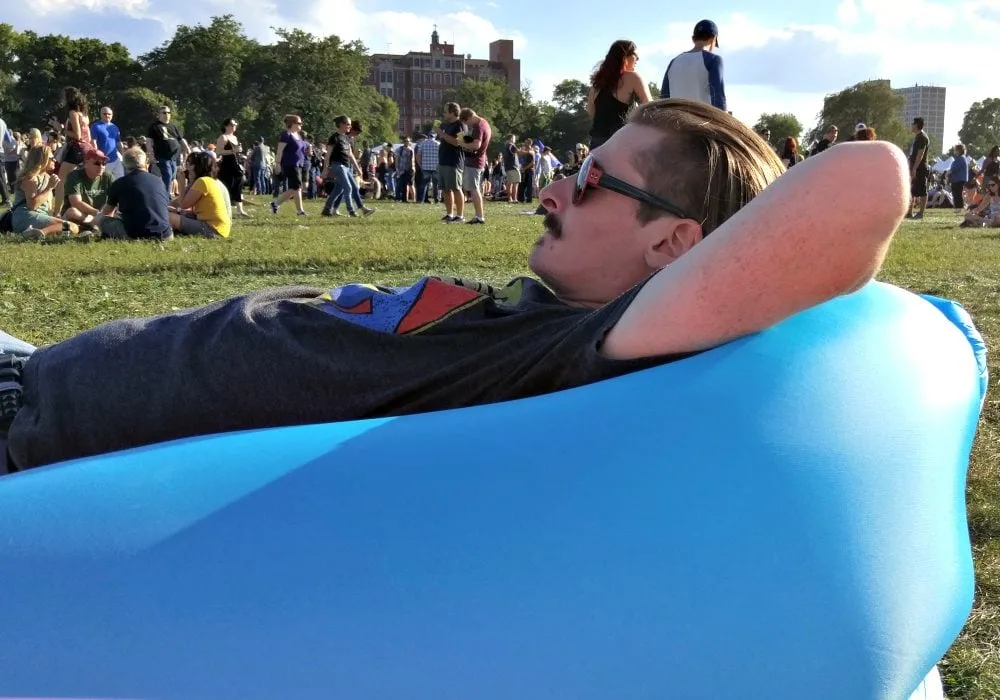 Both versions store easily and are super great for traveling anywhere. The boys took both air beds to Riot Fest in Chicago and were the most relaxed attendants. While others struggled to find comfort on their bulky blankets, Evan and Nathan lounged like royalty and didn't have to carry anything heavy. NOTE: These beds will blow away if not weighed down. So, if you're going to walk away from them once inflated, make sure you put something on them like a purse, shoes, or rock. We will most definitely add this airbed to our list of things to bring to summer fests and outdoor concerts.
Have you tried the LayBag™ inflatable lounger or any other version?