This is a Sponsored post written by me on behalf of ALPO® Brand Dog Food for IZEA. All opinions are 100% mine.
Wet dog food is something we have only fed our dogs on a few occasions. Each time has been an exciting treat for them. For this reason, I was eager to let them try out ALPO® Homestyle Prime Cuts in Gravy. Look at the open can below. Chunks of meat floating around in gravy. It's no wonder the dogs go crazy at the sight and smell of it.
ALPO® Wet Dog Food – A Tasty Treat for Our Dogs
Both of our dogs take food pretty seriously. The Grump more so than Hilo, but they both were equally excited over the sound of the ALPO® can opening up. Even just seeing the cans gets their tails wagging. They know the food is for them before I even crack one open.
Just showing the can to The Grump launched him into a blurred little ball of happiness. I couldn't even get a clear picture. That's not news – my pet photography skills need a lot of practice. Thankfully, I have cute subjects.
These cans are pretty large, so I was able to split it up between both animals. Neither of them would come up for air while eating. Sometimes I cover the open can and store the rest in the refrigerator for the next day.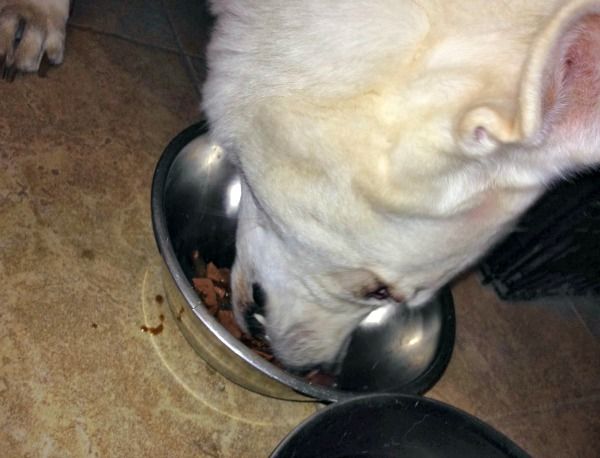 Even with Mike and I both calling their names, neither of them would look up from their bowls. I have actually never seen Hilo so intense while eating. Look at him — his face is actually smooshed into the bowl.
After learning that ALPO® is 100% complete and balanced and has quality ingredients, like healthy protein sources, wholesome grains and accents of vegetables, I will definitely treat them to wet dog food more often. Seeing how happy it makes them is so worth it. And, knowing that it helps support a happy, healthy life, a shiny coat, strong bones and teeth, there's no reason at all not to allow them this indulgence.
Their bowls were licked completely spotless and not even a crumb remained! As if we don't spoil our dogs enough, now we have a new way to show our dogs how loved that they are. Full bellies and healthy dogs equal super happy and content pets. Nice peaceful naps were enjoyed after this meal.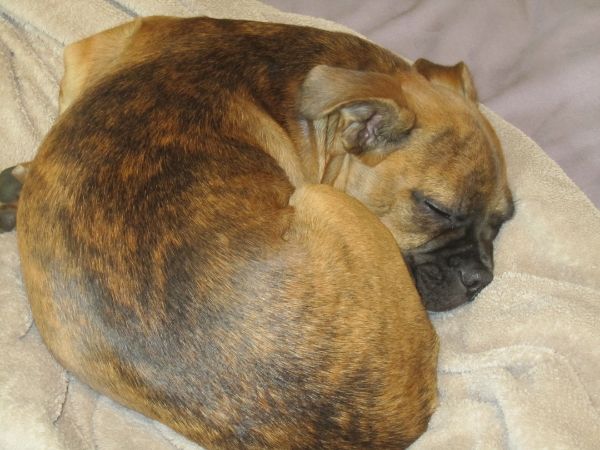 For more info on this wet dog food visit ALPO'S HOMEPAGE and make sure to like ALPO's Facebook Page.
Stock up on cans of wed dog food for your pets for a delicious treat. You'll be thanked with lots of wagging tails and sloppy kisses. The cans are easy to store in the pantry, and I like to keep them on hand. When I find them at a great price, I also like to grab some for our local shelter. Animal shelters are always in need of canned food, so any little bit helps.
Do you feel your dogs wet dog food? Have you tried ALPO yet?