Get dog treats delivered! BarkBox is a new monthly subscription service making it easy to spoil your favorite furry friend! Each month a new box full of doggie supplies will arrive. Product received for review. Post contains affiliate links.
Dog Treats
When you sign up you get to choose which BarkBox is best for your pet. Based on the size of your dog, you will receive carefully chosen products that your pet will love. Each month a new box will arrive with at least four new items in it. From dog treats, toys, and shampoos, to innovative new pet gadgets, there is sure to be something to look forward to each month.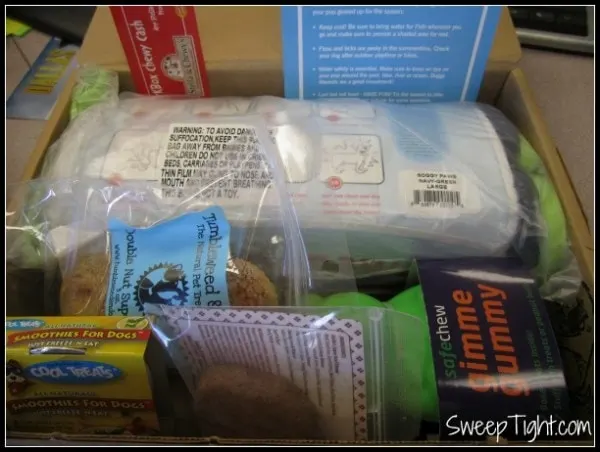 You can start receiving BarkBoxes for as low as $17 per month. The best part is that 10% of all proceeds go to doggies in need! BarkBox chooses a new shelter or rescue organization to support every month. With approximately 7 million animals entering shelters every year, it's great to hear about a company that helps them out.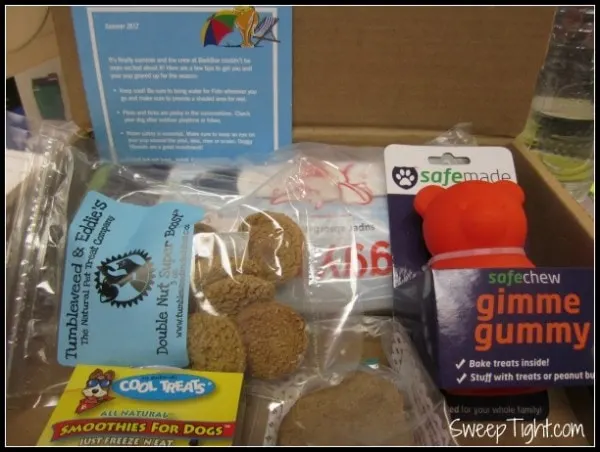 We received two BarkBoxes – a small box for The Grump and a large one for Hilo. Each box contained the same products, but with appropriate sizes when it applied. Here is what they contained:
The Soggy Paws dog towel by Farfetched. These are the cutest towels and such a great idea. You can insert your hands into the ends of the towels to make it easier to dry off your pet. I have used ours several times already. Either after a bath, a dip in the pool or when it rains and muddy paws come running into the house!
Double Nut Super Boost Treats from Tumbleweed & Eddie's. Both dogs flipped over these treats. They are grain free and loaded with vitamins and antioxidant superfoods. I feel good about giving them something so healthy that they actually love.
Gimme Gummy from safemade. If you want a toy that will keep your pet busy and entertained for hours, you need this. They are made with food-grade silicon, making them freezer, oven and dish-washer safe. You can load them up with treats, food, or freeze/bake something inside. Your pet will be determined to get every bit of it out, which can be quite hilarious to watch. Here's a video of our guys going to town on their Gimme Gummies. Nothing too funny happened, but they sure are focused!
Frozen Smoothie treat from Mr. Barksmiths
. Why should smoothies just be for humans? Your pet deserves a nice frozen treat during these hot days, too. All natural and made in the USA, just freeze this treat and then serve it to your pet for a refreshing snack. Although our pups are usually chilling inside with the A/C, sometimes they want to be outside with us. One of the days when we were in the pool, I gave the dogs these treats to enjoy outside with us. They loved them.
Freeze Dried Food from Stella & Chewy's. Made with all-natural ingredients, this makes an easy meal option for your pet. A raw diet has many benefits for dogs, including supporting healthy immune systems. They kind of reminded me of a hockey puck, but our boys ate them right up! They also gave us coupons so we can save if we choose to purchase more.
Our experience with BarkBox was a great one. We used each item that was included in this box. With each month containing different items, it's exciting to see what will come next. If there is ever something we won't use I can just donate it to our local shelter!
Sign up for BarkBox today! No dog? You can also send one as a gift!