When I think about summer entertaining, serving iced tea just goes without saying. But, aside from sun tea, I was completely lacking in the creativity department for recipes and presentation.
This post is sponsored, but all opinions are my own.
Summer Entertaining with Pure Leaf
After receiving samples of Lipton's Pure Leaf Tea and some amazing recipes by Top Chef judge Gail Simmons, my guests will surely be refreshed, impressed and dying for more.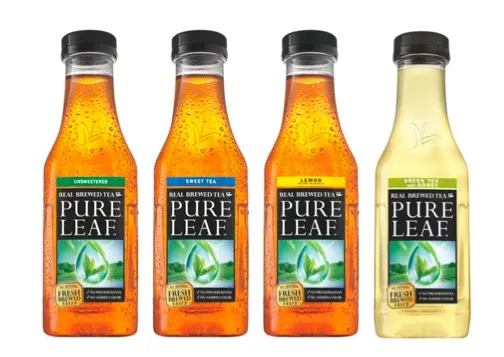 When I saw the recipe for Fruit-Tea Smoothies, I knew I had to try it. I swapped a few ingredients for some with less sugar/fewer calories and it was delicious!
I especially love it because it has caffeine, and sometimes I just get sick of cold coffee on hot days. This is a great afternoon boost!

I used the Pure Leaf Unsweetened Tea and substituted 1 cup of sugar free coconut milk ice cream and 1 tsp agave nectar for the ice cream and sugar.
Technically this is supposed to serve four, but I will not judge you if it only serves one. Because I definitely slurped it all down by myself. 😀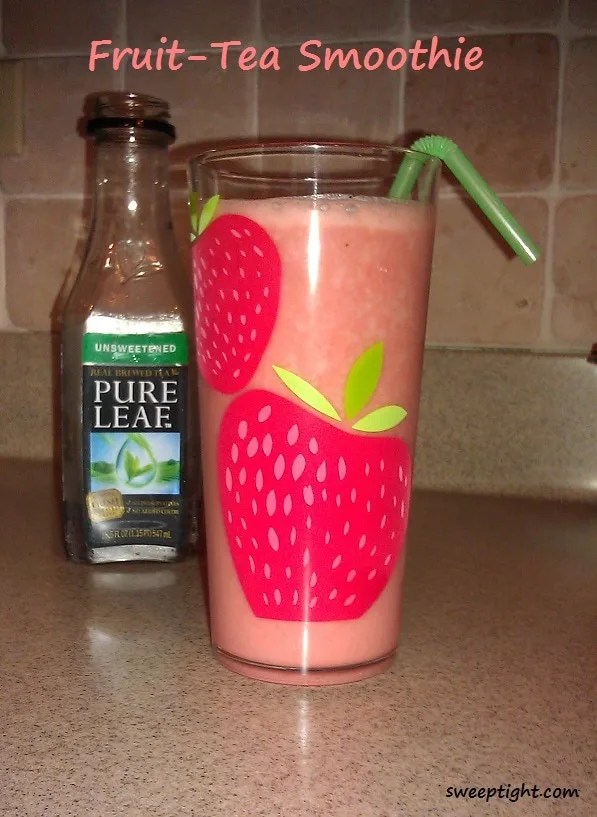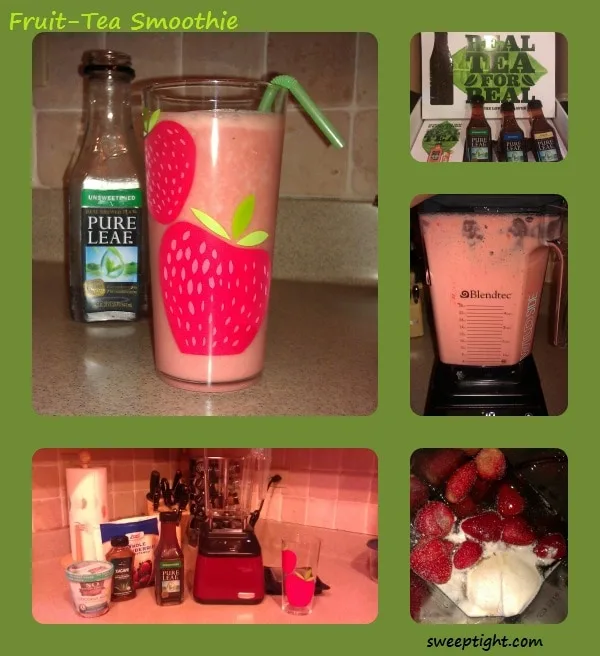 The following ingredients are on my grocery list because I am definitely making this Green Tea Cosmo for my next summer entertaining event. Or, maybe just for me while I'm reading in my hammock? Yes, please.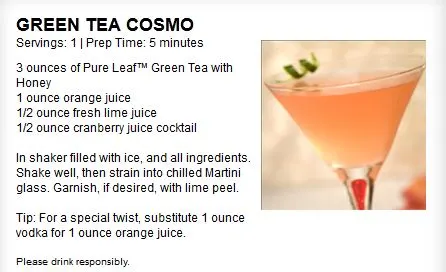 You can find more fabulous recipe like these on Pure Leaf's Facebook page.
I stole this off their Facebook page… I never even thought about using tea in a dressing! OMG YUM!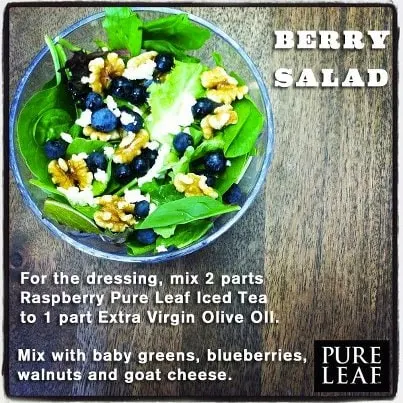 Great Quality Tea
I really never thought about what goes into. I usually steep a bag and tackle a few chores while I wait… Well, it makes sense that tea is much like wine when it comes to the effort and quality control that goes into its production.
Unlike wine, which gets harvested once a year, the tea bush gets picked every two weeks.
From plant to cup, the process is very involved to ensure Pure Leaf is of the highest quality.
They use the finest all natural ingredients and no preservatives.
John Cheetham, Pure Leaf's tea master, is one of less than 10 tea masters in the world who have mastered the art of blending and tasting.
While training to become a tea master, Cheetham tasted 400-500 teas a day!
It is estimated that a tea taster sucks tea into his/her mouth at 100 mph. Sounds tiring.
Eco-Friendly
Pure Leaf is proud to be Rainforest Alliance Certified™ for sourcing their tea sustainably
New square bottles are made of PET plastic; which are lightweight and provide a high pallet efficiency, which equates to more bottles, lighter loads and less fuel used in transport.
PET plastic is 100% recyclable.
Plastic is easier to bring on the go than the previous glass bottles.
Pure leaf is now available in a 59-oz. carafe size perfect for summer entertaining.

I am so excited to have had the opportunity to sample this tea. I had never had it before as I would always make mine from a tea bag.
This is the best tasting tea I have ever had. I only drink my tea unsweetened, so that says a lot as I am tasting the tea without any flavor masks.
Although, with all these yummy flavors available, I'll definitely be mixing it up a bit.
Check out our gift guide for people who love tea for more ideas.