Chicken Soup for the Soul: Messages from Heaven is a collection of real stories from real people, all about signs from beyond after a loved one dies. Death is probably the most difficult fact of life that people have to deal with. I think we all can benefit from the inspiring and comforting stories in this book. Product received for review. Post contains affiliate links.
Chicken Soup for the Soul: Messages from Heaven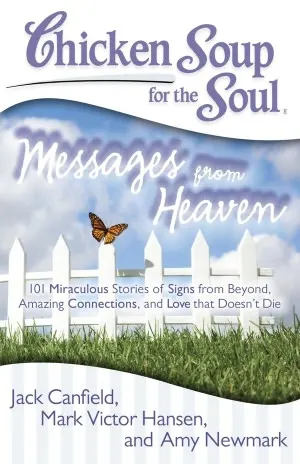 Death horrifies me. Not so much myself dying, but my loved ones. I am sure I am not alone in this fear, but I think people that have a solid religious belief system and faith probably cope better. I was not raised with a lot of religion and have always been a little more scientific in my thinking, so I tend to question things others just accept. I want to believe in Heaven and that we will all meet up again there, but I would feel better with some proof! I don't want to get into a huge religious debate here, but hopefully you get what I am trying to say. It's not that I don't believe in anything. I am definitely a spiritual person, I just like evidence…
Reading these stories gives me the faith that I tend to struggle with. The amazing connections that some of these people continued to have after their loved one passed is amazing and completely comforting. Even stories about children and little kids repeating something from beyond… things that they couldn't have known unless told by the person that had passed. These stories will give you the chills! They are so inspiring and left me with a lot more hope and faith.


Purchase Chicken Soup for the Soul: Messages from Heaven for yourself, or anyone that you know who could use a little inspiration.