If you're looking for things to do in Chicago with your family, there are about a bazillion. The city is clean, pretty, and bustling with fun attractions for all ages. But, if you're here in the summer, it's well worth the 45 minute commute to Yorkville to spend a day at the largest waterpark in Illinois.
Raging Waves Waterpark is a place where you'll make lasting memories, laugh like a kid (whether you are a kid or not), and enjoy attractions for all ages. I received free entry into the park for my family in order to facilitate this post. All thoughts and opinions shared here are entirely my own.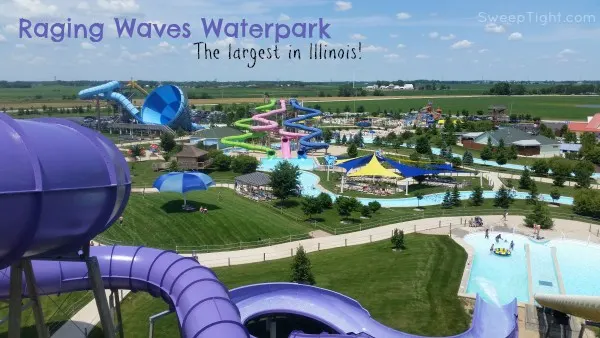 Raging Waves Waterpark
We had such a great day at Raging Waves Waterpark. I couldn't get over how clean this place is. As we wandered all over the park, we saw employees sweeping sand off the walkways to make sure it stays in its designated areas. There was no sign of garbage or even unkempt plants. Everything was exquisitely cared for.
I love that they have raft conveyers for larger slides. I don't mind having to carry my own inner tube every once in a while but some of these rides have huge rafts. No worries, they are brought back up by large conveyors so you don't have to carry them.
My kids are a bit older now, (10 and almost 14) so we spent the majority of the day on the big slides. I think the Boomerang was our favorite.
The Lazy River, wasn't as lazy as I had hoped–but that's because my kids are part evil. While floating along relaxing, I was doused by being led under a waterfall. Rotten. My kids are totally rotten.
We had great food at the Shark Bite cafe. It was your typical 'park' food, but it was surprisingly good and very reasonable. You can get an entire meal for around $7.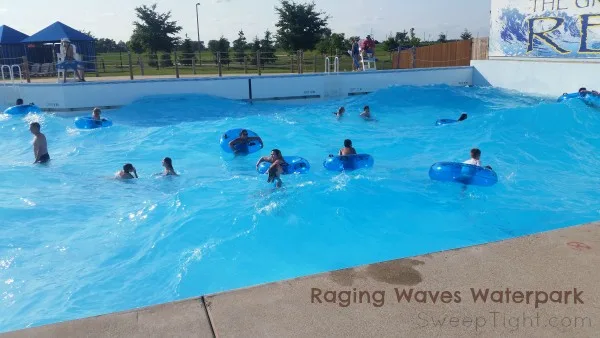 The Wave Pool was another favorite. I love that they allow tubes in there. You have to rent them for a couple bucks, but you get to have them for the whole day. We didn't get any, but still had a blast jumping in the waves.
Don't forget to bring your towels and sunscreen! Everything else can be thrown in a locker. These are so neat… everyone in your party can have a wrist band that opens the locker. So if you split up, it's no big deal if someone needs to get into the locker. Super convenient.
Raging Waves also offers some really nice cabanas for rent. They allow you a little extra privacy and a guaranteed spot to lay. These are perfect for parties or just to feel extra swanky.
This was our first trip to Raging Waves and it certainly won't be our last. We had an excellent time and the kids are still talking about all the slides!