Christmas gift ideas for men can be difficult to think of at times. I know a few men in my life that don't have many hobbies outside of work, so it's hard to think of a creative gift idea for them. Recently we received a few products for review to help give us some ideas. Although some items shown were received for free and/or we are affiliates of the company, all opinions are our own.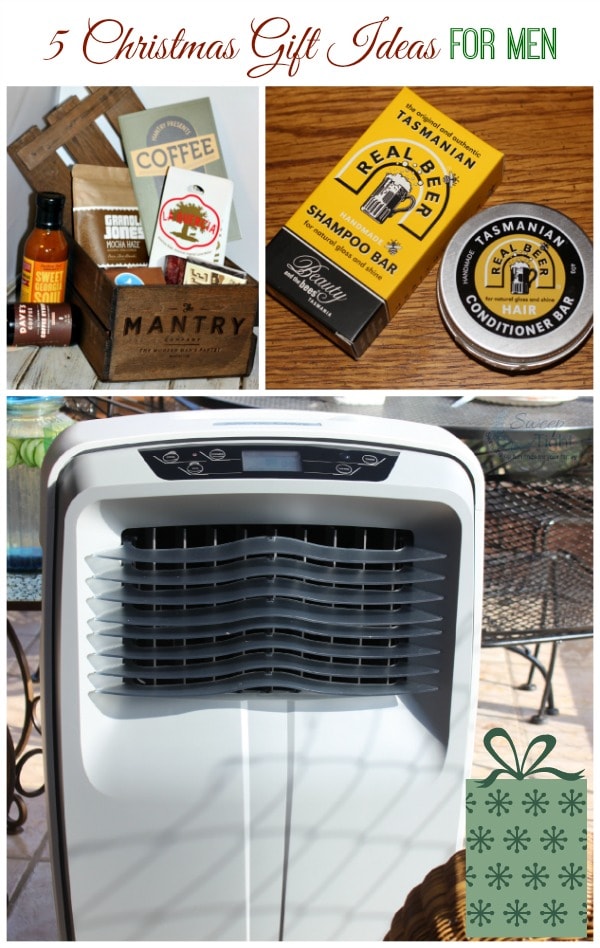 Christmas Gift Ideas for Men – Manly Gifts
Tasmanian Real Beer Shampoo and Conditioner: Here's a manly way to pamper your man. Shampoo and conditioner can not really be accused of being girly gifts if they are made of beer, right? Beauty and the Bees created these handmade bars that are perfect for travel, camping, or whenever. They aren't just a novelty and contain 100% natural ingredients that leave hair shiny, healthy, and full of body. Dandruff sufferers have reported noticeable improvements after just two washes!
Mantry: Here's a Christmas gift idea for men that keeps on giving. Mantry is like a man pantry (in a manly crate, of course) packed with dude-approved goodies. This monthly subscription service can help introduce the recipient to new awesome products that they may have never found otherwise. The boxes are themed and change each month. Our crate was "coffee and a smoke" and contained items that featured coffee or smoked flavors. Personally, I was as excited about the crate. It's like mini pallets constructed into a container that we can reuse forever. A few men will be getting this as a gift from me. Each box contains 6 full sized products each month.
Quicky Grass: This might seem like a strange Christmas gift idea but men love their lawns, right? When it comes to growing new grass, men like it quick. Quicky Grass sprouts in 5 to 8 days, and requires less watering and fertilizing. The promise of a lush, green lawn come spring sounds like a nice gift to me.
Arctic Cove Portable Evaporative Cooler: Another not-so-seasonally appropriate idea, but this is something family members might want to pitch in on for Dad. The Arctic Cove cooler is perfect for men who work outdoors or in their garages in the heat. It's a portable evaporative cooler that can cool about 500 square feet. Move it from room to room, inside or outside. We used ours all summer during hot BBQ gatherings. We had a pregnant mom set up camp near it, and she thought it was the most genius product ever. Hardworking dad will appreciate this once hot summer chores roll around.
Arctic Cove Bucket Top Mister: If you have a hardworking construction man in your life, he will be the envy of all his coworkers with this one. This cordless, portable misting fan fits on top of most 5 gallon buckets. Help keep him cool on the jobsite, in the yard, or basically anywhere.
Those are just a few unique Christmas present ideas for men that we came up with. Men, feel free to chime in with your holiday gift ideas and requests!
What are your favorite manly Christmas gift ideas this year?