This year Six Flags Great America is celebrating #40seasons of rides, food, fun, and entertainment. On May 29th, 2015, Six Flags celebrated their 40th birthday, and I was so excited to be there with my family to celebrate! My family received passes to the park for free in exchange for my posting about the #40seasons celebrations; all opinions are my own.
40th Season Celebration at Six Flags Great America
This year, along with the #40seasons celebration, Six Flags Great America opened NEW rides in their Hometown Square area for little kids including Little Ladybugs, Red Baron, and Tot's Livery. They are all specially made for kids UNDER 36" – the perfect way to entertain the littlest park guests. My son was not a fan of having me on the sidelines, but we DID find a ton of other rides that parents CAN ride and went round and round on the Zoomjets, Up Up and Away, and the Krazy Kups. My son's favorite part of the day was meeting all of the Looney Tunes characters; he made sure to hug each one of them at least once! For the bigger "kids" – Six Flags is offering double rides on the American Eagle, Columbia Carousel, Buccaneer Battle, Kidzopolis Rides, Hometown Park rides and Camp Cartoon rides – don't wait in line, ride twice!!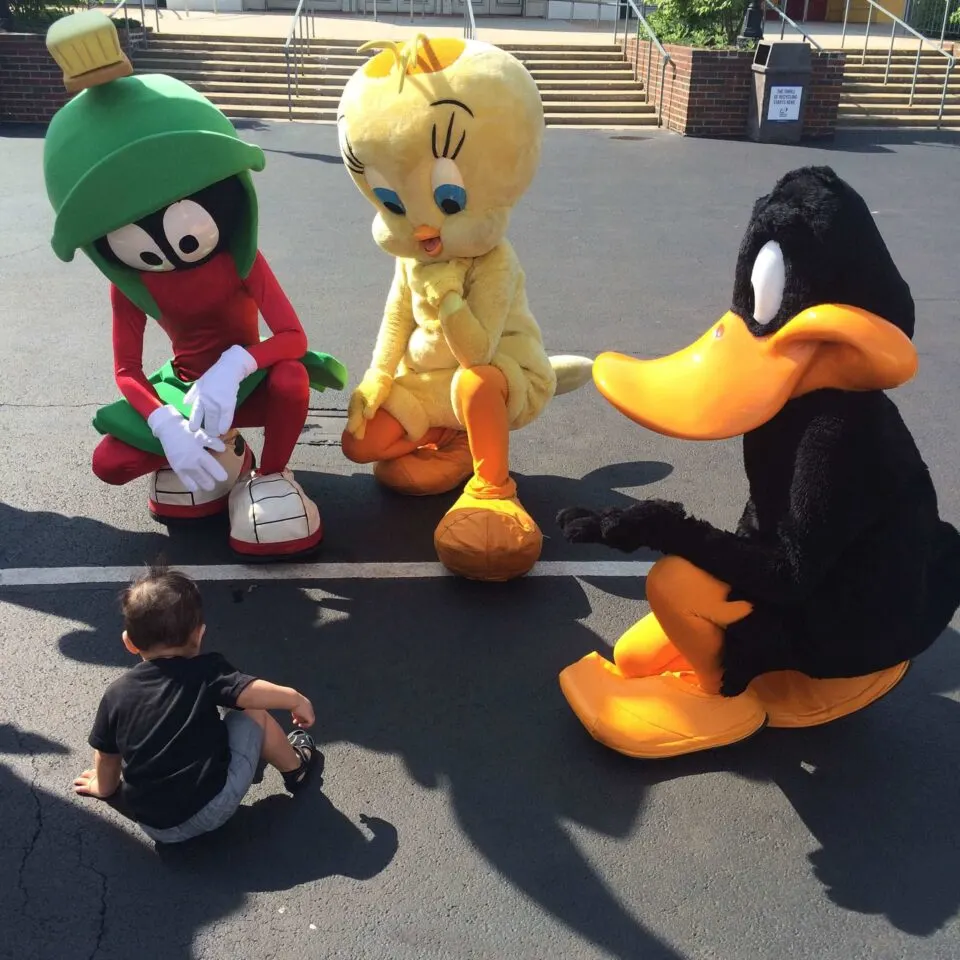 Fun Food Finds at the Park
Part of our visit to the park included an invite to sample some of their amazing food offerings. Not only do they have the typical turkey leg, funnel cake, cotton candy – but they have thought of almost all the park guests with veggie burger, gluten free and over-all healthy options available at various places in the park. Between our family – we tried the new Asian cuisine, a ham sandwich with fresh fruit (cut there in the park, not shipped in from somewhere), the GIANT Caesar salad, and a burger with sweet potato fries! If you already have a park pass, I would definitely recommend looking into their Deluxe Dining Pass – it gives you a lunch, dinner, and snack option every day you visit the park!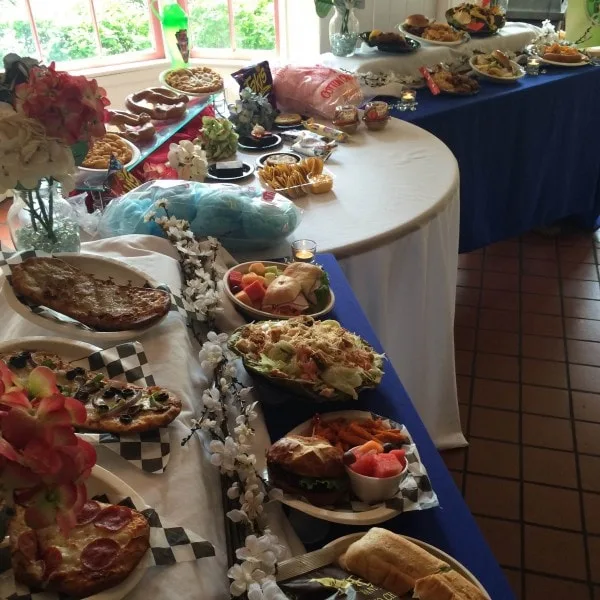 We had so much fun celebrating at the 40th Season Celebration – but there are fun things going on ALL summer at the park! Make sure to check out their Firework Fridays, and special event days like July 4th Fest, National Funnel Cake Day, Bugs Bunny's Birthday, and more!