Coppertone sunscreen has been our savior this year with our new boat. It's so easy to get fried while boating. Applying and reapplying sunscreen is necessary throughout the entire day. I was thrilled to receive a bunch of bottles for review.
Coppertone Sunscreen
Coppertone has a wide variety of sunscreens and really something for everyone. Even before receiving these products, we had been using the 30 spray. We stock up on it at Costco and use it often.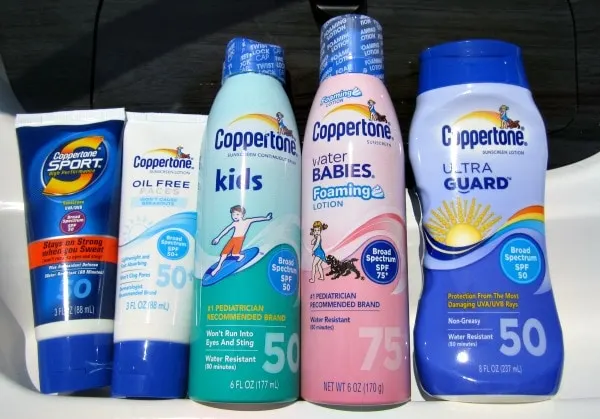 The last few times we went out on the boat were scorchers. There was not a cloud in the sky and it was about 90+ degrees. I was sure by the end of the day that I would be a lobster. I had been wearing Coppertone sunscreen the entire day. I started out with 30 and moved quickly to 50. Making sure to reapply frequently, and definitely after swimming. The next day I was actually fine. Honestly, I was little upset I didn't get more color! I was totally impressed at how well Coppertone had protected my skin.
When we brought my niece and nephew out to go tubing, we were able to give the kid's spray a good test. First of all, the spray is so convenient for anxious kids that just want to get into the water ASAP. Give them a quick spray down and be done with it. I know Mike loves the spray, too, because he can get his own back while he's alone while fishing. I love it because it's less greasy lotion on the hands! Overall, the spray is awesome.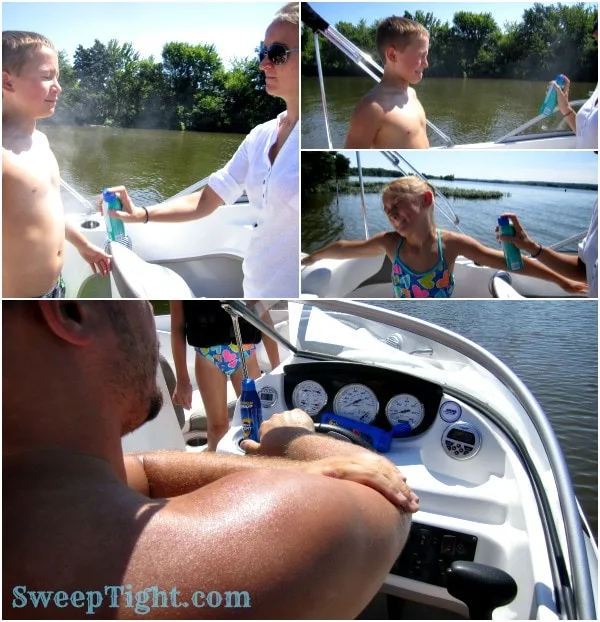 Don't worry, these children are not in pain. They are just dramatically closing their eyes for the spray. 😉
We spent hours out on the water. Everyone may have appeared a little burnt and definitely burnt OUT by the end of the day, but the next day no one suffered from sunburn. There's nothing worse than missing out on summer fun because of a sunburn, not to mention it's dangerous and completely preventable. Stock up on Coppertone sunscreen to stay safe in the blazing summer sun!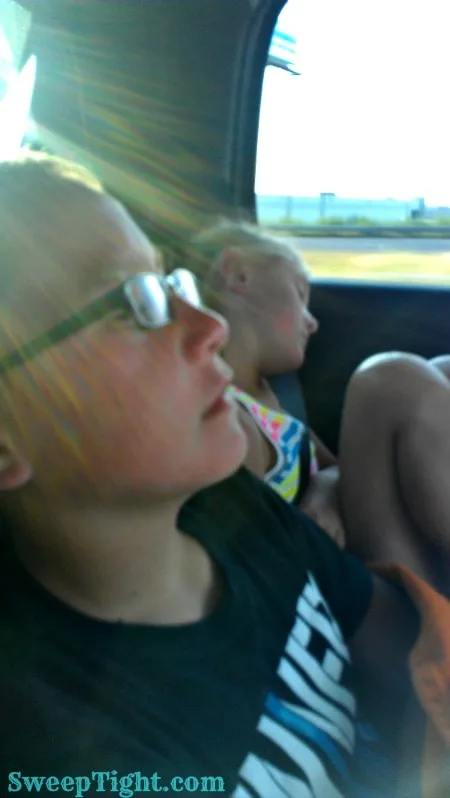 Coppertone Sport Sunscreen comes in SPF 30, 50, 80 and 100+. It's water resistant up to 80 minutes and enriched with antioxidants to help boost the skin's natural defenses. The kids Wacky Foam is also very easy to apply and the kids had a blast putting it on. It's an SPF of 75+ and recommended by pediatricians.
For face use Coppertone Oil Free Faces for a lightweight lotion that won't clog pores. Coppertone has products for everyone and it's a brand that I completely trust. Find Coppertone Sunscreens at food and drug stores nationwide and at internet retailers.