Never happy with how things are on their own, I decided to customize my Ikea Expedit shelving to create something a little more my style. Thanks to D. Lawless hardware I was able to get the custom look I was after. I received cup pulls and invisible spring hinges for review to help me complete the look.
DIY Furniture Makeover with D. Lawless Hardware
One of the biggest changes you can make to an outdated kitchen are new knobs and drawer pulls. It can be a quick change (less than an hour) to replace the hardware and you can get a whole new look. New knobs and pulls are quite affordable, and there are TONS of styles. For something more modern you could try something with a stainless finish or a vintage look with glass pulls. D. Lawless Hardware was the most affordable option I was able to find online with seemingly endless options for a new look for your furniture, kitchen, bathroom, or whatever needs a makeover.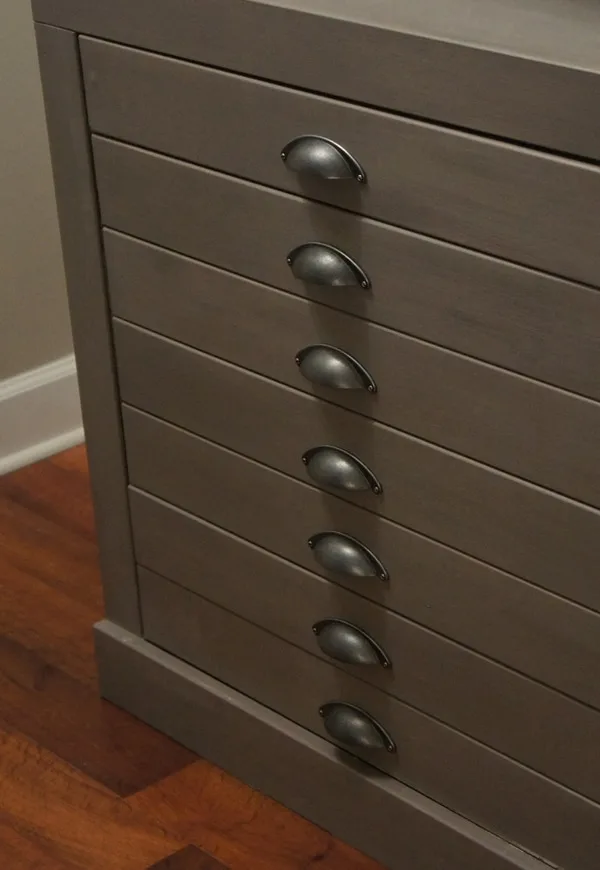 For my furniture DIY, I really like the look of the old printer's drawer files. I decided to fake the look with slats of wood and new doors for my shelving. First, I framed out the shelving unit with 1×3's. Then, I cut 1×4's and attached them together in order to create the door. I was able to attach the door with the invisible spring hinges – you cannot see that it is a door, instead it looks to be multiple long drawers. For more info on this project – check out my post at DelightCreativeHome.com. The cup pulls from D. Lawless help complete the look of the vintage printer's drawer.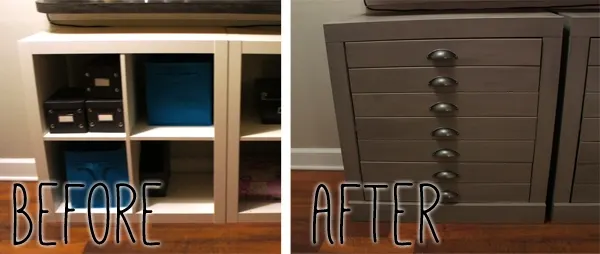 I love the new look – from modern and white to vintage and grey, I was excited that it was so easy to achieve the look. For more information about new hardware for your home from D. Lawless Hardware, check out their website. On their website they have many products that feature photos of the items in use, this makes for tons of ideas on how to makeover your own furniture!