When I was younger, my friends and I took a vow to never own a minivan. We were just far too 'cool' for that. Well, I was the first to break the vow and after experiencing and writing this 2016 Kia Sedona review, I'd do it again.
I got to drive this vehicle for a couple weeks to facilitate this post. Everything shared here is based on my experiences.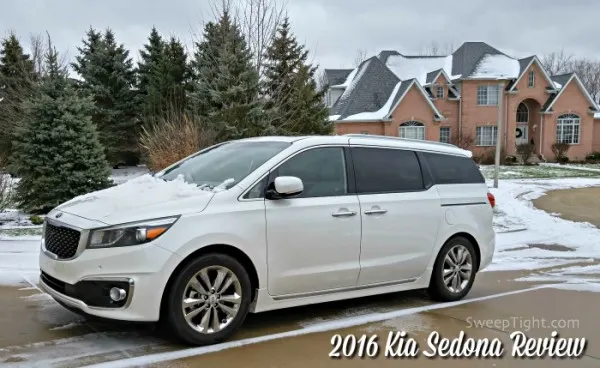 2016 Kia Sedona Review
What surprised me the most was my kids' reactions to this minivan. They're at the ages where they want to pull up at events in vehicles like a Lamborghini or big tough truck. But when they got into the 2016 Kia Sedona their response was:
"Oh my gosh, Mom. You HAVE to get this car."
This minivan has done the impossible. It has taken the lame mommy-mobile status and crossed over to the kids' dream car wish list. It's not surprising when you see how they rode around for two weeks.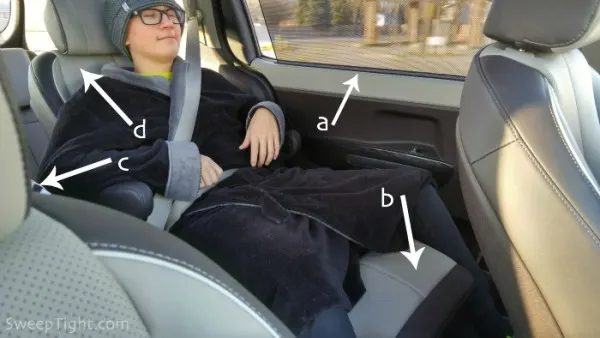 Exhibit a: Each window has a retractable screen built in.
Exhibit b: RECLINING chairs. Yeah, they fully freaking recline.
Exhibit c: These two captains chairs move back, forward, and to the sides so that they can even be pushed closer together.
Exhibit d: The back rest can go as far back as you want it if you've got the room behind you.
You'll notice my son even took to wearing his robe while riding in this van.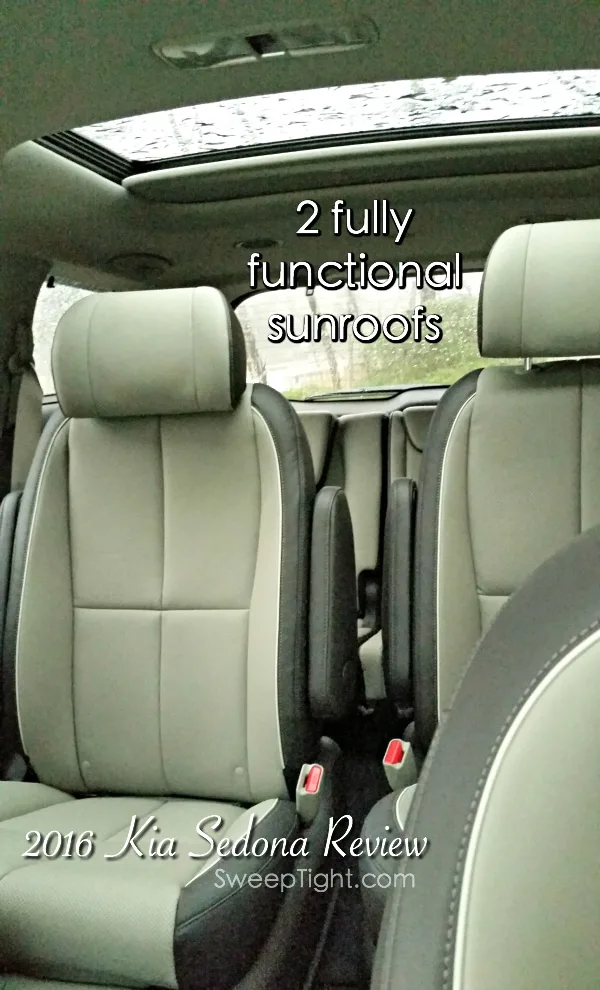 This 2016 Kia Sedona even has two fully functional sunroofs. Granted, it's been cold and snowy/rainy but can you imagine how great it would feel to be reclining in the breeze while on a road trip!
Oh, and there is also a decent size screen with dvd player built into the back of the center console complete with two sets of sweet headphones.
Mom's Thoughts
Well, we know the kids are happy. But what about the driver? Don't worry, you won't feel too left out while everyone else is cruising in the lap of luxury.
With heated and air conditioned seats, heated steering wheel, all the best gadgets and safety features, you'll be sitting pretty in that plush driver's seat.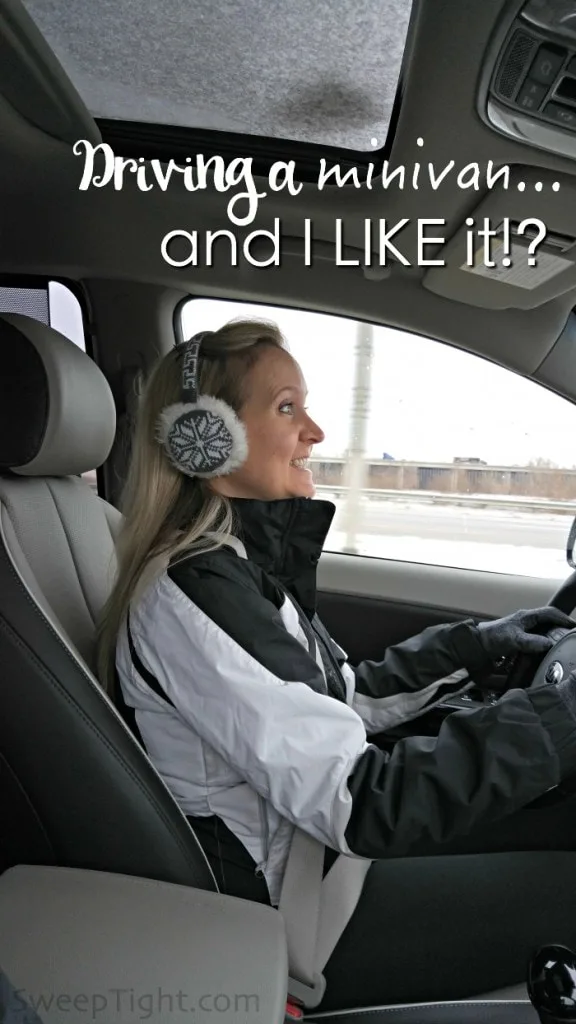 Obviously I got to see how she handles in some nasty Chicago weather. We had it all. Ice, rain, snow, slush. She handled it all without one problem.
I thought it was really awesome when a snowflake popped up on the dash to warn me that the temperature had just reached 32 (a drastic drop from 50) and there is a risk for black ice.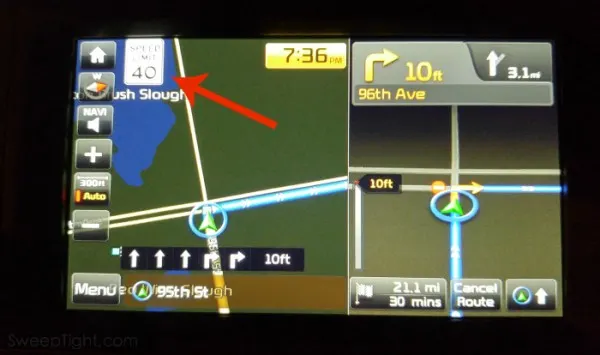 I also loved the updated GPS. This is the first I've seen that gives you the speed limit so you don't find yourself in an unfamiliar area driving like a slug–or speed demon.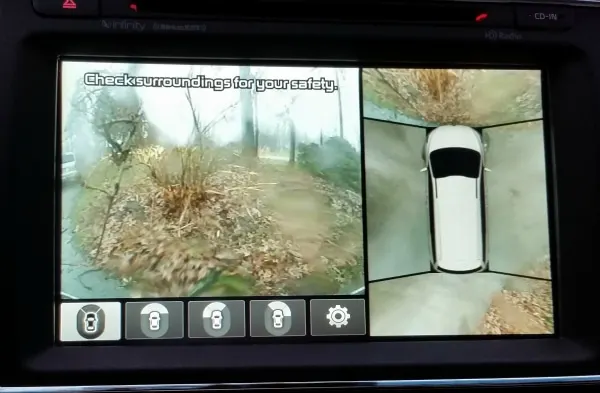 Like the Kia Sorento that I reviewed a few months back, this Sedona has cameras everywhere. I cannot express how cool this is. I'm so freaking spoiled.
Now, when I drive my truck I feel so blind not being able to see 360 degrees around the vehicle with the touch of a button.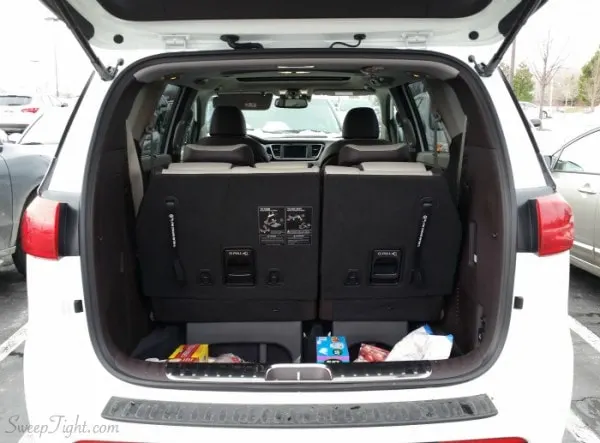 The rear seats can stow away (super easily, I should add) if you need extra cargo space, but when they're upright, I love the grocery nook. Nothing slid around or squished the bread.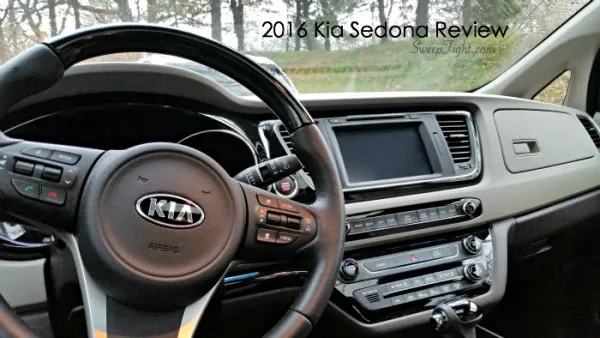 Ultimately, the 2016 Kia Sedona is a bigger version of the Sorento–which is my goal car. So, if I suddenly had the need to chauffeur more than my family, this is definitely the minivan I'd want.
What's your favorite part about this 2016 Kia Sedona review?